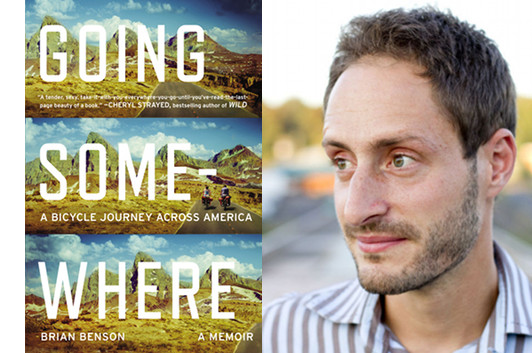 photo: Emilee Booher
Going Somewhere is a memoir of a bicycle trip Brian Benson took from his home in Wisconsin to his new girfriend's home in Portland, Oregon, and it's the kind of story that, even as it explains just what a huge pain in the ass a trip like that could be, might well get you thinking it'd be cool to undertake a similar journey, preferably with someone you love. Benson's certainly still up for long bike journeys—in fact, he just spent a month riding around Wisconsin, MInnesota and Illinois, stopping along bookstores and libraries along the way. What possessed him to undertake such a physically exerting method of travel from one public appearance to the next? He explains in this guest essay…
Last winter, I went to Powell's to see a favorite author discuss her new book. For most of the event, I was enraptured. I loved listening to how she read her own work, and appreciated hearing her talk, with grace and humor, about her teaching, her process, her doubts. But then, toward the end of the Q&A, someone asked her how it felt, really, to be on book tour. And this favorite author of mine sighed, and shifted her weight, and proceeded to tell us that her publisher made her take these tours, which, really, she found to be quite antiquated. Soon enough, she was talking about flight delays, traffic, jet lag.

As I listened, I started to feel queasy. I mean, it wasn't like I was surprised to learn that travel could be taxing. I just couldn't believe she was saying so, out loud, to her audience. Since I (like probably everyone who attends author readings) had long dreamt of publishing a book, I tended to expect those who'd done so to spend their behind-the-podium time projecting weapons-grade gratitude. Suffice it to say, I certainly did not expect them to complain about the very thing I so deeply desired.

Over the coming weeks, I stewed on this quite a bit. But the more I thought about it, the more I had to admit that I kind of saw her point. Taking a conventional book tour did seem pretty challenging—and in a very familiar way.
6 August 2014 | guest authors |

photo: Kyle Johnson
When Molly Wizenberg's husband told her that he wanted to open a New York-style pizzeria in Seattle, she encouraged him—even though, as she explains in this episode of Life Stories, the podcast where I interview memoir writers about their lives and the art of writing memoir, she wasn't convinced his plan would come to fruition. In Delancey, she tells the story of how it all came together, including what happened when her doubts finally came out in the open, and how she wound up becoming a full partner in the project—and so we talked about the point at which she realized that this was going to be the subject of her second memoir (following A Homemade Life:
"As Brandon was building it, and as the process began to switch from 'my husband is opening a restaurant' to 'we are opening a restaurant,' I started to realize that there was a story there. I didn't really know what the story was yet, but it was there. And also, as soon as I could begin to get some distance from it, I could see that it was really funny. The things that we did, the mistakes that we made, the things that happened to us were not at all funny at the time, but in retrospect, it was a really funny story.

I wanted to figure out how to tell it both so that I could remember it and also so that I could understand the trajectory that our lives were headed in. Writing helps me understand my own life; it helps me see the throughline in my own life… Writing Delancey, when I started, I didn't know how the book was going to end, and that was because I had to figure out the story as I went along."
(By all accounts, Delancey the restaurant has turned out really well, and I'm looking forward to visiting it the next time I'm in Seattle…)
Listen to Life Stories #79: Molly Wizenberg (MP3 file); or download this file by right-clicking (Mac users, option-click). Or subscribe to Life Stories in iTunes, where you can catch up with earlier episodes and be alerted whenever a new one is released. (And if you are an iTunes subscriber, please consider rating and reviewing the podcast!)
3 August 2014 | life stories |
« Previous Page
—
Next Page »