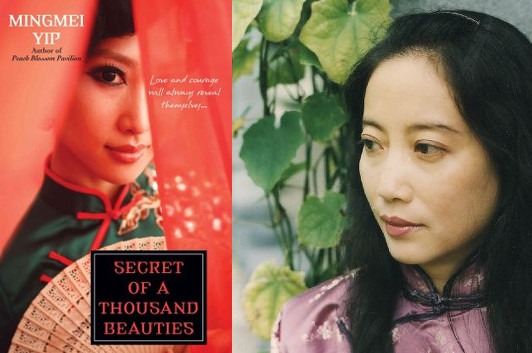 photo: MingmeiYip.com
Mingmei Yip has been a guest reader at Lady Jane's Salon, the monthly romance reading series I help curate, on several occasions, and she joined us at the start of 2015 to share an opening scene from her most recent novel, Secret of a Thousand Beauties. She tells us a little bit about the historical origins of this book's story here, but also stretches back into her own past to reveal how she set out on the writing path… a journey that takes a bravery and self-determination similar to that of the women she's written about.
In traditional China, women were and sometimes still are considered men's possessions and didn't have much independence or freedom. A Chinese saying goes: "The worst thing that can happen to a woman is to marry the wrong man. The worst thing that can happen to a man is to enter the wrong profession." Unfortunately, because marriages were usually arranged, many women ended up marrying the wrong man at the cost of any chance for happiness. Wary of a bad marriage, some decided to remain single for the rest of their life. These women would join small communities established for non-marrying women. They displayed this choice by tying up the hair in a long pigtail.

Most worked as maids, but some were more fortunate and could learn a traditional woman's craft. One of these was embroidery, an art that has always appealed to me. Intrigued by these women and their sisterhoods, I decided to write about this small group of embroiderers—they are supposedly celibate, but of course many succumbed to desire.

Ghost marriage was another way women were oppressed in traditional China. Couples were often betrothed in childhood, or even before birth. Since only half of children survived to adulthood, many young women lost their fiancés. Because they had already pledged marriage, the cruel custom was to marry the woman to the dead man. As a practical matter, this meant she was a slave to her supposed in-laws.
19 January 2015 | guest authors |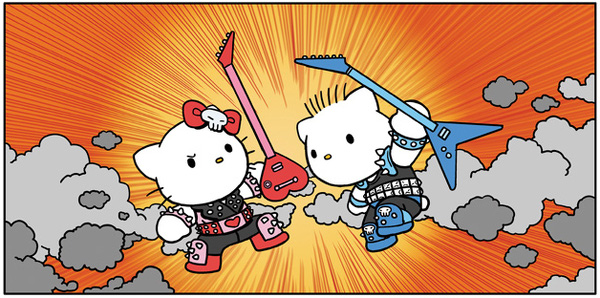 Jorge Monlongo
I can spot at least eight different Hello Kitty dolls in this apartment without actually looking for them; it's safe to say the fandom here runs pretty deep. So I was genuinely excited as soon as I learned about Hello 40, a multi-artist tribute to the character that has practically become the very definition of "iconic" over the last four decades.
There are some common themes running through many of the two- and three-page stories; parties (sometimes surprise parties!) play a recurring role, and several other stories are framed as dreams (including a story by Karl Kerschl that has its mindblowing conclusion truncated). There are a few hints of scary moments, but by the end of each story everything's been sorted out and more often than not new friends have been made; my favorite moment along those lines is in Brianne Drouhard's "Marshmallows," where Hello Kitty storms a castle and comes face to face with a feverish dragon, who helps them roast marshmallows indoors.
Some artists render Hello Kitty and her friends almost exactly like the Sanrio versions, while others take a slightly freer illustrative hand, with almost an indie comics vibe in a few cases—and I love the middle ground that all-ages comics artists like Art Baltazar and Chris Giarrusso take in their contributions. And there are nearly painterly approaches, like Drouhard's or Martin Hsu's "Once Upon a Hello Kitty Wedding," that are gorgeous. This is a book that should be equally enjoyable for those of us who are roughly the same age as Hello Kitty simply reveling in the artwork on our own, or sharing the stories with much younger fans… or future fans!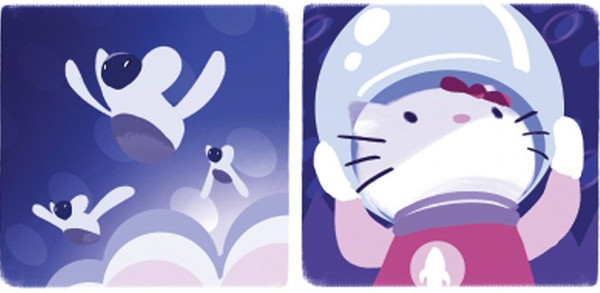 Karl Kerschl
21 December 2014 | read this |
« Previous Page
—
Next Page »