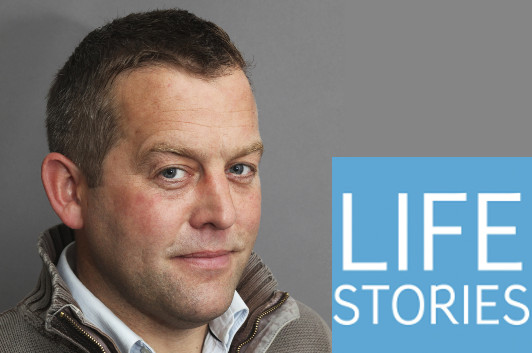 Like many people, I first became aware of James Rebanks through his Herdwick Shepherd Twitter feed, where he posts pictures of his flock and talks about life as a farmer in England's Lake District. When he came to the United States for the first time in the fall of 2016 to promote his two books, The Shepherd's Life and The Shepherd's View, I was excited to chat with him about how Internet fame has changed his life (not much, it turns out) and his role as an advocate for sustainable practices for farmers and consumers alike.
We also dove into his personal history, including a reflection on how writing about nature typically comes from a leisurely perspective. "It doesn't tend to be the person that's pulling the turnips or plowing the field," Rebanks explained. "It tends to be somebody who somehow has enough time and enough money to wander through it and wonder how beautiful it is… And it's beautiful, and it's special, and it's wonderful writing. But it's not the full story of what happens on the land." That's why, when he read W. H. Hudson's A Shepherd's Life as a teenager, it inspired him long before he turned to social media:
"I love that book, [but] if I'm honest, it isn't the brilliance of the writing, or the brilliance of the story, although there is brilliance in both of those things. It was pure and simply… I'd gone right through school, never once imagining that books could be about us, about people like us. And then I stumbled across this book when I'm fifteen or sixteen, and suddenly I'm reading a book which feels like it's about my people; it's about my grandfather; it's about people who work on the land…

One of the books I read immediately after that was The Old Man and the Sea by Ernest Hemingway, which is still one of my favorite books. It had the same effect on me. I read the story of the boy who loves the old fisherman, the beauty of that relationship and the admiration he has for that old man when everybody else doubts him. [I thought], 'I want to write a book like The Old Man and the Sea, but about my grandfather as a shepherd.' Took me about 25 years to pull that off, but that's really where the idea of my book came from."
Listen to Life Stories #93: James Rebanks (MP3 file); or download this file by right-clicking (Mac users, option-click). Or subscribe to Life Stories in iTunes, where you can catch up with earlier episodes and be alerted whenever a new one is released. (If you're already an iTunes subscriber, please consider rating and reviewing the podcast!)
photo: Eamonn McCabe
15 June 2017 | life stories |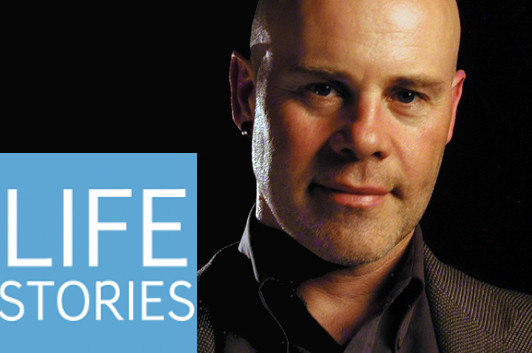 As I mention at the beginning of this episode, my inner 13-year-old was thrilled at the opportunity to talk to Thomas Dolby about his memoir, The Speed of Sound, because I'd been a big fan of "She Blinded Me with Science" and the album it came off of, The Golden Age of Wireless, for over three decades. But grown-up me was also excited to learn more about the inspiration Dolby took from the '70s punk scene in London, and about the lessons he learned about himself and his craft while working as a technology entrepreneur in Silicon Valley in the late 1990s and early 2000s.
At one point, I asked Dolby about some of the frustrations he'd felt as a recording artist in the '80s, and if, given that he'd been very successful as a producer for artists like Prefab Sprout, if he'd ever thought about going "the Brian Eno route." He gently pointed out just how naive a question that is, in a way that also underlined his own ambitions.
"You know, Brian Eno is not really a 'route.' That's like saying to a painter, did you ever think of going the Leonardo da Vinci route? You know, design helicopters and drum machines, and paint the Mona Lisa? Eno is really a law unto himself. He's extraordinary both as a producer and as a solo artist, to have produced megahits by U2 and Coldplay but also to have invented ambient music and all the installations he's done and so on… it's really extraordinary. I would be flattered to follow in those footsteps. But I don't think that's a route you can pick…

You know, when Eno puts out a solo record, you don't check to see where it got to in the Billboard charts, or how many copies it sold, or whether it's getting much radio play. You just sort of assume that it's going to be something that is just there, it's out, available. It will be influential, but it's not really going to make a mark on the mainstream. And I suppose I was too chicken to do that. I didn't like the idea of a world in which my stuff would not even scratch the surface of the mainstream, because I do have the ability to do that and to make records like that. So I wasn't ready to completely give up on that."
Listen to Life Stories #92: Thomas Dolby (MP3 file); or download this file by right-clicking (Mac users, option-click). Or subscribe to Life Stories in iTunes, where you can catch up with earlier episodes and be alerted whenever a new one is released. (If you're already an iTunes subscriber, please consider rating and reviewing the podcast!)
photo: courtesy of Thomas Dolby
13 June 2017 | life stories |
« Previous Page
—
Next Page »