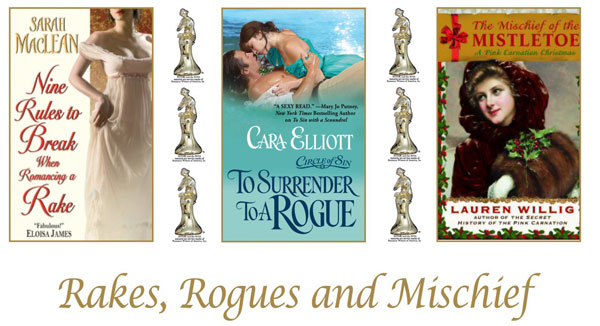 Lady Jane's Salon, the romance reading series I've helped curate since February 2009, is usually held on the first Monday of each month—but we decided a while back we wouldn't even try to compete with the Fourth of July. Instead, with the annual national meeting of Romance Writers of America coming to New York City next week, we decided to throw our biggest evening yet on Monday, June 27, with six guest authors reading from their work. (Well, five, really, since Leanna Renee Hieber is another of the series' founders.) If you're a romance fan, though, keep in mind that Sarah Maclean, Dianna Love Snell, Karen Rose, Carrie Lofty, and Eloisa James won't be the only authors there—a lot of writers come out for RWA Nationals, and we expect a good number of them to come to this party to cheer on their colleagues, so you won't want to miss this. We'll be at Madame X (94 W. Houston Street), starting the show at 7:00 p.m., and all you need to get in is $5 or a gently used paperback romance novel.
Before that, however, I'll be joining Sarah MacLean, Lauren Willig, and Cara Elliott this Wednesday, June 22, at the Roger Smith Hotel (501 Lexington Avenue) for a night of "Rakes, Rogues, & Mischief." We'll be meeting at the lobby bar for cocktails at 6:00 p.m., then heading up to the penthouse for a 7:00 reading. (There's a rooftop bar, too, so odds are the party will continue past the readings…) You can RSVP for this event on Facebook, or just come by that evening. Either way, we'd be delighted to see you!
20 June 2011 | events, lady jane's salon |

A little over two years ago, I was sitting in a bar with romance novelists Hope Tarr, Maya Rodale, and Leanna Renee Hieber. We'd just left a literary reading that I'd hosted, and got to asking ourselves why we never saw similar events for romance writers, then we decided we'd start our own. A few months later, we'd lined up the second-floor space at Madame X, where the red walls aren't exactly velvet-lined but might as well be, invited a few authors to read, and spread the word to as many friends as we could. We kept doing it, the crowds kept getting bigger, and tonight I'm thrilled to be celebrating the second anniversary of Lady Jane's Salon.
Our guests include Lauren Willig, the creator of the bestselling Pink Carnation series, Courtney Milan, and Caridad Ferrer, with a special appearance by Andrew Shaffer, the author of the totally nonfictional guide to Great Philosophers Who Failed at Love. We'll also have at least one raffle prize and quite possibly a champagne toast. So if you're in the New York City area, come join us at 7 p.m. at Madame X (94 West Houston Street); admission is just one used paperback romance novel or $5, both of which we collect for charitable donations.
The last two years have been really fun, and I'm totally looking forward to our third… especially this summer, when our salon coincides with the annual Romance Writers of America convention. But every month's show is fantastic: We've demonstrated that genre fans will turn out eagerly for readings—heck, some nights I see more people in the audience than I see at "literary" events—and I've met a lot of fun writers, some of whom have come from the opposite end of the country just to meet some New York fans. For an idea that was hatched in the back of a bar, the Salon's done more than all right!
7 February 2011 | events, lady jane's salon |
Next Page »