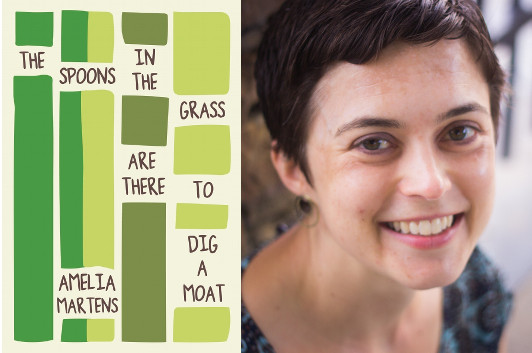 photo: Emily Margaret Okerson
Each of the poems in Amelia Martens's The Spoons in the Grass are There to Dig a Moat is a surreal scene, just a paragraph in length. (Well, okay, some of them are a few paragraphs, but let's not quibble). A poem like "We Will Be Long Gone" unfolds with the logic of the answers to a child's persistent bedtime questions, while others, like "Collection" or "Tuesday," place Jesus in the midst of unsettling but largely recognizable tableaux—in the case of the haunting "Newtown," all too recognizable. In this guest essay, Martens reveals a key influence on the dream-like specificity of her vivid imagery.
As an extremely near-sighted person, I have a history of up close experiences with the visual. Literally. Without my glasses, no one has a face. As a kid I read at night without my glasses and the pages brushed my cheek. I have also found it necessary to visualize—what I'd like to have happen in a given situation, what might happen, how a machine (or IKEA bookshelf) is put together, how much of everything I own will fit into a U-Haul so that I can drive it from California to Indiana. I'm a nearly blind visual person. Perhaps this is the reason imagery is a vital concern. Words make pictures; the right words make readers not notice the picture being made; instead we are sucked into the feeling. The visual becomes visceral.

In my second semester of the IU MFA program, in our poetry workshop, Maura Stanton assigned several collections that we were to read. Lee Ann Roripaugh's Year of the Snake, which had recently been published by Southern Illinois University Press with a glossy half tattoo/half black cover, had my attention immediately, as I had acquired a new tattoo just weeks before leaving the west coast. Visually, this was not a book of poems written by a dead white man. And I am a monkey. Okay. We were born in the year of the monkey. Monkey twins with parents who incorporated cosmology into our upbringing. All of this to say, Roripaugh's book had me at the outset.

I read these poems as a newly minted poet; somehow being in a poetry program made me "official." I read them as a woman who had just moved from the Pacific Ocean to the Midwest. I had never been as weird as I was when I arrived in Indiana. People talked about California as if I'd come from Mars. What's it like there? Do you surf? In Roripaugh's poems I found encouragement, for my strangeness. And delight in the line as an image splitting tool.
11 April 2016 | poets on poets |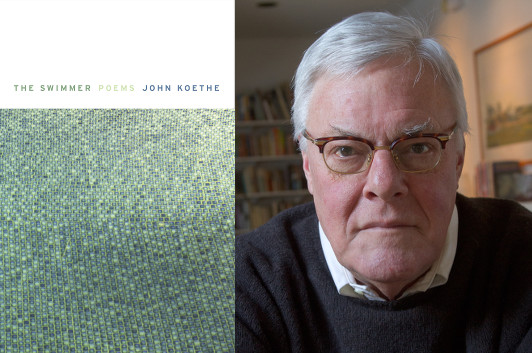 photo: Tom Bamberger
The poems in John Koethe's The Swimmer are like personal essays, a mixture of autobiographical anecdote and layered references to literature, art, science, and philosophy. And one of the first things you'll notice about the cadence of those poems is its similarity to prose—but it's not a "ordinary sentences peppered with random line breaks" kind of banal, descriptive poetry; these are complex, intricate sentences that, as Koethe explains in this essay, aim to mirror the processes of recollection and reflection that shape our memories, and the ways we come to see what we have experienced through what we have learned. There is no memory without interpretation, and as we re-interpret our pasts, we are also re-defining our present.
I started writing poetry in 1964 as a sophomore in college, after a course on modern literature in which I first read the poets of high modernism. I wasn't sure exactly what they were doing, but I was bowled over by it and knew I wanted to try to do it too. Learning to write poetry is at first a process of imitation—especially back then, before the proliferation of programs in "creative writing" (how I hate that term!)—and while my first models were Eliot (whom I still revere) and Pound (whom I don't care for anymore, apart from his Chinese (non)translations), that circle soon expanded to include Wordsworth and Keats, John Ashbery and James Schuyler, Wallace Stevens, Marianne Moore and Elizabeth Bishop, and later on Philip Larkin; as well as fiction writers like Proust, Fitzgerald, Thomas Pynchon and even Raymond Chandler.

What these writers have in common is that they're all great writers of sentences, and sentences are at the heart of what I'm after in poetry, perhaps to a greater extent than they are for many other poets. What I try to do is capture the feeling and movements of thought, and not only are sentences the vehicles of thought, their clauses and connectives allow them to convey the rhythmic and emotional cadences that are an integral part of the experience of thought.

With any luck you eventually digest your early influences, for better or worse, and it's been many years since I've been aware of a feeling of being guided in my writing by the work of other writers. Yet those first influences remain important to me as an ideal, or an idea, of how to think of poetry. I think of modernism as a continuation of, rather than a break with, romanticism, in that both are concerned to situate the inner self in relation to its objective social and physical setting in the world. In its high romantic incarnation, this concern takes the revelatory form of what Kant called the experience of the sublime; in its disillusioned modern incarnation it verges on the tragic.
20 March 2016 | poets on poets |
Next Page »