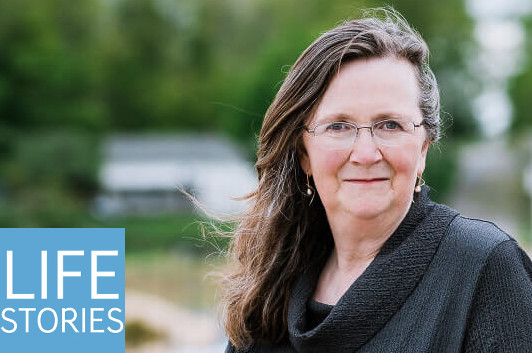 I spoke with Elizabeth W. Garber the Monday right after Father's Day, an apt time to be discussing her memoir, Implosion. It's a story about growing up in Cincinnati in the 1960s and early '70s in a glass house designed by her architect father—years that were so unsettling to live through that when Garber began speaking to her mother and her two brothers about the abuse they all endured, they initially refused to have anything to do with the topic. Which didn't exactly surprise her, because it was the last thing she ever intended to write about, either:
"I'd been a poet for years and I wrote about living in Maine, and I wrote about being a mom… and I'd written almost nothing about my childhood. Every now and then, a little something would sort of squeak through, but I had no interest. I didn't want to go back there, I didn't want to really talk about or remember that part of my life.

"Then I had heart surgery, and afterwards, it was like this stream of memory that just started coming up, day after day. And I have a commitment, that when ideas or thoughts come up, that I write it. So I just started writing, and it started out with being a little girl in the village and living in an old Victorian house, and every day I wrote, for about an hour a day, for the next two or three years.

"I ended up writing just about every memory I had from my childhood into my twenties. I kept thinking, I don't want to write about my dad, or all of this, but it just felt like that was what I had to do, so I just kept going. And then i started asking my mother and brothers for stories and details, and they were like, I don't want to go there…"
During our conversation, Garber and I discussed how she had mentally and emotionally blocked out her father's most invasive and abusive behavior while it was happening, and about how friends and neighbors, and even her father's therapist, turned a blind eye to the blatant signs of his mental and emotional condition. We also discussed how her father's most famous project became a landmark metaphor for all the shortcomings of modernist architecture… along with the more personal meaning it accrued within the family.
Listen to Life Stories #102: Elizabeth W. Garber (MP3 file); or download this file by right-clicking (Mac users, option-click). Or subscribe to Life Stories in iTunes, where you can catch up with earlier episodes and be alerted whenever a new one is released. (If you're already an iTunes subscriber, please consider rating and reviewing the podcast!)
photo courtesy Elizabeth W. Garber
24 July 2018 | life stories |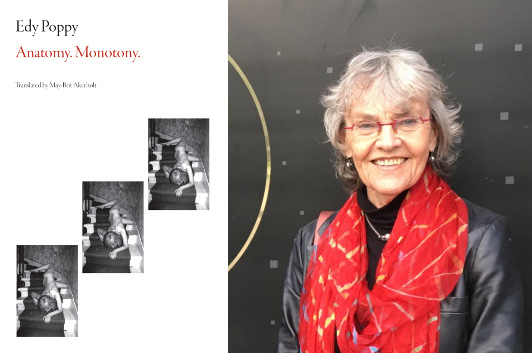 photo courtesy May-Brit Akerholt
A few weeks ago, I was invited to attend a reception at the Norwegian consulate, where I got to meet the novelist Edy Poppy, who was celebrating her American publishing debut with the Dalkey Archive Press's English-language version of her first novel, Anatomy. Montony. which Siri Hustvedt—who was also there to engage Poppy in an informal public dialogue—calls "a devilish hybrid: part autofiction, part literary, cinematic, and musical dance of allusions, and part chronicle of the mute body's aches and pains and lusts and needs."
Poppy was in the city for a few days after the reception, so after reading the novel over the weekend I met up with her in a coffee shop in Brooklyn to chat for a bit. As a story, Anatomy. Monotony. reminds me of films like Jean-Luc Godard's Contempt or Lars von Trier's Breaking the Waves, stories about couples who poke at their marriage with a sharp stick with devastating consequences, so we talked about that for a bit, and about how, more than a decade after the book came out in Norway, she's still called upon by the media to talk about unconventional relationships—which, she says, she doesn't mind at all, and I totally get that. Who wouldn't want to write a book that held people's attention so strongly they were still asking you about it years later? I also reached out to Poppy's translator, May-Brit Akerholt, who was glad to share some thoughts on how she rendered Poppy's very interior (and allusive) Norwegian into English.
Bottom's transformation into an ass in Shakespeare's A Midsummer Night's Dream is no more remarkable than that of a play, a novel, a poem into another language. Both appear in a foreign dress, both look somewhat alien to their old friends, and both speak a language that seems both recognizable and unfamiliar. Snout, who initially flees in mortal fear, soon comes back and says: "O Bottom, thou art changed! What do I see on thee?" On thee? Snout realises that the spirit and heart of Bottom is unchanged, it's only his appearance that is different.

The word 'translation' is a mis-nomer; each new version of a work in another language is a form of interpretation and adaptation. Methodologies and theories of translation are often impractical, even irrelevant, when writing new versions of a literary work. In terms of drama, a translator works with a play's theatrical language: its unique music, rhythm, tone, dramatic enigma; when translating a novel, you work with the unique music, rhythm, tone, the enigma at the core of the work; when translating poetry, it's the unique music …

A translator struggles with similar problems and questions and elements across the whole spectrum of literature, only in different degrees according to the genre, and of course, to the work itself. It's the individual voice of each writer that must form the core of any translation or adaptation. The starting point of a translator's work must be to explore the unique voice of its creator. Otherwise how can it be possible to bring forth the idiosyncrasies of a particular work in another language?
28 June 2018 | in translation |
« Previous Page
—
Next Page »