It had been a while since I'd heard from Ariella Papa, who I first met a few years back when she was part of Harlequin's band of "chick lit" novelists publishing under the Red Dress Ink imprint, when I ran into her at the Little Women horror mashup reading last spring, but I'm glad she's stayed in touch since. She's just come out with a new novel called Momfriends, about a trio of New York City women, each coping with a unique set of parenting and relationship diificulties—and it's great to see she hasn't lost her knack for getting inside a character's head. Like many authors these days, she's selling this new novel exclusively as an e-book; you can learn more about it (and her earlier books!) by visiting her website. Meanwhile, if you're still looking for a gift idea for somebody this week, Ariella's got a great suggestion…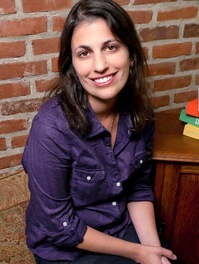 When I give someone a book as a gift I want it to be a transformative experience that in no way resembles their real life. I don't want the recipient to feel I am trying to imply anything or impose my style on them. I just want to give a good read, baggage free. The Poisonwood Bible by Barbara Kingsolver works for everyone from my babysitter to my oldest friend to my brother-in-law. This book is epic. Through emotional turmoil and political unrest, we follow the Price family for over thirty years starting in 1959 when they begin their Christian mission in the Belgian Congo. What I love most is the way the novel is narrated by the five women in the family. Kingsolver creates five distinct characters and lets these strong -somewhat flawed-people make a case for themselves and their actions. Each woman has a unique response to Africa and her situation. I am in awe of Kingsolver's mastery of voice. I was inspired by her style. It's a crowd pleaser.
20 December 2010 | gift ideas |
It's a delight to welcome Ayun Halliday back to these pages—some years back, she wrote a delightful guest essay about her pet peeves in foodie memoirs. She's just published The Zinester's Guide to NYC, a compendium of tips on what to do and where to do it from nearly two dozen zine creators who make the city their home; you're as likely to find listings for the best open mic nights as you are for fine art museums, along with sections on the city's best 99-cent stores and the locations of a few choice photobooths. Ayun has several events planned at New York City bookstores in December 2010; be sure to visit her website for details!
The book I'm hoping to get this holiday season, possibly by putting it under the tree with my husband's name attached is Maira Kalman's And the Pursuit of Happiness. I have no doubt it will be transcendent, but after several misfires wherein I gave someone a book I had yet to read myself, I'm going to play it safe by recommending one of this prolific author's earlier books, The Principles of Uncertainty. It remains one of the best presents I ever received. Articulating all the reasons I love it and its author would take me all the way to New Year's Eve, so I'll limit myself to but a paltry few.

Her zest for life triumphs over the most Eeyore-ish of moods: "I return to New York. Tired. Sad. The world is coming to an end. What to do? What to do? I know what to do. Spend the day on the subway. Oh wonderful life-affirming two-dollar subway ride." She documents the smallest details of the passing parade as if that's what matters most ("the first superlative tassel"); she rescues dead people from obscurity with just a few words: "My favorite obituary is that of Megan Boyd. She lived in a tiny village in Scotland and spent her life making exquisite flies for the local fisherman and for Kings." She assigns fierce sentimental—and thus genuine—value to things others throw away and forget: "We could examine my collection of sponges from around the world. Or the mosses of Long Island, which is an intact collection that I bought in a bookstore. It came in a shoebox that once held a pair of 7-1/2 B pumps." She draws comforting connections, even when the points she is connecting are terribly sad: "Gershwin died at the age of 38 of a brain tumor. He is buried in the same cemetery as my husband."
3 December 2010 | gift ideas |
Next Page »