photo: Jenna Meacham
"The Antelope Valley is not the California most people imagine," Chris McCormick writes. "This could be a good thing, but almost never is. The stories in McCormick's debut collection, Desert Boys, are centered around Daley Kushner, a young man who grew up in Antelope Valley, left to go to school in Berkeley, and became a writer—much like McCormick himself. How much like, I wouldn't know, but I can tell you that stories like "Mother, Godfather, Baby, Priest" and "You're Always a Child When People Talk About Your Future" give a strong sense of what it must have been like to come of age as a gay, half-Armenian teenager in the desert north of Los Angeles in the years just after 9/11, and finding your way toward an adult identity as a twentysomething today.
I guess one reason for stories is the management of grief. The grief in question can be shared or private, but sometimes, fluttering between worlds, it can be both. Like a spirit, or—more interesting to me—like any regular person torn between an old home and a new home, or between belonging to a community and relying on an idea of selfhood, or between the raucousness of an inner life and the contrived but more palatable version we present to others. These conflicts, I think, are some of the prices we pay for freedom, and they only get more tangled and impossible to parse when grief, the fluttering kind, is involved.

Shaila Bhave, the narrator of Bharati Mukherjee's "The Management of Grief," has just lost her husband and sons to the terrorist bombing of Air India Flight 182. The plane—from Canada to Delhi through the UK—has exploded over Irish waters, killing the 329 people onboard, most of whom were Canadian-Indians visiting the country, and the family, they'd left behind.

Shaila—just one of hundreds in her community whose family has been ruptured by the attack—quickly garners a reputation as "a pillar," somebody who has taken the tragedy "more calmly" than the others. But what others see as strength, Shaila understands to be a deep flaw: "This terrible calm will not go away."
7 May 2016 | selling shorts |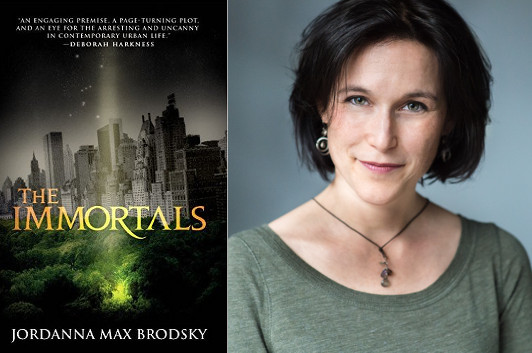 photo: Ben Arons
I'm actually a bit jealous of the folks at Orbit who got to publish The Immortals, the debut novel by Jordanna Max Brodsky. I was lucky enough to read this story, which places the classical Greek pantheon into the modern suspense thriller, when it was making the rounds, and I was immediately impressed by the strength of Brodsky's voice—it's not just that the premise is cool, but that she fleshes it out with great characterizations, too. In this guest essay, she pulls back the curtain and explains some of the work that went into making her divine and human characters equally compelling. What she reveals makes perfect sense in retrospect, but she's done it so well that it wouldn't occur to you—or at least it didn't to me—to think about the mechanics involved while you're engrossed in the story.
I consider myself an unrepentant nerd. Academic over-achiever, Star Wars aficionado, player of board games, avoider of all things athletic. The heroine of The Immortals, on the other hand, is Selene DiSilva, a bow-wielding, ass-kicking, hard-as-nails vigilante who also just happens to be the Greek goddess Artemis living in modern day Manhattan. So my nerdophilic proclivities wound up centered squarely on the male protagonist of the book instead: Theodore Schultz, classics professor. Selene is stronger than he is, far more violent, and less emotionally vulnerable. In my mind, they make a perfect opposites-attract couple.

Most of my female friends agreed with my perspective when I asked them to read a draft. Theo is just the kind of guy they want around—a talker, a listener, and all around brilliant thinker. Then I let some male friends give me feedback and… boom! My blithe reversal of gender stereotypes ran smack dab into a brick wall of testosterone.

"Why is Theo a wimp?" they demanded. (He's not a wimp, I'd reply, he's just not into violence.) "Why is he such a nerd?" they asked. (He's a classicist! Did you expect him to be the cool kid in school?)

Cue the throwing up of hands, the rolling of eyes, the "Why don't you just make him a detective? Make him cool and calm and tough." Then my equally frustrated reply: "Because Selene is all those things! She used to be a cop! She's the Huntress, for goodness sake. She certainly doesn't need a man to teach her how to track a killer or use a bow."
18 April 2016 | guest authors |
« Previous Page
—
Next Page »