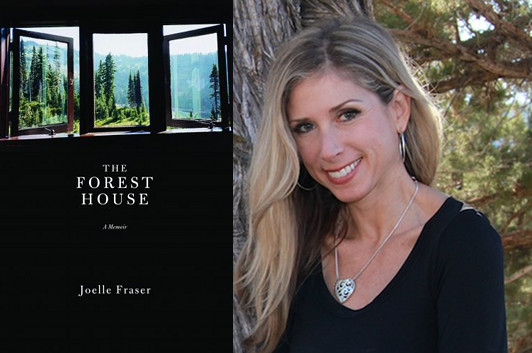 photo: JoelleFraser.com
In The Forest House, Joelle Fraser writes about life after the breakup of her marriage, when she moved to a remote town in California because it was as far as she could get away while still being close enough to make joint custody of her son workable. It's the second time that Fraser's put her life under the literary microscope, and in this essay she discusses what it's like to re-subject herself to her own scrutiny—and, ultimately, of course, the scrutiny of others—and why, in the long run, she couldn't stay away.
After my memoir, The Territory of Men, was published by Random House in 2002, I swore I'd never write another. Writing that book—a sprawling coming of age chronicle of my childhood in the wild California of the 1960s and '70s and its effects on my adult life—nearly killed me.

Naively, when I turned in the final draft, I thought I was done with the hard part. I wasn't prepared for the surreal pendulum effect of the memoir: after years of solitary, grueling self-reflection—you're then hauled out into the public eye for months of astonishing exposure.

That's the difference with memoir—sure, the fiction writer has the private/public dichotomy as well, but the memoir writer herself is just as much on display as her book. And so I discovered—as did my family—that reviewers often focus on the life rather than the writing of the life. (For instance, one well-known critic described my multi-married parents as "cancer cells uniting and dividing.")

There's really no way to prepare for the judgment—both good and bad—from the world. Writing can be hypnotic, can't it? While bent to the page you can forget that most people don't write books—especially not in the genre of memoir, which for the average person is akin to flashing yourself on Main Street.

Another uncomfortable discovery: at readings, I found that memoir writers tend to attract the lost and the needy, who sometimes see you more as a therapist than an artist.

Why would I put myself—and my family—through all that again?
20 May 2013 | guest authors |

photo: NealThompson.com
A Curious Man is the story of Robert Ripley, a cartoonist who became not just one of 20th-century America's most successful media personalities, but actually shaped the nation's popular speech—the Ripley who made "Believe It or Not!" a catch phrase. Neal Thompson tells us what led him to tell that story—and he's got a detail of special relevance to this blog. "Beatrice was the name of Ripley's wife, a beautiful Zeigfeld Follies dancer," he reports. "Their volatile three-year marriage ended in divorce, but they stayed in touch the rest of their lives. Hoping that'll be the same for me and you, Beatrice."
I've always been fascinated by the origins of books—mine and others, and especially nonfiction. Over the years, I've spend a lot of time meeting with and interviewing other authors, and I always have to ask: Why devote two, three, five years of your life to this person? Why thisstory? Now I get to challenge myself with the same question: Why invest half a decade in researching and writing the life of Robert Ripley?

For me, committing a chunk of my life to a particular life story requires two qualities: a come-from-behind arc, and an aspiration toward excellence. In most cases, my ideas ferment for years before they feel ready to be uncorked. In the case of Ripley, though, it was uncorked love at first site.

Unlike my previous books, I can pinpoint the exact day this story became my inspiration-slash-obsession: August 24, 2007. That's the day I read a New York Times article about a Ripley's Believe It or Not museum opening in Times Square. The story included a brief description of Ripley the man, and something clicked. "Oh yeah," I thought. "There was a real guy named Ripley. I wonder what he was like?" Six years later, I'm still wondering, which is a good sign—I never got bored of this guy.
13 May 2013 | guest authors |
Next Page »