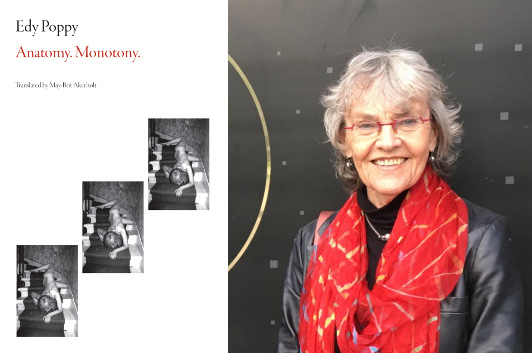 photo courtesy May-Brit Akerholt
A few weeks ago, I was invited to attend a reception at the Norwegian consulate, where I got to meet the novelist Edy Poppy, who was celebrating her American publishing debut with the Dalkey Archive Press's English-language version of her first novel, Anatomy. Montony. which Siri Hustvedt—who was also there to engage Poppy in an informal public dialogue—calls "a devilish hybrid: part autofiction, part literary, cinematic, and musical dance of allusions, and part chronicle of the mute body's aches and pains and lusts and needs."
Poppy was in the city for a few days after the reception, so after reading the novel over the weekend I met up with her in a coffee shop in Brooklyn to chat for a bit. As a story, Anatomy. Monotony. reminds me of films like Jean-Luc Godard's Contempt or Lars von Trier's Breaking the Waves, stories about couples who poke at their marriage with a sharp stick with devastating consequences, so we talked about that for a bit, and about how, more than a decade after the book came out in Norway, she's still called upon by the media to talk about unconventional relationships—which, she says, she doesn't mind at all, and I totally get that. Who wouldn't want to write a book that held people's attention so strongly they were still asking you about it years later? I also reached out to Poppy's translator, May-Brit Akerholt, who was glad to share some thoughts on how she rendered Poppy's very interior (and allusive) Norwegian into English.
Bottom's transformation into an ass in Shakespeare's A Midsummer Night's Dream is no more remarkable than that of a play, a novel, a poem into another language. Both appear in a foreign dress, both look somewhat alien to their old friends, and both speak a language that seems both recognizable and unfamiliar. Snout, who initially flees in mortal fear, soon comes back and says: "O Bottom, thou art changed! What do I see on thee?" On thee? Snout realises that the spirit and heart of Bottom is unchanged, it's only his appearance that is different.

The word 'translation' is a mis-nomer; each new version of a work in another language is a form of interpretation and adaptation. Methodologies and theories of translation are often impractical, even irrelevant, when writing new versions of a literary work. In terms of drama, a translator works with a play's theatrical language: its unique music, rhythm, tone, dramatic enigma; when translating a novel, you work with the unique music, rhythm, tone, the enigma at the core of the work; when translating poetry, it's the unique music …

A translator struggles with similar problems and questions and elements across the whole spectrum of literature, only in different degrees according to the genre, and of course, to the work itself. It's the individual voice of each writer that must form the core of any translation or adaptation. The starting point of a translator's work must be to explore the unique voice of its creator. Otherwise how can it be possible to bring forth the idiosyncrasies of a particular work in another language?
28 June 2018 | in translation |

photo courtesy Biblioasis
Canadian novelist Catherine Leroux's second book, The Party Wall, won the Quebec Booksellers Prize and the Prix France Québec when it was first published in French in 2014. Lazer Lederhendler's English-language translation, published this year by Biblioasis, has just won Canada's Governor General's Award for translated literature, and it made the shortlist for the Giller Prize for fiction, too. I'm pretty excited about this novel; at first, you don't know how its various threads, from two young sisters walking through a threatening neighborhood to a Canadian prime minister in what now reads like an all-too plausible dystopian future whose wife uncovers an earth-shattering secret, connect to each other. But Leroux brings everything together in a way that still allows each story to maintain its separate power—you might spend some time trying to guess how she'll do it, but it's not going to distract you from the dramas she's set up for her characters.
Leroux is just one of many Québécois writers Lederhendler has translated in recent years, making this literary scene accessible to English readers. In this guest post, though, he hits upon an idea that makes me think about just how thick (or thin!) we should make any line we draw between Québécois literature and English-language Canadian literature.
In a past life teaching English and, later on, translation in Montreal, I often made a point early in the term of quoting Wallace Stevens's well-known aphorism, "French and English constitute a single language." Granted, most people anywhere would find it hard to get their heads around this concept, let alone college students in Quebec, where the relationship between French and English is at the heart of a centuries-old conflict that is far from over.

My aim, though, was not to persuade students that Stevens was right but rather to bring into question some widespread and entrenched assumptions that draw a sharp, dichotomous boundary between the two languages: "English is the language of business, French the language of diplomacy"; "French is difficult, English is easy"; "English is concrete, French is abstract"; "English is demotic, French is elitist," and such. Whereas to postulate that English and French somehow form one language is to floodlight the overlap, the liminal region where kinships and affinities as well as tensions (the dreaded "false friends" and their kind) are played out.
16 November 2016 | in translation |
Next Page »