Every year, from Black Friday to Boxing Day, I totally immerse myself in holiday music. I used to collect my own Christmas CDs, but once I got on board with Spotify I was able to start compiling a playlist which is, as I write this post, just shy of 8,500 songs and may likely hit 9,000 before the end of the season. Last weekend, I searched out and added all the new albums of holiday songs (or #holidaysongs, as I've tagged them on Twitter) and listened to them straight through once before adding them to the ongoing shuffle. These are the ones I thought were the best:
Nick Lowe, Quality Street: It opens with a rockabilly version of "Children, Go Where I Send Thee," then quickly settles into a humorous but groovy tone with songs like "Christmas at the Airport," "The North Pole Express," and "Hooves on the Roof." There's some fantastic horn and organ riffs behind the guitars on Lowe's "Silent Night," for example, and though some critics have sensed a bit of ska in his cover of Wizzard's "I Wish It Could Be Christmas Every Day," it feels a little bit more late '50s rock to me. Out of all the 2013 holiday albums, this might just be my favorite.
Elizabeth Mitchell, The Sounding Joy: A Smithsonian Folkways collection of "Christmas songs in and out of the Ruth Crawford Seeger songbook," as it says on the cover. It starts out with Mitchell and a children's chorus on a gorgeous a cappella plus hand claps version of "Oh, Mary and the Baby," with just a bit of flute and percussion for the bridge, and then she brings acoustic guitar in for "Mary Had a Baby" that's equally beautiful. So many great cuts here, but probably my favorites (after those two) are the deeply soulful "Mary Was the Queen of Galilee" with Gail Ann Dorsey and Joan Osborne and the closing track—a lively version of "Children, Go Where I Send Thee" that becomes a parade of guest stars.
Quire of Voyces, Christmas with the Quire of Voyces: This is a choir associated with Santa Barbara City College, and they've been recorded with a clear, beautiful sound. Some standout cuts for me included "The Cherry Tree Carol" and "In Judah's Land," but they're all quite good; if you're looking for a quiet, contemplative holiday record to play in the background, this is perfect.
6 December 2013 | listen to this |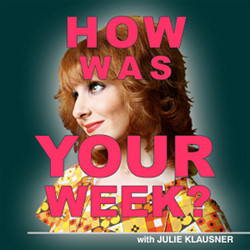 For a while now, I've been meaning to talk about one of my favorite podcasts, Julie Klausner's How Was Your Week? and how it's helped me sort out my own approach to podcasting. I've been a big fan of Julie's since we met a few years back, shortly before she sold her memoir, I Don't Care About Your Band, and it's been kind of cool to see her become increasingly visible in the last year or so—with the podcast, I think, being a significant turning point for her. It's entirely possible, for example, that you've already heard about Julie from the interviews she's given to outlets like NPR or The New York Times.
How Was Your Week? has two primary components: Julie's monologues are a showcase for what the Times called "her literate sensibility and affection for showmanship," an opportunity for her to sit in front of the microphone and riff about whatever's on her mind. Then, in her interviews, she gets to dig deep into other people's creative lives. In an article for The A.V. Club, Julie picked some of her favorite episodes; in the context of her conversation with Sharon Needles, she mentions how "there are over-the-top types that are attractive to me, and to be able to connect with them the way that you'd ideally want to be able to connect to any person once they stop performing for you…is something I definitely aspire to."
That ability to break through public personas is definitely one of Julie's strengths, but I'm also particularly impressed by episodes where she interviews writers like Alex Stone (Fooling Houdini) or Jon Ronson (The Psychopath Test), because those segments spotlight her intense curiosity and her ability to drill down into a topic, making her presence felt but allowing the interviewee's expertise to be the focus of our attention.
Because I've spent the last year developing my own podcast interview series, I tend to listen to How Was Your Week? with an ear towards what it can teach me about the craft, and I've learned a great deal from Julie about becoming more comfortable with yourself "on the air"—there really is a difference between having a one-on-one conversation with another person, and having that same conversation knowing that untold others are going to be listening in. But I've also been inspired by the ways the podcast has grown to a point where Julie can do live tapings in performance venues in Brooklyn and San Francisco, and has also put her on the radar of people who can offer her other creative projects. As she told NPR, "I don't make money doing my podcast. I've learned that people want to hire creative people who are already doing something when they approach them." That's why one of my goals for 2013 is to raise Life Stories (and the Beatrice ebooks) to a level that will create a space where other creative projects can flourish.
19 January 2013 | listen to this |
Next Page »