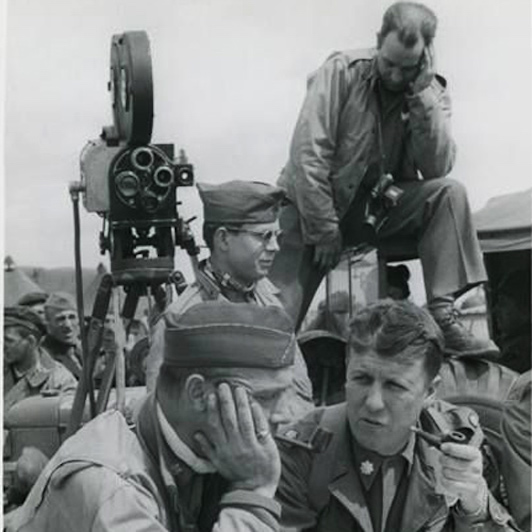 (I originally wrote this review of Five Came Back when it came out in 2014, but the editor who assigned it to me didn't know it had already been assigned to someone else. So I set it aside… But now that Netflix is about to unveil a documentary series based on the book, as well as showcasing several of the films Mark Harris talks about, I felt like, well, this was a pretty good review, maybe people should see it. So here we are.)
Every great movie director has a shadow filmography, the pictures that never got made, and there's a brief passage in Five Came Back, Mark Harris' group history of A-list Hollywood auteurs who applied their talents to the American military effort during the Second World War, that touches on a few projects pitched to studios in the late 1930s which were rejected for being out of step with the national mood before America was ready to fully commit itself to battle. John Ford saw Jean Renoir's Grand Illusion and wanted to do an English-language remake; George Stevens hit upon the anti-war novel Paths of Glory two decades before Stanley Kubrick. Even a Frank Capra film about Valley Forge, with Gary Cooper playing George Washington, was turned down because the head of Columbia Studios "couldn't bring himself to finance a movie in which audiences would be encouraged to root against British soldiers at a moment when England was under an even greater threat from Germany."
Ford had already signed up with the Navy months before the Japanese attack on Pearl Harbor. Capra joined the Army's Signal Corps division soon after, as did William Wyler and John Huston; Stevens had to finish out a contract with Columbia, but enlisted in January 1943. As in his previous book, Pictures at an Exhibition, Harris has several timelines to work with here, and he effectively crosscuts between these five directors' wartime experiences, creating a smooth narrative that even makes room to explore the larger dynamics of the awkward relationship between the wartime government in Washington and the Hollywood studios.
13 March 2017 | read this |
I first learned about Robin LaFevers' His Fair Assassin shortly before the publication of the first novel in the series, Grave Mercy, in the spring of 2012. As a fan of both fantasy and medieval history, I was intrigued by the idea of a convent of mystical assassins in 15th-century Brittany, young women trained since early childhood as killers in service to a pagan god of death camouflaged as a Catholic saint. As curious as I was, though, I didn't get around to reading it then… which, it turns out, would help me appreciate the scope of LaFevers' trilogy by experiencing it all at once.
When the final book in the trilogy, Mortal Heart, was published in late 2014, I resolved to take on the books. The first thing I realized, very soon into Grave Mercy, is that although the series has been presented to American audiences as young adult fiction—and is an absolutely solid success on that level—it might just as easily have been framed as an "adult" fantasy trilogy that just happens to feature teenaged protagonists. (See, for example, Alison Goodman's Eon and Eona, which were sold as adult fantasy in every English-language market outside North America.) From one book to the next, from one protagonist to the next, LaFevers makes the stakes increasingly complex on the grand level, and increasingly intimate on the character level, balancing the two masterfully.
While Ismae, the heroine of Grave Mercy, does have a turbulent family backstory, it essentially remains backstory as she is sent from the convent of "Saint Mortain," one of the Nine Old Golds of Brittany, and plunged into the real-life political intrigues in the court of Anne, the country's young duchess. (Although, as LaFevers concedes in author's notes, the historical timeline is increasingly compressed for dramatic effect as the series progresses.) The next novel, Dark Triumph, begins at a climactic moment in its predecessor's narrative, seen now from the perspective of Ismae's friend and co-assassin, Sybella. Sybella has also been called upon to defend the duchess, but in doing so she's forced to return to a family she's already managed to escape once. I wouldn't say that her family drama is necessarily darker than Ismae's, only that she—and we as readers—are forced to confront it more directly, and for a greater duration. That trend continues in Mortal Heart, where Annith, who has sat on the sidelines in frustration during the first two novels, defies the orders of the convent's abbess and inserts herself into the political conflict… a move that brings secrets even she didn't know about her personal history to the foreground.
(more…)
5 January 2015 | read this |
Next Page »