I first learned about Robin LaFevers' His Fair Assassin shortly before the publication of the first novel in the series, Grave Mercy, in the spring of 2012. As a fan of both fantasy and medieval history, I was intrigued by the idea of a convent of mystical assassins in 15th-century Brittany, young women trained since early childhood as killers in service to a pagan god of death camouflaged as a Catholic saint. As curious as I was, though, I didn't get around to reading it then… which, it turns out, would help me appreciate the scope of LaFevers' trilogy by experiencing it all at once.
When the final book in the trilogy, Mortal Heart, was published in late 2014, I resolved to take on the books. The first thing I realized, very soon into Grave Mercy, is that although the series has been presented to American audiences as young adult fiction—and is an absolutely solid success on that level—it might just as easily have been framed as an "adult" fantasy trilogy that just happens to feature teenaged protagonists. (See, for example, Alison Goodman's Eon and Eona, which were sold as adult fantasy in every English-language market outside North America.) From one book to the next, from one protagonist to the next, LaFevers makes the stakes increasingly complex on the grand level, and increasingly intimate on the character level, balancing the two masterfully.
While Ismae, the heroine of Grave Mercy, does have a turbulent family backstory, it essentially remains backstory as she is sent from the convent of "Saint Mortain," one of the Nine Old Golds of Brittany, and plunged into the real-life political intrigues in the court of Anne, the country's young duchess. (Although, as LaFevers concedes in author's notes, the historical timeline is increasingly compressed for dramatic effect as the series progresses.) The next novel, Dark Triumph, begins at a climactic moment in its predecessor's narrative, seen now from the perspective of Ismae's friend and co-assassin, Sybella. Sybella has also been called upon to defend the duchess, but in doing so she's forced to return to a family she's already managed to escape once. I wouldn't say that her family drama is necessarily darker than Ismae's, only that she—and we as readers—are forced to confront it more directly, and for a greater duration. That trend continues in Mortal Heart, where Annith, who has sat on the sidelines in frustration during the first two novels, defies the orders of the convent's abbess and inserts herself into the political conflict… a move that brings secrets even she didn't know about her personal history to the foreground.
(more…)
5 January 2015 | read this |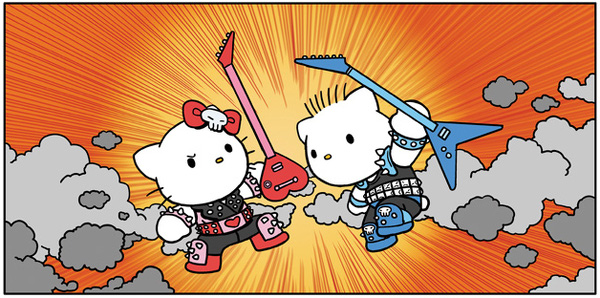 Jorge Monlongo
I can spot at least eight different Hello Kitty dolls in this apartment without actually looking for them; it's safe to say the fandom here runs pretty deep. So I was genuinely excited as soon as I learned about Hello 40, a multi-artist tribute to the character that has practically become the very definition of "iconic" over the last four decades.
There are some common themes running through many of the two- and three-page stories; parties (sometimes surprise parties!) play a recurring role, and several other stories are framed as dreams (including a story by Karl Kerschl that has its mindblowing conclusion truncated). There are a few hints of scary moments, but by the end of each story everything's been sorted out and more often than not new friends have been made; my favorite moment along those lines is in Brianne Drouhard's "Marshmallows," where Hello Kitty storms a castle and comes face to face with a feverish dragon, who helps them roast marshmallows indoors.
Some artists render Hello Kitty and her friends almost exactly like the Sanrio versions, while others take a slightly freer illustrative hand, with almost an indie comics vibe in a few cases—and I love the middle ground that all-ages comics artists like Art Baltazar and Chris Giarrusso take in their contributions. And there are nearly painterly approaches, like Drouhard's or Martin Hsu's "Once Upon a Hello Kitty Wedding," that are gorgeous. This is a book that should be equally enjoyable for those of us who are roughly the same age as Hello Kitty simply reveling in the artwork on our own, or sharing the stories with much younger fans… or future fans!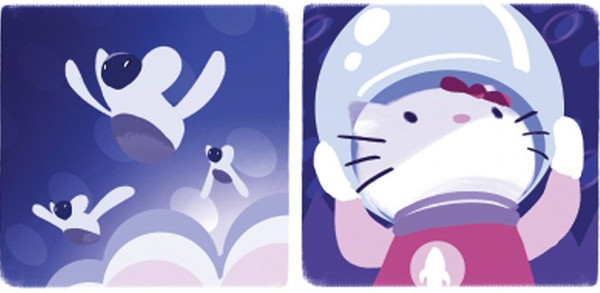 Karl Kerschl
21 December 2014 | read this |
Next Page »