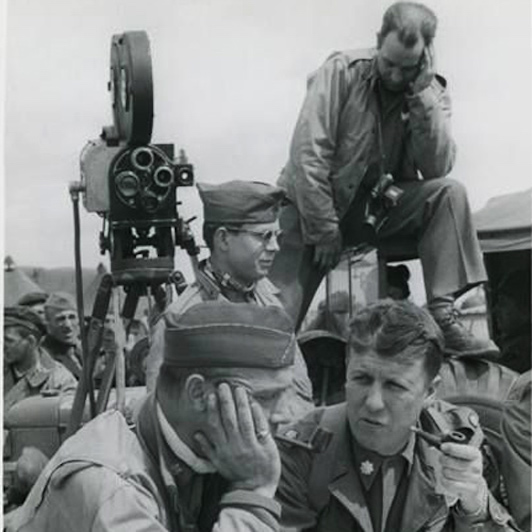 (I originally wrote this review of Five Came Back when it came out in 2014, but the editor who assigned it to me didn't know it had already been assigned to someone else. So I set it aside… But now that Netflix is about to unveil a documentary series based on the book, as well as showcasing several of the films Mark Harris talks about, I felt like, well, this was a pretty good review, maybe people should see it. So here we are.)
Every great movie director has a shadow filmography, the pictures that never got made, and there's a brief passage in Five Came Back, Mark Harris' group history of A-list Hollywood auteurs who applied their talents to the American military effort during the Second World War, that touches on a few projects pitched to studios in the late 1930s which were rejected for being out of step with the national mood before America was ready to fully commit itself to battle. John Ford saw Jean Renoir's Grand Illusion and wanted to do an English-language remake; George Stevens hit upon the anti-war novel Paths of Glory two decades before Stanley Kubrick. Even a Frank Capra film about Valley Forge, with Gary Cooper playing George Washington, was turned down because the head of Columbia Studios "couldn't bring himself to finance a movie in which audiences would be encouraged to root against British soldiers at a moment when England was under an even greater threat from Germany."
Ford had already signed up with the Navy months before the Japanese attack on Pearl Harbor. Capra joined the Army's Signal Corps division soon after, as did William Wyler and John Huston; Stevens had to finish out a contract with Columbia, but enlisted in January 1943. As in his previous book, Pictures at an Exhibition, Harris has several timelines to work with here, and he effectively crosscuts between these five directors' wartime experiences, creating a smooth narrative that even makes room to explore the larger dynamics of the awkward relationship between the wartime government in Washington and the Hollywood studios.
Capra tried to straddle the two camps, overseeing the production of propaganda films like Prelude to War, but his ambitious plans eventually fell victim to bureaucratic in-fighting and other production setbacks. The Negro Soldier, a film intended to "convince skeptical African American men and their families that this was their war too," was originally assigned to Wyler, who spoke with black soldiers stationed at bases across the South and realized he had no interest in eliding over the racism they endured. He was taken off the project, and it wasn't until 1944 that a finished film was released.
Then there's the infamous Know Your Enemy—Japan, which went through several iterations, in part because the government couldn't provide a clear directive on how to discuss Emperor Hirohito and his subjects. After several failed efforts, Capra had Huston, who'd returned to the States after shooting frontline documentaries in Alaska (Report from the Aleutians) and the Italian front (The Battle of San Pietro), work on the script, resulting in "the most racist, unapologetically xenophobic version that had yet been drafted." Eventually, Capra wrote it himself, but it had taken so long to complete that it didn't arrive in the Pacific theater until after the bombing of Hiroshima, and was immediately suppressed for three decades, remembered today as an example of propaganda's worst excesses.
Meanwhile, Ford was at Midway, shooting footage of the U.S. Navy repelling Japanese invaders that would, in his words, show "the mothers of America… that we're in a war, and that we've been getting the shit kicked out of us for five months, and now we're starting to hit back." As Harris notes, Ford's combat scenes, cameras shaking from the explosions, are the foundation for what we now consider "realism" in cinematic depictions of war. Home front audiences also loved Wyler's The Memphis Belle, which followed the crew of a B-17 bomber on a mission over Germany. It was so popular that Wyler decided his next subject would also be a bombing mission. He went out to get aerial footage of the Italian coast, pointing his camera through an opening in the floor of a B-25 bomber; when he landed, he had lost his hearing, and it would only partially return in one ear. (The film, Thunderbolt, wasn't even released until 1947.)
In addition to entering the war later than his colleagues, Stevens also approached his military service with a different mindset: While the others were putting their careers on hold for the war effort, Stevens accepted the possibility that he might not be returning to Hollywood, and this belief colored his attitude during his earliest experiences at the front. Then he was assigned to document the D-Day landing at Normandy, and to accompany the troops as they pushed their way across the continent. It was a path that eventually took him and his crew to the gates of the concentration camps at Dora and Dachau, where they would gather photographic evidence eventually shown at the Nuremberg trials; the footage, Harris reports, did "what weeks of testimony had not: It made [the Nazis'] crimes irrefutable, and their fates inevitable."
Stevens eventually came back to the film business, though, partnering with Wyler and Capra to found the ill-fated Liberty Films production company. Harris makes a strong case for It's a Wonderful Life as Frank Capra's working through his post-war insecurities, contrasting it—as film audiences in 1946 did—with Wyler's more direct examination of what awaited American soldiers returning home in The Best Years of Our Lives. (Huston also tried to address the plight of soldiers dealing with what we'd now refer to as post-traumatic stress in Let There Be Light, shooting documentary footage at an army psychiatric hospital in Long Island. Despite praise from those critics whom Huston was able to show the film, the government kept it out of circulation even longer than Know Your Enemy—Japan.)
"This is a total war fought with every conceivable weapon," Capra urged his Signal Corps crew, reassuring them their work was as vital to the war effort as that of the frontline combatants. "Your weapon is film! Your bombs are ideas! Hollywood is a war plant!" Yet if this was war, Harris tells us, it was a highly uneven campaign—and he doesn't hold back when it comes to documenting the worst missteps. At the same time, he recognizes that Capra, Ford, Huston, Stevens, and Wyler all had complex personal reasons for wanting to put their cinematic skills to use in fighting the war, and as much insight as Five Came Back gives us into the films they made, its greater contribution is to help us better understand the men who made them.
photo: George Stevens and his crew in France, 1944 /
Margaret Herrick Library, Academy of Motion Pictures Arts and Sciences
13 March 2017 | read this |