As I'm writing this post, I've recently finished editing a Life Stories podcast featuring Rayya Elias, which we recorded shortly after her memoir Harley Loco came out in paperback. And that reminded me that I'd had this recurring thought about how I could tell you about some earlier episodes of the podcast, and how those books were out in paperback, too, and if you hadn't read them when they first came out, here was a good opportunity.
Well, if you look at the iTunes episode list, you'll see the podcast has been running for just about two and a half years now, so a lot of those books are in paperback now, and it didn't seem fair to single out some at the expense of others. So I thought, okay, have any of my early guests come up with a new memoir?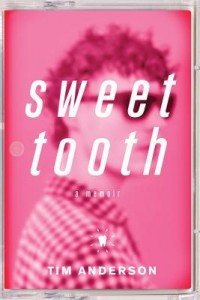 One of my first conversations was with Tim Anderson, who'd written Tune In Tokyo about his time as a teacher of conversational English in Japan. His second memoir, Sweet Tooth, backtracks in time to his North Carolina adolescence, when he was simultaneously realizing that he was gay and developing the first symptoms of diabetes. As in his first book, Tim tells his story with an airy, self-deprecating humor that's likely to draw you in pretty quickly—and you don't need to have read Tune In Tokyo to follow along, so you can jump right in.
6 July 2014 | read this |
I'm writing the occasional book review and literary feature for The Daily Beast now, and this weekend they published "The Bioterrorist Who Loved Mahler," where I look at the new Richard Powers novel, Orfeo.
I've been a fan of Powers for nearly two decades, since my discovery of Galatea 2.2 coincided with my initial fascination with the new-fangled Internet back in the mid-'90s, and I've written other articles about why his previous novel Generosity, as well as several of the novels before that, ought to be classified as science fiction. I feel the same way about Orfeo to some extent, although it's also (I think) utterly within the realm of scientific plausibility based on contemporary technology. So maybe an apt comparison might be the most recent novels of William Gibson, although—even with a man-on-the-run premise—Powers is distinctly less action-oriented, more overtly geared towards immersive contemplative sequences.
This was a fun review to write: I got to namecheck Milton Babbitt and Philip K. Dick, and how often does that opportunity present itself naturally, right?
25 January 2014 | read this |
« Previous Page
—
Next Page »