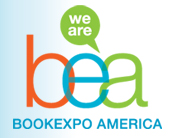 We're coming up on BookExpo America, the annual bookselling industry's national trade show, in a few weeks—and I'll be pitching in at a few events again this year. First of all, on Monday, June 4, I'll be a panelist at the Book Bloggers Conference, one of several folks who've been invited to talk about how to make money as a book blogger. Except that I won't actually be talking about how to make money blogging, but about my recent efforts to produce an app version of Beatrice, delivering "premium content" that expands upon the mission I've been working on at this site all these years—introducing readers to writers. I'll be joining BlogHer senior editor Rita Arens, Thea James of The Book Smugglers, and Sarah Pitre of Forever Young Adult; we'll all be fielding questions from Scott Fox, the author of Click Millionaires, a handbook for creating "Internet lifestyle businesses" designed to draw upon your passions and expertise so you can start working more for yourself. I've just started digging into it, but I'm looking forward to talking about his ideas while we're all on the stage.
Then on Tuesday, June 5, I'll be introducing everyone who swings by the Downtown Stage at 11:00 a.m. to four of the authors of this year's buzz titles: novelists Antoine Wilson, Rachel Joyce, and Vaddey Ratner, plus memoirist Susannah Cahalan. This is rather a short session, so I'm planning on staying out of the way and letting these writers tell you about the books they've got coming out later this year, and why you should keep an eye out for them. (I'm starting to get my advance copies in the mail, and I'm looking forward to digging into them next week!)
Oh! And on Monday night, you should totally swing by Lady Jane's Salon, the monthly reading series dedicated to romance fiction I helped launch three-and-a-half years ago. Our guests that evening are Cara Elliot, Taryn Rose, Mari Mancusi, Diana Peterfreund, and Beatriz Williams—and we're hoping that a lot of romance fans who are coming to New York City for the BookExpo will drop by and introduce themselves! At the end of the year, the net proceeds from our $5 cover are donated to a local women's charity, so you'll be supporting a good cause as well as having a good time.
Then, of course, there's all the wandering around the Javits Convention Center I'm likely to do while BookExpo is in full swing: catching up with publishers from outside New York, taking notes at industry panels, standing in line to get autographed books… If there's any decent cell-phone reception, which is unfortunately never a given at the Javits, I'll be tweeting some highlights, so keep an eye out!
21 May 2012 | events |
On Wednesday, February 15, I'll be participating in "Getting Published & Beyond in the 21st Century," a panel discussion sponsored by Pubslush Press. The final lineup is still being assembled, but I'm looking forward to sharing the stage with the author Emma Straub and Amanda Pritzker, a senior publicist at Penguin's Portfolio imprint. (There are some other folks I'm pretty sure are coming, but I don't want to say anything before it's official!)
In my previous role as the director of e-marketing strategy at Houghton Mifflin Harcourt, and in the consulting work I do for authors and publishers today, I've encouraged writers to familiarize themselves with the major social media tools and pick the ones that resonate most closely not just with their publicity goals, but with their comfort in being online. I'm not one of those people who thinks you have to be everywhere and do everything to promote yourself successfully online; in fact, I think one of the first and biggest problems many authors face when they try to do their own social media marketing is that they spread themselves too thin too fast. What I was hearing from a lot of authors, though, was that while they were being told that they needed to go out onto the Internet and promote themselves, they weren't always being given much practical advice on how to go about doing that.
So a big part of my message to the audience at Wix Lounge that evening is going to be that even though social media marketing is a lot of work, it doesn't have to be a lot of hard work. Ultimately, I don't believe that you should be out there "selling product" to people. Instead, you want to be yourself—admittedly, a somewhat streamlined version of yourself—and make a connection with the readers to whom your work is most likely to be valuable, whether that's because of the information you share or the entertainment you provide. And you demonstrate to those people, day in and day out, that you are an interesting person who, from time to time, has a book out they might want to read.
I'm thinking back to a keynote speech I saw YA novelist John Green give in late 2011 at mediabistro.com's Publishing App Expo. "We did not market anything, ever," Green said about the video blogs he's filmed with his brother, Hank, which have accrued more than half a million fans in less than five years. (Maybe closer to a million, depending on the yardstick you're using to measure Green's popularity.) "It isn't like YouTube exists so I can share my books with you." When he does mention a new book or some other project, he says, "it's because I'm thinking about it, not because I'm desperate to sell it."
Okay, I think it's hyperbolic of Green to say "I've never, ever, ever done marketing," but I see where he's coming from—I'm just a firm believer in the Seth Godin school of permission marketing, or "the privilege (not the right) of delivering anticipated, personal and relevant messages to people who actually want to get them," and of the idea that every aspect of your public presence is, in effect, a subtle form of "marketing" yourself to others.
(By the way, if you haven't read Green's latest, The Fault in Our Stars, yet, you really should. It's got one of the best first-person voices I've seen in a long time, maybe since Matthew Quick's The Silver Linings Playbook, which is a book it reminds me of in other, emotionally resonant ways.)
21 January 2012 | events |
« Previous Page
—
Next Page »