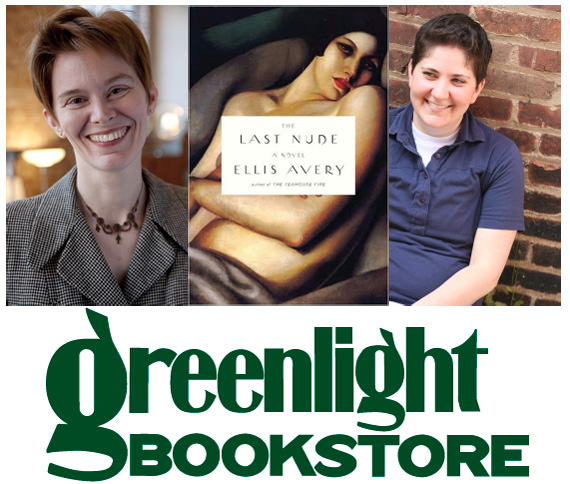 After a brief break for the holidays, I'm back making my weekly posts for the USA Network's Character Approved blog. This week's post was about The Last Nude, the second novel from Ellis Avery. There's a grain of historical truth to the story: Tamara de Lempicka really did find a woman named Rafaela in the Bois de Boulogne and recruit her to be a model for several of her paintings, taking her as a lover while she was at it. But Avery has created an entire life for Rafaela, who she imagines as a 17-year-old from New York, who jumped ship and made her way to Paris to escape an arranged marriage with an Italian cousin. At first, her relationship with Tamara opens her up to a world of possibilities, but when greedy art collectors start circling around the sensuous portraits of the young girl, she discovers the limits of Tamara's affections…
It's a great read, which is why I'm doubly excited that Ellis Avery will be participating in the first of this year's "Author/Blogger" events in the series I curate at Brooklyn's Greenlight Bookstore. On Monday, February 20, at 7 p.m., Avery will read from The Last Nude and then discuss the novel and its themes with Miriam Z. Perez, one of the bloggers at Feministing. Perez, a writer and reproductive justice activist based in Brooklyn, is also the founder of RadicalDoula.com, and has received various awards and recognitions for her work, including recognition as a Lambda Literary Foundation Emerging LGBT Voice in Non-Fiction in 2010. So this is sure to be another exciting conversation of the sort that we've become accustomed to having at Greenlight, and if you're in the area I hope you'll think about joining us.
While I'm on the subject, I'm trying to put together the schedule for the rest of this year's author/blogger events, so if you're a book publicist who's been thinking about sending one of your authors to New York City for a tour appearance between March and, oh, let's say November, I'd encourage you to put this series on your radar. We generally get a good-sized crowd; we always get a passionate audience. And the folks at Greenlight are a wonderful bookselling crew. You really can't go wrong sending an author there. So you can get in touch with me, or contact the Greenlight crew—I'm eager to see how the schedule comes together.
Oh, I'm also reaching out to bloggers in the New York City area, too: We've had some really great bloggers participate in the series so far, and I know of some other people I would love to bring into the bookstore, but it's a big city, and I don't know everyone in it. So if you think you'd enjoy having a 20-minute conversation with an author in front of an audience, get in touch—even better would be if you know of a specific book that's coming out in 2012 whose author you'd love to ask questions.
11 January 2012 | events |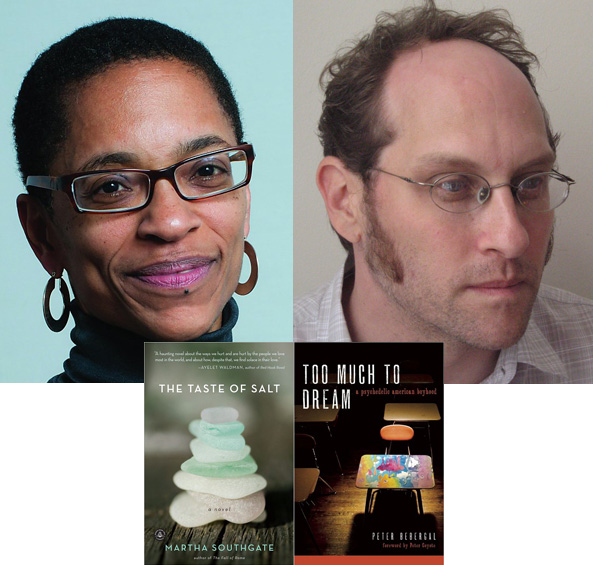 Tonight's my Blogger/Author reading series at Greenlight Bookstore, and I'm looking forward to introducing Martha Southgate as she reads from her latest novel, The Taste of Salt. It's a story about a woman who's done everything she can to get away from her past—specifically, the alcoholism of both her father and her younger brother—but of course that's not going to turn out very well. After she reads from the book, Martha will field questions from Maia Szalavitz, a journalist who's blogged for the Huffington Post and Psychology Today and has written extensive about both addiction and family conflict. It should be a very powerful conversation, and if you're in the vicinity of Brooklyn, I hope you'll be able to come by at 7:30 p.m. and contribute to it.
Then, on Wednesday (October 12), I'll be at the New York University bookstore to talk with Peter Bebergal about his memoir, Too Much to Dream. Bebergal looks back at his "psychedelic American boyhood," in which he basically gave over his teen years and a portion of his young adulthood to a combination of hallucinogenic drugs and "one part occultism, two parts magic, a healthy dose of gnosticism, and a mighty helping of hermetic philosophy." It turns out that he and I probably crossed paths in Harvard Square at some point in 1987 or 1988—or, at least, that I would have walked past him in the crowd of punks hanging out in the Pit on my way to the bookstore. I'm looking forward to asking him about growing up in Lovecraft country, and about whether hallucinogenics really can open their users up to mystical experiences—and how, as a recovering addict, he feels about that if it's true. Also, Robert Anton Wilson! Because it's always fun to find somebody you can talk about Robert Anton Wilson with. We'll be starting at 5 p.m.; come by if you get a chance!
10 October 2011 | events |
« Previous Page
—
Next Page »