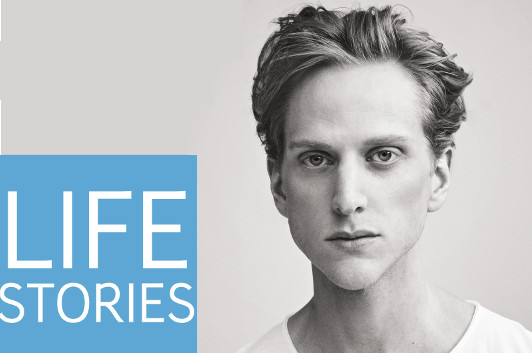 I met David Hallberg at the midtown offices of the American Ballet Theater, where they'd set aside a conference room for us to talk about his new memoir, A Body of Work. It's about his relentless quest for perfection, from his earliest days as a ballet student in Arizona to his role as a principal dancer at ABT (and as the first American to hold a position of comparative stature at the Bolshoi's dance company). But it's also about realizing that, even though he thought he was pushing himself to the limit, he was really holding himself back—and about how a career-threatening injury drove him not just into physical therapy but into a complete overhaul of his emotional approach to his craft.
As I was reading A Body of Work, I started thinking Jim Bouton's classic baseball memoir, Ball Four. Both books are by young men who've dedicated themselves to their field but find themselves coming face-to-face with the prospect of no longer being able to do the thing they love, far sooner than they'd ever anticipated. Fortunately, Hallberg was able to make the comeback, and as this episode goes online he's approaching the first anniversary of his return to the stage.
Listen to Life Stories #101: David Hallberg (MP3 file); or download this file by right-clicking (Mac users, option-click). Or subscribe to Life Stories in iTunes, where you can catch up with earlier episodes and be alerted whenever a new one is released. (If you're already an iTunes subscriber, please consider rating and reviewing the podcast!)
photo: Bjorn Iooss
18 December 2017 | life stories |

photo: Kaci Smart
The Language of Trees is the third in Steve Wiegenstein's series of novel about Daybreak, a fictional utopian community in 19th-century Missouri. I'd not come across the previous two, Slant of Light and This Old World, but it doesn't matter; you'll be able to dive into the world Wiegenstein's created and sort out the relationships between the various characters easily enough—and chances are you'll get hooked by the story of how the community deals with the arrival of a lumber and mining company looking to acquire the natural resources within Daybreak's boundaries and the surrounding landscape… which makes this a very timely story indeed. (And, he says, there's already a fourth novel in the works, which will bring Daybreak into the twentieth century.) Here, he talks a bit about some of the historical inspirations for these novels.
In 2006, I awoke one morning with what I thought was a great idea for a novel.

Before I go any further, let me give you some background about myself. I am a longtime teacher at the college level, and over the years have been fascinated by the utopian movements of the 19th century. There were lots of these communities across the United States in the 1830s and 1840s; the Shakers, Brook Farm, New Harmony, Oneida, are just a few of the most familiar names. I also have a background in creative writing, although in 2006 I had not pursued that interest for quite a while.

The idea I woke up with that April morning was to combine these two interests and create a fictional utopian community in the Missouri Ozarks, the area where I grew up, in the years before and during the Civil War. I figured that the clash of a group of idealists with the troubles of the times would provide lots of opportunity for drama. So I started to write, and for the past eleven years I have rarely gone more than two days in a row without spending time working on the books that have grown out of that initial idea.
12 December 2017 | guest authors |
Next Page »