photo: John Leary
Many of the protagonists in Skating on the Vertical, the debut short story collection by Jan English Leary, are women on the edge: A young teacher frustrated by a system rigged against one of her immigrant students; a mother desperate to persuade her teenage daughter not to have an abortion; women struggling not to relapse into self-destructive habits in the face of stress. Nobody comes out the other side "fixed," but they find the strength to push through just the same. In this guest essay, Leary talks about a writer whose emotional depths helped her realize that she, too, not only had stories to tell but could find the means within her to tell them.
I came late to writing fiction, later than most writers. I was in my mid-thirties with two small children and a full-time job teaching French. I'd always been an addicted reader and a lover of language, but it never occurred to me that I could write fiction. I could write analytical essays about other people's work, but I couldn't imagine generating stories myself. It was motherhood that brought me to writing, that made me want to explore the intricacies of human relationships through stories.

Back when I was in high school, I read Salinger's Nine Stories, and my eyes opened to the magic of short fiction. I started reading my parents' issues of The New Yorker and came to know the work of Eudora Welty, John Updike, John Cheever, and Isaac Bashevis Singer. As a young adult, I loved the work of Ann Beattie, Alice Munro, Tobias Wolff, and Lorrie Moore. But it wasn't until the early 1990s, after I'd been writing fiction for a few years myself, that I encountered the work of Antonya Nelson in The New Yorker and The Best American Short Stories. In her work, I knew I'd found someone who spoke to me not only as a writer but also as a woman and a mother.

Nelson writes about the power of maternal love, but she doesn't shy away from allowing her characters to have moments of doubt, regret, even rage and to make big mistakes. She is unflinching in her honesty. No one does a better job than Nelson of populating her stories with families that are broken and cobbled together but bound by fragile yet fierce love. Sometimes these are biological bonds; sometimes they are alliances made of marriage. And with Nelson, there's always a complicated family web: ex-spouses, in-laws, step-children. But what endures are the bonds of familial love.
11 December 2017 | selling shorts |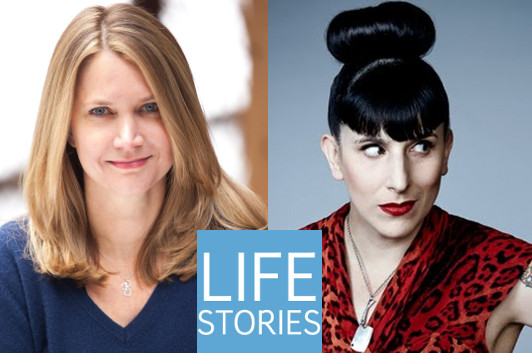 For the 100th episode of Life Stories, the podcast where I've been talking to memoir writers about their lives and the art of writing memoir, I wanted to do something special. So, in the spring of 2017, I sat down with Kat Kinsman, the author of Hi, Anxiety: Life with a Bad Case of Nerves, and Andrea Petersen, the author of On Edge: A Journey Through Anxiety, for a wide-ranging discussion about their personal experiences with anxiety disorder, about maintaining their mental health while dealing with the pressures of their careers in the media industry—like, what does and doesn't work for them, and why it might or might not work for someone else suffering from anxiety—and about the battle that was then raging to protect our government health care programs. (A battle that we'll undoubtedly have to fight again before too long.)
Sometimes it's hard to believe that it's been nearly six years since I uploaded my first Life Stories interview, and I'm grateful for the opportunity to have talked to so many fascinating people about their experiences, and about how they've striven to communicate their experiences to others. There's several more interviews already in the pipeline, and while the schedule has been somewhat erratic at times, I'm hoping to establish a steady rhythm in 2018. I hope you'll continue to join me for those conversations!
Listen to Life Stories #100: Kat Kinsman & Andrea Petersen (MP3 file); or download this file by right-clicking (Mac users, option-click). Or subscribe to Life Stories in iTunes, where you can catch up with earlier episodes and be alerted whenever a new one is released. (If you're already an iTunes subscriber, please consider rating and reviewing the podcast!)
photos: Marc Goldberg Photography, Jeremy Freeman/CNN
7 December 2017 | life stories |
« Previous Page
—
Next Page »