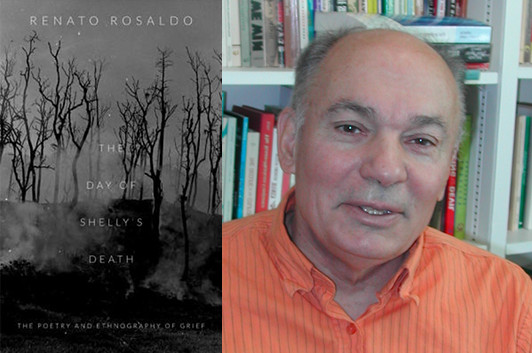 photo via NYU
In The Day of Shelly's Death, the anthropologist and poet Renato Rosaldo writes about the death of his wife, Michelle Rosaldo, in 1981 just after they had arrived in the Philippines for a fieldwork expedition. As he addresses the subject from various perspectives—including, in "New Shoes," that of Shelly herself—Rosaldo maintains a plain, straightforward tone… and, in this guest essay, he discusses another case in which a moment of poetic insight was couched in simple language. Is Naomi Shihab Nye's "Gate A-4" a poem, a very short essay, or something else? Rosaldo sides on the case of poetry, and I'm inclined to agree.
I work hard to write accessible poems. It's difficult to make it look easy.

In writing to be understood I've sometimes been inspired by what William Butler Yeats, in his poem "Adam's Curse," famously said.

"A line will take us hours maybe;
Yet if it does not seem a moment's thought,
Our stitching and unstitching has been naught."

In other words, he worked and worked to write lines of poetry that sing with meter and rhyme, yet read as if they were effortlessly dashed off without a moment's thought.

Nonetheless, I've found that readers often worry that a poem they can understand is artless, perhaps prose, merely a good story, not a poem. That readers can be so disconcerted by an accessible poem makes one wonder. Do they think poems are beautiful words that can't be understood? What comes to mind for me is what a student said about my lectures in the first course I taught. "Your lectures," she said, "are pure poetry—beautiful, I can't understand a word."

Consider, for example, an accessible poem by Naomi Shihab Nye, "Gate A-4," that recently went viral on the internet. Although they were carefully crafted, her verses appear chatty, conversational, as if casually told to a friend. Readers posted comments. They agreed, her verse was beautiful, but some wondered: Was it poetry? Prose? Or just a good story?
16 March 2014 | poets on poets |

photo via AATIA.org
As a translator, Tiina Nunnally has had a long-term relationship with the early 20th-century Norwegian author Sigrid Undset; you may have seen the monster-sized omnibus edition of her translation of Undset's historical epic Kristin Lavransdatter novels that came out about a decade ago. Around that same time, Nunnally finished a translation of Unset's first, more contemporary novel, Marta Oulie—but, as she explains, it took her a while to find someone to publish the story of a young woman in Oslo struggling against societal expectations and a confining marriage. As you can see, she was ultimately successful, and here she tells us a bit about why she took such pains to bring this novel to light for English-language readers.
This morning I went to the post office and found a card from my novelist friend Mary, who lives in California. We first met in a book club in Seattle more than twenty years ago, and since then she and I have been discussing books both on the phone and by mail—and yes, we actually still write letters to each other! Last week I sent her a copy of my translation of Sigrid Undset's Marta Oulie because I know that Mary is a big fan of Undset's work. And she was definitely excited to get the book. "Imagine," she said, "until now it did not exist in English!"

And it is surprising that Undset's first novel (from 1907) has never before appeared in English translation. After all, she won the Nobel Prize in Literature (in 1928), and her epic medieval trilogy Kristin Lavransdatter as well as the four-volume Olav Audunssøn (published in English as The Master of Hestviken) have captivated readers for generations. But many people don't realize that Undset started her literary career by writing contemporary works. The Swedish Nobel committee even acknowledged the power of Undset's early novels and short stories by praising her ability to depict modern women "sympathetically but with merciless truthfulness… and [to] convey the evolution of their destinies with the most implacable logic."

Since Sigrid Undset is one of my all-time favorite authors, I wanted other people to read more of her books—especially her early stories.
10 March 2014 | in translation |
« Previous Page