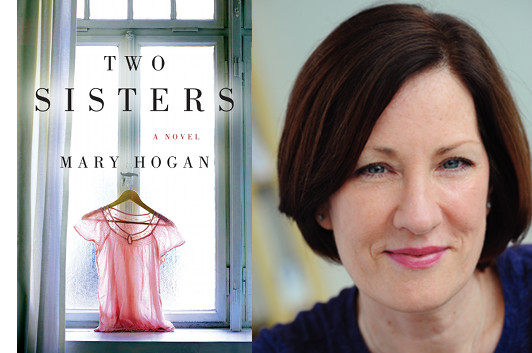 photo: Mark Bennington
I met Mary Hogan (no relation) at a book party last summer, and we got to talking about how she had a new novel, Two Sisters, coming out in early 2014. Although she'd been writing young adult fiction for several years, this would be her first novel aimed explicitly at adult readers—well, I wondered, what does that transition feel like for a writer, in the process of writing and then again as it's being published? Here's what she has to say on the subject…
When I wrote my first novel, The Serious Kiss, I had no idea I was writing "teen" fiction. Query letters to agents would come back saying, "Sorry, we don't handle Y.A." I thought, "What the hell is YAH??" Seriously, I was clueless. In my mind, I had written a story about a 14-year-old girl who was trapped in her crazy family. Admittedly, she was a girl who—like me at 14—longed for a meaningful lip-lock. Still, there were adult themes of alcoholism and family shambles. They just happened to be viewed through a teenager's eyes.

Indeed, I was young(er) and naïve then. But a quick study, too. Once I discovered I was writing in the teen genre I found out what I needed to know. Seeking the advice of a middle school librarian, I asked, "Are there rules?" Nodding emphatically, she said two words: Sex and swearing.

"If you want your books to be read in schools," she said, "and you DO, no sex and no swearing. Remember, you're writing for parental approval as well as teen enjoyment." Damn! I thought, instantly. It felt so… limiting.

Not every YA author follows the "rules". In fact, being banned from a middle school library is a badge of honor among some. But I rather liked the idea of writing teen characters who were smart and articulate. The first line of The Serious Kiss is, "My father drinks too much and my mother eats too much which pretty much explains why I am the way I am." Look ma! No swearing!
23 March 2014 | guest authors |
I never read Harriet the Spy growing up.
I'm not sure exactly how that happened, although I have some theories. The books I remember reading for fun in the years leading up to adolescence tend to feature boys as protagonists: The Hardy Boys, of course, along with John D. Fitzgerald's The Great Brain series, Keith Robertson's Henry Reed quartet, and the Danny Dunn novels of Raymond Abrashkin and Jay Williams. Apart from Beverly Cleary's Ramona and Beezus stories, I can't remember any "girl-centric" pleasure reading from that period; the one Judy Blume book we were assigned in elementary school was Iggie's House. A book about an 11-year-old girl filling her diary with uncensored observations of her classmates and neighbors wouldn't have been on my radar.
My loss, as it turns out.
Harriet the Spy was the first novel by Louise Fitzhugh, originally published in 1964. Delacorte Press has just released a 50th anniversary edition that features short tribute essays by several authors, including Judy Blume, Lois Lowry, and Gregory Maguire. When it arrived in a batch of other new books, I decided to check out the opening pages on my subway ride home. That opening scene, where Harriet's nanny, Ole Golly, takes her and her best friend Sport out to visit her mother in Far Rockaway, and then Mrs. Golly breaks down when it's time for them all to go home? I was not expecting the novel to get that dark, that fast… and that, as though of you who actually read the novel when you were kids know, is only the beginning.
I mean, "PINKY WHITEHEAD HAS NOT CHANGED. PINKY WHITEHEAD WILL NEVER CHANGE"? That's just bleak.
(more…)
20 March 2014 | read this |
Next Page »