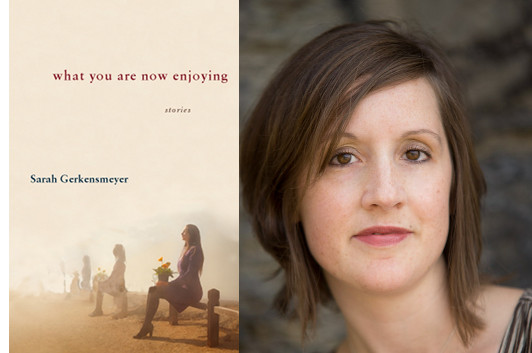 photo: L. Deemer
Many of the stories in Sarah Gerkensmeyer's What You Are Now Enjoying, like "Dear John," unfold with a dreamlike logic; even a story like "My Husband's House," which seems relatively grounded, has a hallucinatory quality to it—we wander through in a bit of a daze, much like her protagonists. Yet the "surreal slant" in her fiction "has been somewhat of a mystery for me," she told an interviewer; maybe, as she theorized, it has something to do with her midwestern routes: "There is magic and mystery there. Something like heat lightning, I guess. Or crouching beneath a utility sink in the basement while a tornado roars by like a train. There is a sense of the unexpected creeping up out of the familiar and the ordinary and the mundane. I think I try to encapsulate that same aesthetic in my own work." And, as you'll see, when she finds examples of that aesthetic in other people's stories, it stays with her.
New Yorkers will be able to see for themselves when Gerkensmeyer comes to read at Pen Parentis on April 9, 2013.
In a red river: a small child drowning, tugged below the surface by a swift current—a piggish man in pursuit.

On a train: a mother righting her baby daughter in her seat after she's toppled over—a white-haired stranger with a cigar hovering above them, grinning.

In a restaurant in Moscow: a starving boy pulled in from the street and offered oysters—the salty, slimy crunch when he bites into the shell.

It's the images that haunt me most. The red water and the piggish man in Flannery O'Connor's "The River;" the toppled-over baby in Shirley Jackson's "The Witch;" the moldy crunch of teeth against oyster shell in Anton Chekhov's "Oysters." And when I come back to these stories years later and come face-to-face with the exact, horrible context of each of them once again, the bigger picture is haunting, too, of course.

In "The River," a little boy who has sudden, skewed ideas about religion drowns as he tries desperately to baptize himself. In "The Witch," a stranger on a train tells a young boy a horribly inappropriate story about how he also had a little baby sister and he strangled her and chopped her up into pieces. In "Oysters," a starving boy with a sick father is pulled off of the streets of Moscow and into a fancy restaurant, where he is offered oysters as a joke.) But that's the whole story, something I usually forget relatively soon after I've set a book down. It's the images I carry with me. It's the images, I think, that push me to write my own stories.
20 March 2013 | selling shorts |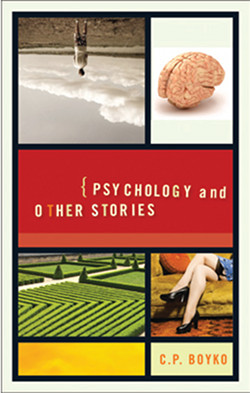 C.P. Boyko's Psychology and Other Stories is full of deep character studies, like the sexually confused boarding school student of "Reaction-Formation" or the sociopathic escaped mental patient of "Eat the Rich and Shit the Poor." Boyko settles into his stories, then slowly explores their edges—at novella length, he can afford to take his time. Earlier this year, he read a short story by another Canadian writer he found equally immersive, which he tells us about here.
I have become disenchanted with first-person narration, but "Rock and a Hard Place" by Trevor Clark (in his collection Escape and Other Stories) makes me believe in it again. The story is desultory without being maundering, the narrator candid without sounding pompous or declamatory, and the voice gritty and realistic without resort to a prose that is sloppy or illiterate. The story is packed with event—it is written as a sort of unabashed confession by a 29-year-old single mother trying to quit smoking crack—and at the end of thirty dense, harrowing pages, one feels as if one has heard her entire life story. That's quite a feat. Here are two typical paragraphs:

I remember this lease-breaking party I had so I could move out of my apartment. The neighbours were used to me cranking up my stereo, but I think they were all afraid to complain because they'd heard me yelling and ranting so often. I really outdid myself that night. A little while ago I ran into this guy I know who told me he'd never forget it. I asked, "Were you there?"

"Was I there? I was in the middle of doing a hash toke on the stove with hot knives when all the power got cut off." The superintendent wanted to close down the stereo so he blacked out the apartment. People were throwing beer bottles, glasses, and just about everything off the balcony. They still wouldn't break my lease, though.

There are some other great stories in this collection, too.
9 December 2012 | selling shorts |
« Previous Page
—
Next Page »