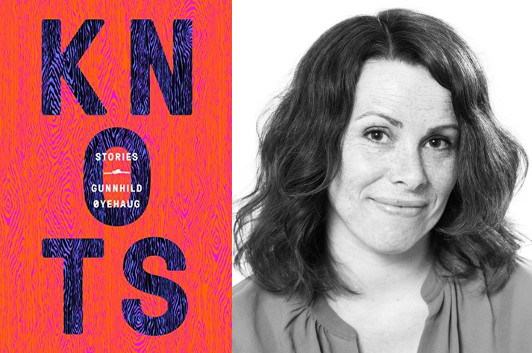 photo: Magne Sandnes
Knots is full of short stories—some of them no more than a single paragraph—that burrow deep into a character's head as they muddle through situations that threaten to overwhelm them. A man decides he's going to prove to his wife he's not a complete loser and tries to go shopping at IKEA; a young girl wants to get from her bedroom to the bathroom without her family noticing her and forcing her to play the piano; a deer stands at the edge of the forest, depressed because nobody notices him. Gunnhild Øyehaug is less interested in the mechanics of plot than the complexities of consciousness—and not just the character's consciousness, but the narrator's and, perhaps, by extension, the reader's. In this guest essay, the Norwegian author talks about some of the writers who set her on that path.
(Knots is Øyehaug's English-language debut; she'll be appearing at Scandinavia House in New York City on July 11, 2017.)
Sometimes you read something that changes the way you write. My short stories exist, as texts, somewhere between what you call stories and short prose. Dubliners by James Joyce changed my short stories, and after that they were changed by Kafka's stories, and after that it was Daniil Kharms' short prose (or prose poetry), combined with a strong love for anything written by Virginia Woolf.

I'd been writing short stories since I was a teenager, heavily influenced by the Norwegian short story master Tarjei Vesaas, and perhaps also the Norwegian short story master Johan Borgen, and the Norwegian pulp fiction queen Margit Sandemo. I suppose I took the drama from the pulp fiction and combined it with Vesaas' heavy symbolism and Borgen's dynamic, entertaining narration in a way that many times has made me think that I'm glad my short stories from my teenage-writer's period have never been found again. Still, I think there might be traces from that heavy combination in my writing, but when I read Joyce, at the age of 22, it was a revelation.
9 July 2017 | selling shorts |

photo: Emily Atherton
The Redemption of Galen Pike, the Frank O'Connor International Short Story Award-winning collection from Carys Davies, takes readers to a lot of different places. The title story is set in a Colorado frontier town, where a virtuous Quaker woman comes each day to the cell where a murderer awaits his execution; other stories show readers a tense encounter between two isolated souls in the early days of Australian settlement, a lonely man who tells Queen Victoria the lurid story of his marriage's end, a tragic scene played out in a Siberian hostel… Davies' dramas are already stark, but they stand out even more aggressively in these settings, each one hitting home with unerring effect, even if—as will be the case with that title story—you think it's veering into genre stereotype. In this guest post, Davies explains how she learned to identify the moments in her characters' lives that make for great short stories.
People ask me all the time what it is I love about short stories, and why I write them.

It all began for me back in the mid-1990s. I was living in Chicago, working as a journalist. I had four small children, life was very busy, chaotic, and one day for a breather my husband and I took the kids to Powell's bookshop where I came across a copy of Eudora Welty's Collected Stories. It had a brown 1960s-ish cover and while the children ran amok in the aisles I sat down on the floor and read one of the stories: "Death of A Traveling Salesman."
16 May 2017 | selling shorts |
« Previous Page
—
Next Page »