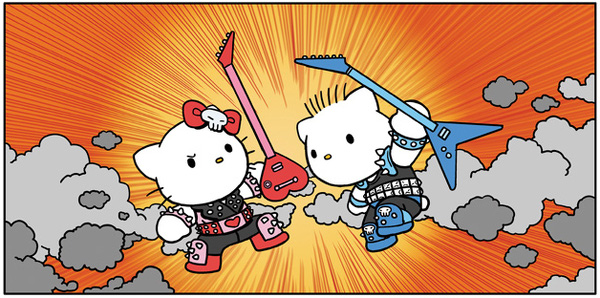 Jorge Monlongo
I can spot at least eight different Hello Kitty dolls in this apartment without actually looking for them; it's safe to say the fandom here runs pretty deep. So I was genuinely excited as soon as I learned about Hello 40, a multi-artist tribute to the character that has practically become the very definition of "iconic" over the last four decades.
There are some common themes running through many of the two- and three-page stories; parties (sometimes surprise parties!) play a recurring role, and several other stories are framed as dreams (including a story by Karl Kerschl that has its mindblowing conclusion truncated). There are a few hints of scary moments, but by the end of each story everything's been sorted out and more often than not new friends have been made; my favorite moment along those lines is in Brianne Drouhard's "Marshmallows," where Hello Kitty storms a castle and comes face to face with a feverish dragon, who helps them roast marshmallows indoors.
Some artists render Hello Kitty and her friends almost exactly like the Sanrio versions, while others take a slightly freer illustrative hand, with almost an indie comics vibe in a few cases—and I love the middle ground that all-ages comics artists like Art Baltazar and Chris Giarrusso take in their contributions. And there are nearly painterly approaches, like Drouhard's or Martin Hsu's "Once Upon a Hello Kitty Wedding," that are gorgeous. This is a book that should be equally enjoyable for those of us who are roughly the same age as Hello Kitty simply reveling in the artwork on our own, or sharing the stories with much younger fans… or future fans!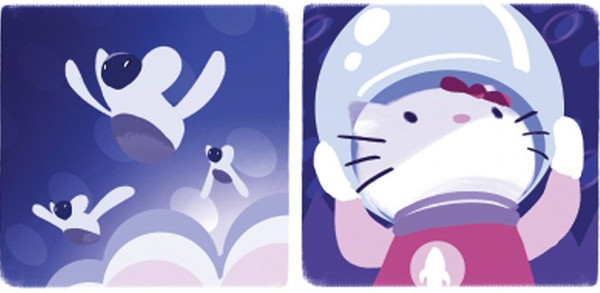 Karl Kerschl
21 December 2014 | read this |