after Pindar

Once past the man-high teeth
and the disintegrating ice
that separate human lands
from the gods' secret territory, what Herakles found
was nothing on first sight worth even half a breath
to the sort of fortune-tellers and singers who vaunt
celebrities' pleasures, who promise new heroes the solace
of willing nymphets and smooth-shouldered boys,
then give them marble busts and sapphire crowns.
Behind the curtain of snows
lay temperate air and a firepit, and
what heroes, after labors, really want:
a couple of apple trees; a brook; warm shade where hardwoods stand;
a stump for a table; crisp weather, a place to sit down.
"Hyperborea" is from Stephen Burt's new collection, Belmont. The book also has two poems that originally ran in The Awl ("Belmont Overture" and "Kendall Square in the Rain"), a poem from Slate ("Dulles Access Road"), and, from Boston Review, the poems "Color Theory" and "Butterfly with Parachute."
Burt appeared at Brooklyn's Book Court as part of the 2013 "Graywolf Poetry Tour," and I took the opportunity to interview him for my other website, The Handsell with Ron Hogan. I told him I was a fan of Philip Larkin, August Kleinzahler, and Carl Phillips; he came up with some poets I might like to read next. I've been doing this with other writers and indie booksellers lately—it's been a lot of fun! If you'd like to tell me some books you like, I may be able to line up some recommendations for you…
4 August 2013 | poetry |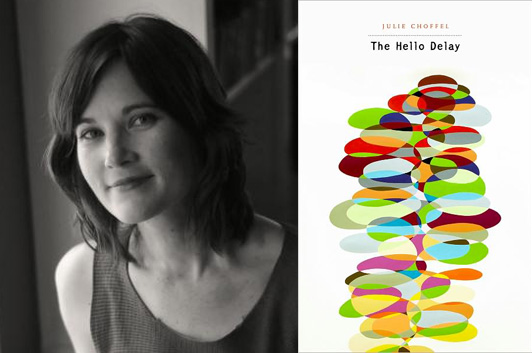 Stevan Alcala
Rough and literate, your bits made a cheery piece:
to try windows / to grate one's teeth.

Keep placidly along the lines
of droll translation. Not merely a hat of polite passage,
but a rimmed ottoman and a sitter
or glass of burgundy with friend.

Lukewarm, I knew it. Infused air is your body:

happy campers abound in these parts.
Your gray self is more of an other.
Please fill to the top. And until there is something to say.
The Hello Delay is the first book of poems by Julie Choffel, and the winner of Fordham University Press's Poets Out Loud Prize. Other poems include "If Everyone Came to Me" (which originally appeared in Bird Dog). You can hear her read from that and two other poems, and discuss her work, in this appearance on Balcony TV.
Another poem in the collection, "Something Must Be Described," was originally published in Caketrain.
22 August 2012 | poetry |
« Previous Page
—
Next Page »