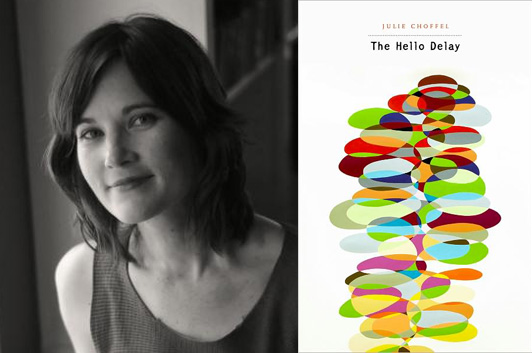 Stevan Alcala
Rough and literate, your bits made a cheery piece:
to try windows / to grate one's teeth.

Keep placidly along the lines
of droll translation. Not merely a hat of polite passage,
but a rimmed ottoman and a sitter
or glass of burgundy with friend.

Lukewarm, I knew it. Infused air is your body:

happy campers abound in these parts.
Your gray self is more of an other.
Please fill to the top. And until there is something to say.
The Hello Delay is the first book of poems by Julie Choffel, and the winner of Fordham University Press's Poets Out Loud Prize. Other poems include "If Everyone Came to Me" (which originally appeared in Bird Dog). You can hear her read from that and two other poems, and discuss her work, in this appearance on Balcony TV.
Another poem in the collection, "Something Must Be Described," was originally published in Caketrain.
22 August 2012 | poetry |