photo via Words Without Borders
Translating a first-person narrator into English from another language can be a challenge under any circumstances, but when that narrator has a non-standard emotional and mental profile like Karen, the autistic protagonist of Sabina Berman's Me, Who Dove into the Heart of the World, the work gets harder. Lisa Dillman rises to the occasion, though—and, in this guest essay, reminds us that when we think, before we even open a novel, that we know what it and its characters are going to be about, that's when we're most likely to be caught off guard by the author's real plans.
When I first read Me, Who Dove Into The Heart of The World, I became obsessed with the idea of translating it, and a year later I was thrilled to get the opportunity to do so. The novel tells the story of Karen, a highly-functioning-autistic-cum-bluefin-tuna-industry-magnate. She starts the novel as a mute, feral, wild-child eating wet sand in Mazatlán, Mexico and ends up in a Tokyo penthouse surrounded by multiple laptops. In case it's not immediately apparent, this is a highly unusual novel. And one I fell in love with for multiple reasons.

To begin with, there is Karen's unique voice. She speaks—and writes—in clipped sentences devoid of "standard human" frippery. Karen is a literalist. When out on a fishing boat with an Italian sailor who claims God gave humans license to kill, she wants to see the license. She lacks inflection and eschews metaphor, euphemism and fantasy, all of which she classifies as lies used by "standard humans" in the name of deceit and self-delusion. Euphemism, for instance, is employed in order to disguise a terrible thing as a good one. Providing a run-down on her classes at college, where she studies animal husbandry, Karen gives us one of numerous examples of human idiocy, informing us that "the methods course on killing… animal species was called Meat Industry." Throughout the novel, readers get the chance to experience Karen's forthright, direct way of thinking, seeing and feeling the world, and this proves an excellent way to reconceive of our own "standard" modes of action and interaction through fresh eyes.
17 August 2012 | in translation |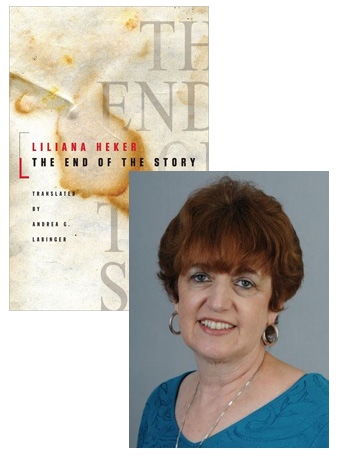 Liliana Heker's The End of the Story is a powerful novel about Argentinean politics, a novel which sparked much controversy when it was published in 1996—particularly for its portrayal of a revolutionary who abandons her politics under torture and becomes an active collaborator with the ruling junta. Andrea G. Labinger, who's translated many works by Latin American authors, wrote in a previous essay (see the link below) that she decided to take on The End of the Story "because I was attracted to its complexity as well as to the originality of Heker's style;" it's precisely because the novel's political and literary tensions aren't neatly resolved that it's such a compelling story. In this essay, Prof. Labinger discusses some of the other questions she needed to address in formulating her approach to Heker's prose.
There's something vertiginous about writing an essay about translating a book about writing a book about the impossibility of telling a story. Too many "abouts," for one thing. For another, as one perceptive reader of The End of the Story recently observed, the author grants few concessions to the reader. As is the case with most postmodern fiction, Liliana Heker makes us work for it: the complexity of her syntax only serves to intensify the multiplicity of narrative voices, dizzying time shifts, and moral ambiguity of the unsettling tale she has chosen to tell, like a tragic theme with variations, over and over again.
18 June 2012 | in translation |
« Previous Page
—
Next Page »