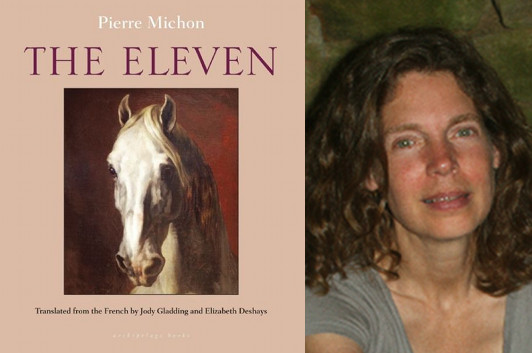 photo via Jody Gladding
Pierre Michon's The Eleven is the story of a French painter who never existed: Corentin, "the Tiepolo of the Terror," so called because of his most famous work, a group portrait of the 11 members of the French Revolution's Committee of Public Safety. This short novel is essentially a monologue in which the narrator, addressing a gentleman viewing this painting in the Louvre, delivers a fairly opinionated account of Corentin's life and work. The Eleven is co-translated by Jody Gladding (pictured above) and Elizabeth Deshays, and so one of my first questions for them was what drew them to translate an author like Michon as a team, let alone as an individual project…
Elizabeth: How did we come to Michon? Well, I suppose that it would be more accurate to say that he came to us. Jody, you had been commissioned to translate Vies Minuscules after the original translator abdicated. You had started to look at the text and asked me for help, hoping that my many years in France would enable me to throw some light onto the first of these Small Lives. I can still remember the passage, and my bewilderment, the feeling of not knowing how to begin. Of course, we recognised and understood the words, the sentences, but from there to what he was trying to say… And who was this writer anyway? (To my shame, I had not then read any of his works). My instinctive reaction was one of rejection.

Yesterday, I reread that passage. I was astonished. What had seemed so inaccessible at that first reading? The text was immediately clear to me, I knew what every image, every metaphor was referring to.

The explanation, of course, is that, three Michon translations on, we now know the man. For Michon, though he in no conventional way could be described as writing autobiography, nevertheless always writes about himself; the obsessions, traumatisms and aspirations which make him what he is are always, at the deepest level, the real matter of his work, though it may, more superficially, take on the guise of something resembling biography (Rimbaud le Fils), legend (Contes d'Hiver) or historical novel (Les Onze).
4 March 2013 | in translation |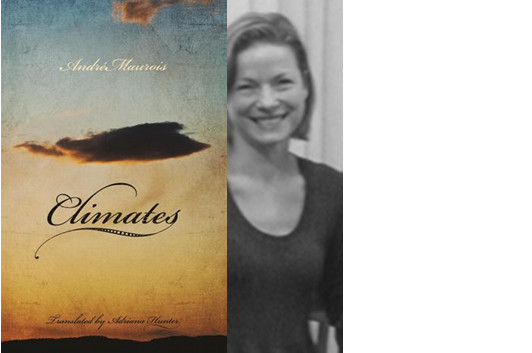 photo: Peirene Press
Over the last decade or so, Adriana Hunter has become one of the leading English-language translators of contemporary French literature, but with Climates, she's taken on something new, or rather something not so new—André Maurois wrote Climats in the late 1920s, and it was a bestselling sensation not just in France but throughout Europe when it was first published. (At the time, it was brought to the United States as Atmosphere of Love; in the 1980s, a new translation appeared under the title The Climates of Love.) In this guest essay, Hunter talks about the challenges she faced in making a novel that's nearly 85 years old "fresher" while staying true to the language conventions of the era.
My "way in" to translating any book is its narrative voice. I hear a voice and get a feel for its tone, rhythms and word patterns. André Maurois's Climates of Love was a little more complicated because there are two narrators, Philippe and Isabelle, as well as less formal extracts from Philippe's private notebooks and from letters. On top of this, there is the question of period: Climates was written in the 1920s, and my publisher had asked me to update the prose, making it feel fresher but without anachronisms (infatuation and jealousy probably feel the same now as they did a century ago, but other sensibilities and constraints in the book are very specific to the characters' era, and I was keen to respect these).

Having previously translated only contemporary writers, I found the question of period and anachronism an enjoyable new challenge. In Maurois's original, even the dialogue can sound like writerly prose whereas in a lot of contemporary fiction even the prose sounds like colloquial dialogue. I wanted to strike a balance, making the prose accessible but still with the poise and restraint of another era. I hope this sentence from the first page illustrates this:

"That is the charm of new acquaintances: the hope that, in their eyes and by denying the truth, we can transform a past that we wish had been happier."

Which might have sounded more natural as:

"That's what's nice about meeting new people, you can always hope that—if you deny the truth yourself—you can make them believe your past was happier than it was."

This is a perfectly valid translation, but look at those modern contractions (that's what's), those muscular dashes around a clause and that gangling repetition of "was". It just doesn't sound like someone from Philippe's background in the 1920s.
10 December 2012 | in translation |
« Previous Page
—
Next Page »