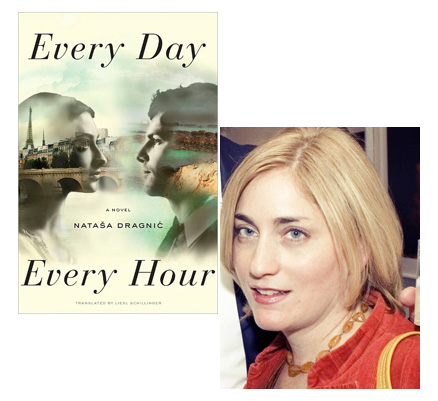 Some of you may know Liesl Schillinger as a critic for the New York Times Book Review, or seen her byline on cultural essays and articles at various other publications. She's also a literary translator, and she spent much of last year "tweaking and 'sanding'" an English-language edition of the debut novel by Croatian-born Nataša Dragnić, Every Day, Every Hour. The title comes from the Pablo Neruda poem "If You Forget Me," which should give you some idea of how romantic this decades-spanning story will be—and, in this guest essay, Liesl explains a bit more about why she was so drawn to translate it for English-language readers.
I've translated short stories many times before—always by living authors, though I never consulted them during the translation process—but this was my first book-length translation, and the first time that the author and I discussed wording choices along the way. I worried that, given Nataša Dragnić's proficiency in English, if I translated glücklich as "happy," for example, rather than "lucky" (both meanings are possible), she might think I was a moron. But I knew I had an instinct for what language would go over best with English-speaking readers, and trusted that this instinct would see me through. I couldn't let anxiety hamper my work. I believed in the novel, and in my ability to convey its emotion and vitality.

The book came to my attention serendipitously. An editor friend returned from Frankfurt in 2010 with a copy of Jeden Tag, Jede Stunde in his suitcase. It had been the talk of the Frankfurt Book Fair, he said. Would I look it over and let him know if I thought it had potential here? Reading it in German, I cried many times—the tears that come when you read or watch "The English Patient," or "Romeo and Juliet," or any book, play or opera about star-crossed love. Set in a Croatian seaside village and in Paris, and spanning several decades, it told the poignant and passionate tale of two creative people̶a strong-willed woman and a weak-willed man—who loved each other but couldn't make it work. I wholeheartedly endorsed the book, and agreed to translate it.
27 May 2012 | in translation |
Stig Dagerman is a Swedish author from the mid-20th century I hadn't known about before coming across Island of the Doomed, but in talking with that novel's translator, Laurie Thompson, I learned a bit about Dagerman's all too brief, nova-like burst of literary excellence—including the daily satirical verses (think along the lines of those short poems Calvin Trillin writs for The Nation) he created for Sweden's leading newspaper, Arbetaren, right up until the day he killed himself. Now I want to track down more of Dagerman's work, and fortunately the University of Minnesota Press seems to be making that a bit easier; Island is the second Dagerman book they've republished in the last year (after German Autumn). In this essay, Thompson introduces us to Dagerman, and tells us a bit about what makes Island of the Doomed such a remarkable story.
Stig Dagerman was the Wunderkind of the 1940s in Sweden. In his early twenties, between 1945 and 1949, he wrote four novels, half a dozen plays, many short stories and poems, not to mention large numbers of polemical articles and other journalism—all of them very positively received. He seemed to be blessed with an ability to write brilliantly about anything and everything, and to capture the spirit of the age, without apparent effort. Then, for reasons which are still being debated, he found it increasingly difficult to write anything at all. In 1954, he committed suicide at the age of 31, locking himself in his garage and starting the engine of his car: he seemed to change his mind at the last minute, but it was too late. He had frequently written about suicide as an honourable means of quitting this life: and now he had done just that.

Memorably described in one review as "the flying fortress of 1940s attitudes and beliefs", Island of the Doomed was published in Sweden in 1946. It was received as the ultimate expression of post-war Angst. Following a shipwreck, half a dozen characters are cast away on an impossibly remote island. Instead of trying to find sources of food and drink (one of their number even empties their only container of drinking water), they argue about what image to inscribe onto a rock, so that when their dead bodies are eventually discovered, their rescuers will have an idea of their attitude to life.

Dagerman was a shy, modest young man with a working class background, but widely read and familiar with the literary and psychological theories that dominated Swedish thinking in the post-war years—notably French Existentialism (especially Sartre) and Freudian psychology, but also echoes of Kierkegaard and Heidegger. The human condition is characterized by Angst, life is pointless, but one can make a meaningful gesture by making a moral stand—the image Captain Wilson wants to scratch onto the rock symbolizes the cruel imposition of power over others, whereas Lucas Egmont's stands for solidarity and peaceful co-existence. In Island of the Doomed, Dagerman bombards the reader with a non-stop flood of imagery coupled with detailed realistic descriptions that sometimes pass over into Surrealism. Close analysis of the imagery shows that he was consistently in complete intellectual control of what he was writing (try for instance charting the imagery that stems originally from the red scars on Lucas Egmont's back caused by whippings administered by his father—red cord, red sunsets, red seas, red spiders, spiders' webs shining red, and so on), which is remarkable when one considers the speed with which Dagerman wrote: the final sixty pages or so of the novel were written in a single all-night sitting, to the accompaniment of background music on the radio and an endless supply of strong coffee.

The apparently effortless fluency with which Dagerman wrote has been an inspiration to many more recent Swedish novelists, notably Mikael Niemi and Björn Ranelid. His reputation in the history of Swedish literature is of the young genius blessed with enormous natural talent who produced an astonishing amount of top-class work in the second half of the 1940s, but died tragically early, unable to cope with the awesome implications of his ability.

Personally, I treasure memories of an afternoon in the 1970s spent with Anita Björk, Dagerman's second wife and one of Sweden's leading actresses, in her impressive apartment in the Stockholm Old Town. I was invited to sit on a cushion on the floor: she sat on another one, surrounded by books and manuscripts—she was preparing for a radio broadcast on her memories of her husband. Eyes gleaming, she stared into space and no doubt saw Stig's face smiling down at her as she told me how walking through town or through the countryside with Stig was an unforgettable experience that broadened her understanding of life and inspired her to new heights as an actress. He would maintain a non-stop commentary on things happening round about them, sights and sounds and smells, things she would never normally have noticed, and his descriptions were all the more vivid as a result of the imagery he used on the spur of the moment.

It would be nice to think that Island of the Doomed will have a similar effect on 21st-century readers.
19 February 2012 | in translation |
« Previous Page
—
Next Page »