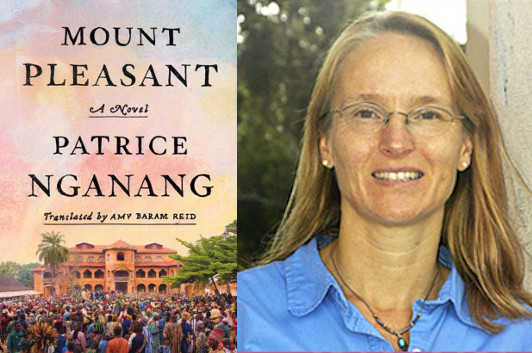 photo: courtesy Amy Reid
Lately, whenever I can steal a few moments to read uninterrupted, I've been diving into Patrice Nganang's Mount Pleasant, as translated by Amy Baram Reid. It's a fantastic novel, set in colonial-era Cameroon, but with an early 21st-century frame that allows for an imaginative reinvention of the past, playful without ever losing its darker edges. As Reid notes, there's a lot going on in this book for one translator to take on, but I'm delighted by how she's pulled it off so far, and eager to take the rest of the journey with her.
One of the phrases I remember from childhood—and maybe you do to—is "little pitchers have big ears." It amused me then because of the incongruity of the image (a pitcher with ears?) and also for its truth: kids soak up what they hear, even if the words aren't meant for them. It also describes the narrative premise of Patrice Nganang's Mount Pleasant: for if one kid hadn't been a sponge for all she had overheard, the stories of Mount Pleasant would have been lost forever.

At the heart of Mount Pleasant are the intertwined issues of conversation and translation: conversations in the present between the elderly Sara and the young Bertha, themselves translations of exchanges years before between another Bertha and the same Sara, a young girl who was transformed by stories into a young boy, Nebu. Conversations and stories swirl magically in the court of the Sultan Njoya and, years later, resurface to enchant both the idle youth of Yaoundé and the novel's readers. Artists discuss aesthetic ideals and lovers their amorous exploits; ambitious plots are revealed and scars disclose traumas born in silence.

Exchanges in the novel take place in multiple languages, and often on the borders between French, English, and German, between Shümum, Shüpamum, and Ewondo. Writing, drawing, and sculpture become the sites where tales and visions are translated—allowed to travel across time and space, as well as language. This concatenation of words and languages made my experience of translating Nganang's novel exceptionally challenging and rewarding.
8 June 2016 | in translation |

photo: Nimah Ismail Nawwab
A famous Sudanese writer meets an annoyingly odd man at the signing for his latest novel; later, having been dragged to a lecture he doesn't particularly care to attend, that writer sneaks out for a smoke break, only to encounter the same man—and to discover that he has the same, rather uncommon, name as a character in his book. That's the set-up for Telepathy, the new novel from the Sudanese novelist Amir Tag Elsir, which has been translated for English-language readers by William Hutchins, who's perhaps best known to American audiences for his translation of Nobel laureate Naguib Mahfouz's Cairo Trilogy. And if you think you know where that set-up might be headed, you might want to think again… although, since it's a rather short novel, it won't take you very long to find out for yourself!
The contemporary Sudanese author Amir Tag Elsir has a gift for writing genuinely amusing and humane novels about topics like Ebola and ethnic tension in Sudan. Not gallows humor, his novels are full of antic, frolicsome wit. With carefully observed and meticulously described observations of life in Port Sudan or Khartoum, he builds hard-to-refute cases for our generic silliness, which we should embrace to achieve our full potential as human beings.

When one of Tag Elsir's novels was short-listed for the International Prize for Arabic fiction for 2011, Samuel Shimon of Banipal, a magazine of modern Arab literature, asked me to translate an excerpt from it. That opportunity inspired me to translate the entire novel, which was published in 2012 as The Grub Hunter by Pearson Education Limited for a temporarily revived Heinemann African Writers Series, which had once published books by Tag Elsir's late uncle, Tayeb Salih, a much admired Sudanese author. In The Grub Hunter, a police officer who once jailed subversive writers decides to write a novel himself after losing his job and a leg in a stakeout.

I also translated Amir Tag Elsir's French Perfume for the ANTIBOOKCLUB of New York, and in March 2016 it was named to the Best Translated Book Award Fiction Longlist. French Perfume tells the story of a marginal slum's self-appointed herald who reinvents himself when he learns a Frenchwoman may come to reside in his community as part of some international project. He falls madly in love with her internet profile, which is relayed to him by a local teenager, who has learned how to surf the web.

Sufism, Islamic mysticism, has provided literary inspiration for many Arab authors who themselves may not have been Sufi practitioners. Sudan has a rich Sufi heritage that is evident both in the name Tag Elsir and in the novel French Perfume, which can be read as an updated version of the romance between an ancient Arab poet, Majnun, who lost his mind but gained gnosis through his thwarted love for beautiful Layla. Ali Jarjar, the transformed busybody, re-enacts Majnun's tragedy as he waits and waits for the Frenchwoman to arrive.
17 April 2016 | in translation |
« Previous Page
—
Next Page »