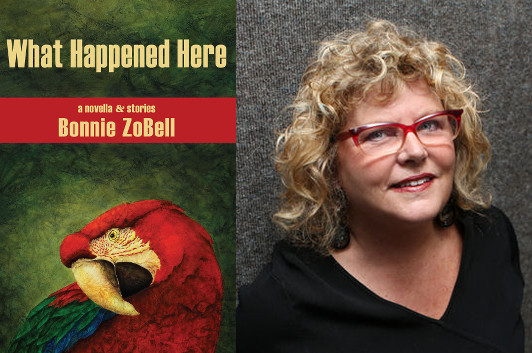 photo by Elsa
As Bonnie ZoBell explains below, the stories in her new collection, What Happened Here, are linked very closely by their geography—one city block, and as you'll see it's the block where ZoBell lives. You can read an excerpt from the collection's novella at The Nervous Breakdown, but before you do that, let's learn how San Diego has worked its way into ZoBell's writing as well as her heart.
When I left San Diego for graduate school in New York City in 1979, I was sure I'd never return. I'd had enough of the small-beach-towns-strung-together world for a lifetime. There was no literary community to speak of. Conservatism abounded with all the branches of the military and retirees living here. Nobody quite knew what an MFA was—though in retrospect I don't think other towns did either. So I researched them in San Diego State University's library. This was long before the age of computers.

I sent out applications with abandon. Wouldn't Arizona be cool with all that desert? Bowling Green had history, opening in 1910, and wonderful faculty. The farther away the schools were, the better. Yes, it was expensive to apply to so many, but I had to get out of here.

How wrong I was, I now think thirty years later. I loved living in New York, yes. Twice I told Columbia University's MFA program that, no, I couldn't go there because I'd never been east of Utah. And then finally I did. I arrived at the graduate dorm at night in a cab, something I hadn't had much use for until moving to the East Coast. When I looked out my eighth floor window the next morning, I realized all over again that I couldn't attend Columbia because I didn't own a suit, and everyone I saw was wearing one. I couldn't afford to buy a suit. (Columbia had given me a fellowship.) Not until later did someone explain that the building I looked out on was the law school. Everyone wore a suit was because big firms were interviewing on campus.

That first day, I put on a huge coat that I'd bought in San Diego that made me feel constricted, like I was trying to walk in a mummy sleeping bag. I wore no shoes, as I hadn't any time I could get away with it in the San Diego beach town I'd moved from. A very tall black doorman in a uniform with epaulets and a military peaked cap told me in a booming voice, "Go put your shoes on!"

I'd never seen a doorman before. But boy was he right. NYC isn't the place to go barefoot.
4 March 2015 | guest authors |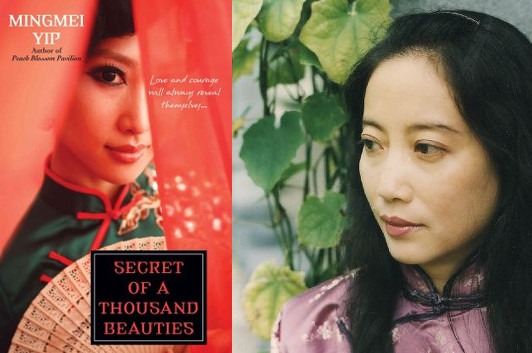 photo: MingmeiYip.com
Mingmei Yip has been a guest reader at Lady Jane's Salon, the monthly romance reading series I help curate, on several occasions, and she joined us at the start of 2015 to share an opening scene from her most recent novel, Secret of a Thousand Beauties. She tells us a little bit about the historical origins of this book's story here, but also stretches back into her own past to reveal how she set out on the writing path… a journey that takes a bravery and self-determination similar to that of the women she's written about.
In traditional China, women were and sometimes still are considered men's possessions and didn't have much independence or freedom. A Chinese saying goes: "The worst thing that can happen to a woman is to marry the wrong man. The worst thing that can happen to a man is to enter the wrong profession." Unfortunately, because marriages were usually arranged, many women ended up marrying the wrong man at the cost of any chance for happiness. Wary of a bad marriage, some decided to remain single for the rest of their life. These women would join small communities established for non-marrying women. They displayed this choice by tying up the hair in a long pigtail.

Most worked as maids, but some were more fortunate and could learn a traditional woman's craft. One of these was embroidery, an art that has always appealed to me. Intrigued by these women and their sisterhoods, I decided to write about this small group of embroiderers—they are supposedly celibate, but of course many succumbed to desire.

Ghost marriage was another way women were oppressed in traditional China. Couples were often betrothed in childhood, or even before birth. Since only half of children survived to adulthood, many young women lost their fiancés. Because they had already pledged marriage, the cruel custom was to marry the woman to the dead man. As a practical matter, this meant she was a slave to her supposed in-laws.
19 January 2015 | guest authors |
« Previous Page
—
Next Page »