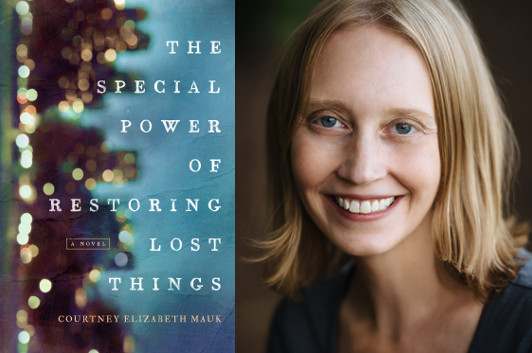 photo: Jiyang Chen
Courtney Elizabeth Mauk's new novel, The Special Power of Restoring Lost Things, introduces us to a family in pain: a mother, father, and son all struggling to cope with the disappearance of their daughter (older sister) Jennifer nearly a year ago. Rapidly moving from one perspective to the next within the story's tight time frame, Mauk shows us how the three survivors are pushing themselves away from each other—recognizing that that's what they're doing but at the same time unable (or perhaps unwilling) to make the necessary course corrections. Here, Mauk explains how a novel about a family grew out of a short story about a mother… and how she was able to manage the sudden shift in scale.
One value I most want to instill in my son is empathy. I hope he grows into a man capable of looking at the world from perspectives not his own, that he develops the capacity to feel the full spectrum of emotions, strives for understanding, and acts with compassion. These are also the reasons why I write. I wouldn't always have been able to define my writing this way, as an act of empathy, or an attempt to move the world, in some small way, in a more empathetic direction. I would have talked about the storytelling compulsion, a love of words that started in childhood, an urge to create something lasting. And all these things are true too. But at the heart of the matter is feeling. I write because I want to open up human experience, for myself as well as my readers.

This has never been more the case than in The Special Power of Restoring Lost Things. The book began as a short story about the mother of a young woman who has gone missing. I've long had a fascination with the missing; it seems confounding that a person can be here and then gone, leaving few traces, especially in this traceable age. I am intrigued by the mystery of the disappeared but even more so by those left behind, grappling for answers in a suddenly altered world. A pivotal scene in the story (which didn't make the cut to the book) has the mother riding the Staten Island Ferry over and over, held in a literal stasis. I had a vision of her dragging this heavy weight—an indescribable grief with nowhere to land.
22 November 2016 | guest authors |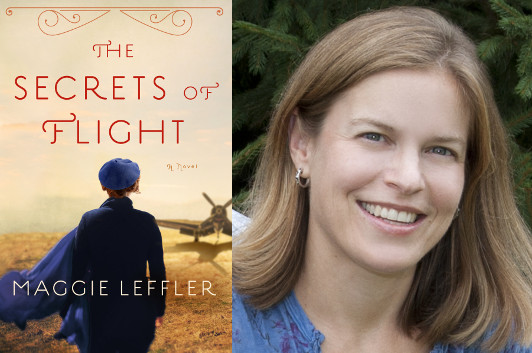 photo: Hills Studio
I first got to know Maggie Leffler just over nine years ago, when her debut novel, The Diagnosis of Love, came out. Now I'm reading her third book, The Secrets of Flight, and I'm hooked by its interlocking stories about two young women trying to figure out who they want to be… and how to become it—but also, as you'll see, what happens years later, after the choices you've made and the circumstances you can't control. Now, one of the reasons it's been so long since a follow-up to Leffler's first two books is that she has a full-on career as a family physician, but as you'll learn in this guest essay, it also took her longer than she'd anticipated to find the right shape for this particular narrative. She did, though, and that's great news for us.
Madeleine L'Engle once wrote, "I think that all artists, regardless of degree of talent, are a painful, paradoxical combination of certainty and uncertainty, of arrogance and humility… and yet with a stubborn streak of faith in their own validity no matter what." Over the last six years of writing my third novel, these words have never felt truer.

In 2009, after reading about President Obama honoring World War II's forgotten "fly girls" with Congressional Gold medals, I set out to write a family saga from four points of view, including that of a Women Airforce Service pilot (WASP). After it was completed in 2012, my agent sent The Secrets of Flight out to a round of rejections. The manuscript was overstuffed with characters, and, to boot, one of them, Jane, was unlikable (poor Jane!). Two drafts later, after the novel went out again—sans Jane—to be met with more rejections, I was in despair, yet compelled to keep writing all the same. Sometimes it's not conviction urging me onward, but the story itself that needs to come out before I'm consumed.

That same summer, I confessed to my husband a secret dream of mine since the age of fourteen: I wanted to make a film, but I was scared to learn how. What if my attempts were awful? He pushed me to take a class at Pittsburgh Filmmakers, which gave me a different perspective for the book—or at least a healthy break from it. With each passing year, it became easier to kill another darling.

Soon the novel belonged to the two main characters I'd conjured up in the very beginning: Mary, the former WWII pilot with a secret, and Elyse, the big-hearted teen who would save her. Another distinct point of view also emerged, that of the young pilot's… except that I had no idea what it felt like to have flown planes during the war. Finding the answers led to a friendship with Florence Shutsy-Reynolds, a Women Airforce Service pilot who inspired me with her stories. Finally, in 2014, the novel was ready for another round.
8 May 2016 | guest authors |
« Previous Page
—
Next Page »