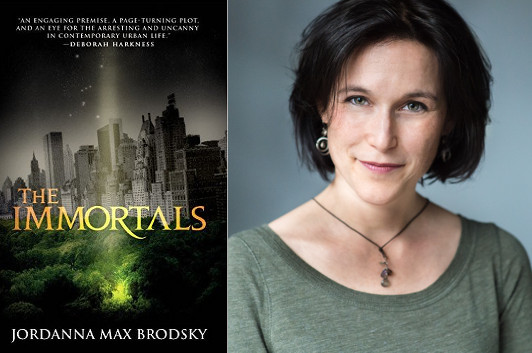 photo: Ben Arons
I'm actually a bit jealous of the folks at Orbit who got to publish The Immortals, the debut novel by Jordanna Max Brodsky. I was lucky enough to read this story, which places the classical Greek pantheon into the modern suspense thriller, when it was making the rounds, and I was immediately impressed by the strength of Brodsky's voice—it's not just that the premise is cool, but that she fleshes it out with great characterizations, too. In this guest essay, she pulls back the curtain and explains some of the work that went into making her divine and human characters equally compelling. What she reveals makes perfect sense in retrospect, but she's done it so well that it wouldn't occur to you—or at least it didn't to me—to think about the mechanics involved while you're engrossed in the story.
I consider myself an unrepentant nerd. Academic over-achiever, Star Wars aficionado, player of board games, avoider of all things athletic. The heroine of The Immortals, on the other hand, is Selene DiSilva, a bow-wielding, ass-kicking, hard-as-nails vigilante who also just happens to be the Greek goddess Artemis living in modern day Manhattan. So my nerdophilic proclivities wound up centered squarely on the male protagonist of the book instead: Theodore Schultz, classics professor. Selene is stronger than he is, far more violent, and less emotionally vulnerable. In my mind, they make a perfect opposites-attract couple.

Most of my female friends agreed with my perspective when I asked them to read a draft. Theo is just the kind of guy they want around—a talker, a listener, and all around brilliant thinker. Then I let some male friends give me feedback and… boom! My blithe reversal of gender stereotypes ran smack dab into a brick wall of testosterone.

"Why is Theo a wimp?" they demanded. (He's not a wimp, I'd reply, he's just not into violence.) "Why is he such a nerd?" they asked. (He's a classicist! Did you expect him to be the cool kid in school?)

Cue the throwing up of hands, the rolling of eyes, the "Why don't you just make him a detective? Make him cool and calm and tough." Then my equally frustrated reply: "Because Selene is all those things! She used to be a cop! She's the Huntress, for goodness sake. She certainly doesn't need a man to teach her how to track a killer or use a bow."
18 April 2016 | guest authors |

photo: Ted Ferguson
If you're a fan of hardboiled detective fiction, I've got a left-field recommendation for you: Eliot Pattison's Blood of the Oak is a historical novel, set in pre-Revolutionary America. It's the fourth novel in a series featuring Duncan MacCallum, who came to the colonies as an indentured servant but now lives on the edge of Britain's penetration into the New World. In this story, he's compelled by both a request from a dying Iroquois friend and an attack on a British comrade to investigate a series of brutal murder and, much like our modern private eyes and single-minded police, slowly but surely finds himself wading into deep tides of corruption and evil. I'm as engrossed by this plot as I've ever been by a Robert B. Parker or Michael Connelly novel, and Pattison's fantastic at making 1760s America feel simultaneously strange and familiar. Which, as he explains in this guest post, is something he works hard to accomplish…
America has misplaced her history. Studying our past has been dropped from many required curricula in our schools, and our students score lower in history than any other subject—which should come as no surprise to anyone who has turned the sterile pages of modern texts. Those pages squeeze the life out of history, rendering it an arid dump of dates and statistics, as if the story of mankind were just a scientific experiment of interest only to technicians.

But we are not composed of dates and data, we are not constructed of factoids to be reduced to graphs and charts. The DNA that makes us possible was bestowed on us by people who lived incredible lives, who endured unspeakable adversities, engaged in staggering adventures, suffered abject tragedies and celebrated boundless joys. We all swim with them in the same great ocean of humankind, separated not so much by beliefs, appetites, and interests as by technology and time.

Stories of our forebears and tales of the struggle to be human have been a vital part of every culture. They are part of our spiritual DNA, and our institutions have failed us by ignoring them. We are diminished by losing that connection with our ancestors. Our cultural gurus preach self-awareness but how can we be self-aware if we don't even understand the legs we stand on? If you don't know history, novelist Michael Crichton once observed, "you're just a leaf that doesn't know it is part of a tree." We have historical novels because our history books and our history classrooms are just not good enough.
27 March 2016 | guest authors |
« Previous Page
—
Next Page »