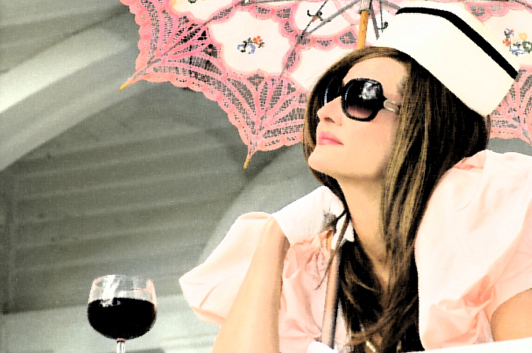 photo: Randy Whittington
I've known Susan Reinhardt for a few years now, since we met at one of Kathy Patrick's Pulpwood Queens Girlfriend Weekend literary festivals out in Jefferson, Texas. She recently sent me a copy of her new novel, Chimes from a Cracked Southern Belle, and told me a bit about how, after facing a round of "we'd love to but…" rejections from New York publishers, she found a publishing company in her hometown of Asheville, North Carolina, willing to simply say "we'd love to."
Telling that story below, she compares Chimes to the novels of Billie Letts, and as I was reading it, I was also reminded of another really wonderful contemporary southern writer, Michael Lee West. I'm really excited to see Susan taking charge of her literary destiny like this; she's got a fun, sassy voice that could never have been stilled for very long.
I always knew I wanted to write a novel, but life and kids and the day job as a columnist and reporter just seemed to get in the way. One day I told myself, if I write a page a day, I'll have a novel in a year. Let's just say that novel was so-so and is in a box somewhere in my basement, probably festering with dead bug carcasses.

Over the next few years, I took this craft more seriously and studied the best writers, enrolled in fiction classes and read many books on how to write the Great American novel. I had a decent draft of Chimes from a Cracked Southern Belle, then under a different title, and submitted it to New York's top agents. After a bunch of rejections, three wanted to represent me, and I went with the one I felt best matched.

He tried to sell the novel. We got rejections that glowed like a supermoon. Even though I felt discouraged, a common angst among writers, I didn't throw the dream in the dustbin. I told my agent I could write a collection of funny essays, and sent him about a dozen. Boom! He sold my non-fiction book to Kensington and landed a book deal for Not Tonight Honey Wait Til I'm a Size 6, which became a bestseller. I did two more books for Kensington, and then tried my hand once again at revamping the novel and re-submitting the work.

By then, I had a new agent, another stellar person believing in my book and even saying, "This could possibly go to auction." Is that not the magic sentence every writer longs to hear?
19 August 2013 | guest authors |

photo: courtesy John Mantooth
Earlier this year, I was asked to review Nathaniel Rich's Odds Against Tomorrow; not knowing much about the story going in, I was caught off guard by the arrival of a megastorm with strong echoes of Hurricane Sandy, which was still lodged in the foreground of my memory. I had a similar experience with The Year of the Storm, the debut novel from John Mantooth, which I began reading in May, shortly before the tornadoes that went through Oklahoma. When the opportunity to have Mantooth write a guest essay for Beatrice presented itself, I wondered if he might be interested in discussing the power of stories about storms—he took my barely-formed idea and came up with a very effective statement about the potential resonance between fiction and our real-life experiences.
Anytime you write fiction, you run the risk of trivializing another person's experience. Write about war and the veteran who swallowed the war whole when he was 21 and will die with that same war lodged in his throat, shakes his head, mutters in a disdainful voice, and walks away angry from your book because war just can't be fiction. Not to him. Write about murder, and someone will read your book whose life has been touched by that act, and she will be turned off, will seek to read other kinds of books, the ones whose storylines don't hit so close to home. It doesn't matter how well you write about a topic, someone will always be hurt or turned off or angry. And that's okay. Fiction must make some readers walk away or it's probably not worth writing.

My first novel is set in Alabama, and I've lost count of how many twisters blow through the woods behind the narrator's rural home. The book uses these tornadoes as a metaphor of transformation. Storms change things, they pick up the landscape and spin it around, dropping it back in unrecognizable pieces. The storm is a metaphor for growing up, for waking up and finding that the world is actually quite unrecognizable, that the very place you spent your childhood playing is really another place. It's a book I'm proud of, and a metaphor that I think works.
21 July 2013 | guest authors |
« Previous Page
—
Next Page »