When David Allan Cates was ready to start writing the novel that became Tom Connor's Gift, he took himself to a remote location that wound up giving him more direct inspiration than he'd originally intended… and as the novel's voices took shape, as he describes it in this essay, they felt as if they had an almost song-like quality.
Five years ago, I arranged to go to a friend's cabin for a week because my previous novel had been out for a year and I felt pinched and irritated enough, confused, scared and sad enough, not to mention hopeful, grateful and earnest enough to want to start another one.

My three most recently finished novels were stylistically and formally, unconventional. But this time, I thought, driving from Missoula over the mountains toward Great Falls, and then north up the Eastern Front of the Rockies, this time I'm going to write a good old-fashioned love story.

I wanted to tell a long, adventurous and miraculous tale of how two people managed to stay in love over decades. I wanted to write a novel that sounded like somebody you know telling you their long story. I wanted it to be the kind of love story that would make me see things and feel things that I'd never felt or imagined before, and I wanted to write a story that could take the giant swirling storm of middle-aged feelings I'd been having lately—sadness, joy, anger, grief, gratitude—and allow me to spread my arms wide enough to hold them all close. I wanted to feel all there was to feel—all the good and the bad at once, the everything and the nothing at once—and still be able say: Yes Yes Yes! This too is love!

Well. With a goal like that, it's pretty easy to make excuses not to start. I needed to go away. And I had to come back with something.
16 December 2014 | guest authors |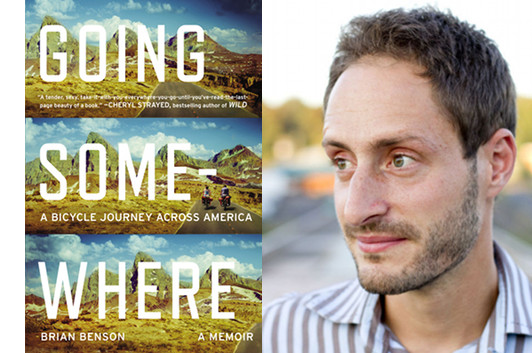 photo: Emilee Booher
Going Somewhere is a memoir of a bicycle trip Brian Benson took from his home in Wisconsin to his new girfriend's home in Portland, Oregon, and it's the kind of story that, even as it explains just what a huge pain in the ass a trip like that could be, might well get you thinking it'd be cool to undertake a similar journey, preferably with someone you love. Benson's certainly still up for long bike journeys—in fact, he just spent a month riding around Wisconsin, MInnesota and Illinois, stopping along bookstores and libraries along the way. What possessed him to undertake such a physically exerting method of travel from one public appearance to the next? He explains in this guest essay…
Last winter, I went to Powell's to see a favorite author discuss her new book. For most of the event, I was enraptured. I loved listening to how she read her own work, and appreciated hearing her talk, with grace and humor, about her teaching, her process, her doubts. But then, toward the end of the Q&A, someone asked her how it felt, really, to be on book tour. And this favorite author of mine sighed, and shifted her weight, and proceeded to tell us that her publisher made her take these tours, which, really, she found to be quite antiquated. Soon enough, she was talking about flight delays, traffic, jet lag.

As I listened, I started to feel queasy. I mean, it wasn't like I was surprised to learn that travel could be taxing. I just couldn't believe she was saying so, out loud, to her audience. Since I (like probably everyone who attends author readings) had long dreamt of publishing a book, I tended to expect those who'd done so to spend their behind-the-podium time projecting weapons-grade gratitude. Suffice it to say, I certainly did not expect them to complain about the very thing I so deeply desired.

Over the coming weeks, I stewed on this quite a bit. But the more I thought about it, the more I had to admit that I kind of saw her point. Taking a conventional book tour did seem pretty challenging—and in a very familiar way.
6 August 2014 | guest authors |
« Previous Page
—
Next Page »