photo: Dick Avery
Richard Kramer, a writer/producer for television shows like thirtysomething and My So-Called Life, describes his debut novel, These Things Happen, as "a story about a modern family, set among Manhattan's liberal elite." It turns out, however, that some of its characters have deep roots in his experiences on the opposite end of the country, including the things he learned when he realized he'd been taking a key figure in his day-to-day life for granted and decided to do something about it…
The birth of the book goes back twenty-five years, maybe even more. When we were doing thirtysomething, it was so exhilarating and exhausting I wouldn't drive home at the end of the day, but I'd go instead to an Italian restaurant a few blocks from my house. I did this four nights a week, often alone so I could work on scenes for the next day. The place became a habit, and I went there even after the show's five years came to an end; they knew me.

The person who knew me best was the man who was combination captain/maitre d'/manager. He was around forty, dressed in a blazer and striped tie, always smiling and with some nice thing to say. I would call from the set and say I was coming in, and he'd say "Great, Richard. Do you want the patio tonight, or your usual table?" When I'd get there he'd show me to my seat and immediately send out some delicious plate with a few free somethings. Looking back, I calculate I had at least a thousand meals there, which is a lot of carbonara. And—here's how These Things Happen comes in—I realized when the restaurant announced it was closing that I didn't even know this man's name. Maybe I knew it once, but what did it matter? He was there to be a prince of the pleasant, dedicated to making my life a little bit nicer. He didn't need an identity beyond that.

Seeing this shocked me. Here I thought I was such a nice guy! But I wondered: How many other people do I render invisible because it's too much trouble to endow them with a biography? And how many people do that to me? Why do we, unconsciously, but still with some selective design, limit our imaginations about those around us?
15 June 2014 | guest authors |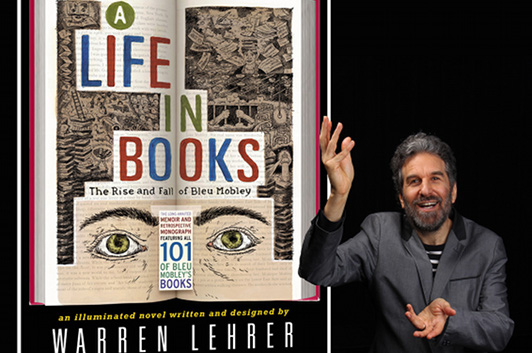 photo and illustrations via Warren Lehrer
Warren Lehrer's guest essay stems directly from a question I posed to him when I invited him to write about A Life in Books, a question that tackles the way it addresses the life of a fictional writer not just through that writer's words, but his book jackets. "What drew you to telling a story through a mosaic of imaginary books?" I wanted to know. This was Lehrer's response.
(By the way, all the artwork you'll see below—and much more besides—is also part of a traveling exhibition that has often included a performance/lecture by Lehrer. Something to keep an eye out for…)
My previous five books were all non-fiction: four portrait books about eccentric Americans who each straddle the wobbly line between brilliance and madness, and Crossing the BLVD: Strangers, Neighbors, Aliens in a New America, written with Judith Sloan, which documents 79 new immigrants and refugees from all over the world who live in Queens.

After representing all these real people and their stories, I felt a need to work on something that gave me more room for invention, and allowed me to get at the interior world of characters. I started looking at all these book ideas I had scratched into notebooks, and drawers full of short stories and interior narratives I had written. And somehow, this peculiar, well-meaning if ethically challenged writer character emerged—Bleu Mobley—who was presently in prison looking back on his life and career.

Instead of just writing his story, I decided to combine his reluctant memoir with a retrospective monograph of all 101 of his books including their cover designs and 'first edition' catalogue copy. But the covers and catalogue descriptions didn't satisfy my curiosity about my protagonist's creative output, so I began writing book excerpts (that read like short stories). The excerpts started cluing me into aspects of Mobley's life (people, scenarios, motivations) that I hadn't anticipated. Some book titles that I thought came early or late in his career turned out to be middle period works, and vice versa. My Bleu Mobley life events/bibliographic timeline chart kept changing. As the puzzle of Bleu Mobley's life revealed itself to me piece by piece, the relationship between an artist's life and his or her work emerged as a major theme.

In the memoir part of A Life In Books, Mobley claims to have never written about himself, yet we discover him and the people he loves sleucing through all his books, however obliquely.
9 June 2014 | guest authors |
« Previous Page
—
Next Page »