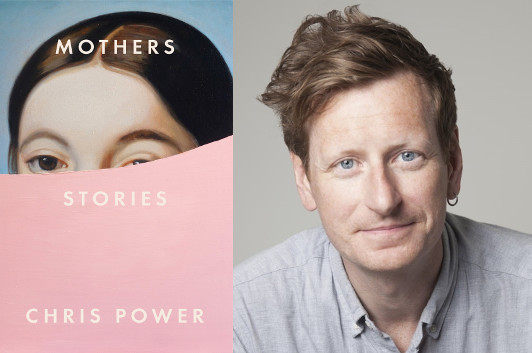 photo: Claudia Burlotti
A flailing standup comedian keeps his career alive by doing Rodney Dangerfield's act, but you can just imagine how that makes him feel. A woman recalls growing up in an apartment complex in the 1970s, and the lie she told about one of her neighbors. A seemingly innocuous disagreement between two weekend vacationers over a hiking route turns out to have deep emotional undercurrents. These are some of the worlds of Chris Power's debut collection, Mothers. One of the reasons I was interested in this collection is that, as he explains in the opening to this guest post, Power isn't just a creator of short stories, he's also a scholar of the genre—surely, I thought, he'd have some recommendations for the "Selling Shorts" series that would send me off not just in new directions, but new directions I hadn't even known were on the map. You know what I mean: There's a lot of writers we "know" we "should" read, and Power certainly mentions some of those, but there's also the writers we had no idea we ought to be reading, and Power passes along some intriguing discoveries (for me, at least), too.
Since 2007 I've written a column called "A Brief Survey of the Short Story" for the Guardian. Each edition aims to provide an overview of the work of a single author whose work has some significance in the development of the short story form. It doesn't operate to a strict timetable (it's been nearly two years since the last edition, which I guess you could call a hiatus), but I've written 72 of the things so far, and I still have a list as long as your arm of writers I'd like to include in the future.
21 January 2019 | selling shorts |

photo courtesy Camille A. Collins
I've known Camille A. Collins for ages in her capacity as a book publicist, but I hadn't realized she was also a writer until she told me about her debut YA novel, The Exene Chronicles. It's a story about growing up in the suburbs of San Diego in the 1980s that reveals a lot of the emotional truths about being a teenage punk rock fan in those days (yes, the titular "Exene" is the lead singer of X), wrapped up in a drama about child kidnapping, adolescent frustration, and the currents of racial hatred that have been bubbling on America's surface for decades. Camille's sent along "a small grouping of texts perfect for leisurely winter weekend reads," as she describes them: "While reveling in the amazing writing, each novel, poem, or short story serves as a catalyst for reflection and gratitude, on things (such freedoms, privileges, or simple material comforts) which we sometimes take for granted."
20 January 2019 | guest authors |