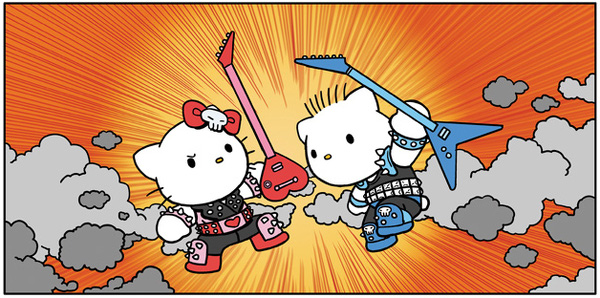 Jorge Monlongo
I can spot at least eight different Hello Kitty dolls in this apartment without actually looking for them; it's safe to say the fandom here runs pretty deep. So I was genuinely excited as soon as I learned about Hello 40, a multi-artist tribute to the character that has practically become the very definition of "iconic" over the last four decades.
There are some common themes running through many of the two- and three-page stories; parties (sometimes surprise parties!) play a recurring role, and several other stories are framed as dreams (including a story by Karl Kerschl that has its mindblowing conclusion truncated). There are a few hints of scary moments, but by the end of each story everything's been sorted out and more often than not new friends have been made; my favorite moment along those lines is in Brianne Drouhard's "Marshmallows," where Hello Kitty storms a castle and comes face to face with a feverish dragon, who helps them roast marshmallows indoors.
Some artists render Hello Kitty and her friends almost exactly like the Sanrio versions, while others take a slightly freer illustrative hand, with almost an indie comics vibe in a few cases—and I love the middle ground that all-ages comics artists like Art Baltazar and Chris Giarrusso take in their contributions. And there are nearly painterly approaches, like Drouhard's or Martin Hsu's "Once Upon a Hello Kitty Wedding," that are gorgeous. This is a book that should be equally enjoyable for those of us who are roughly the same age as Hello Kitty simply reveling in the artwork on our own, or sharing the stories with much younger fans… or future fans!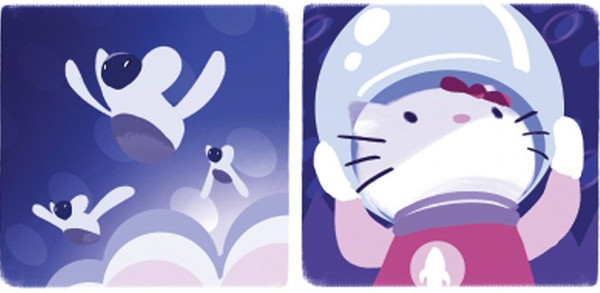 Karl Kerschl
21 December 2014 | read this |
When David Allan Cates was ready to start writing the novel that became Tom Connor's Gift, he took himself to a remote location that wound up giving him more direct inspiration than he'd originally intended… and as the novel's voices took shape, as he describes it in this essay, they felt as if they had an almost song-like quality.
Five years ago, I arranged to go to a friend's cabin for a week because my previous novel had been out for a year and I felt pinched and irritated enough, confused, scared and sad enough, not to mention hopeful, grateful and earnest enough to want to start another one.

My three most recently finished novels were stylistically and formally, unconventional. But this time, I thought, driving from Missoula over the mountains toward Great Falls, and then north up the Eastern Front of the Rockies, this time I'm going to write a good old-fashioned love story.

I wanted to tell a long, adventurous and miraculous tale of how two people managed to stay in love over decades. I wanted to write a novel that sounded like somebody you know telling you their long story. I wanted it to be the kind of love story that would make me see things and feel things that I'd never felt or imagined before, and I wanted to write a story that could take the giant swirling storm of middle-aged feelings I'd been having lately—sadness, joy, anger, grief, gratitude—and allow me to spread my arms wide enough to hold them all close. I wanted to feel all there was to feel—all the good and the bad at once, the everything and the nothing at once—and still be able say: Yes Yes Yes! This too is love!

Well. With a goal like that, it's pretty easy to make excuses not to start. I needed to go away. And I had to come back with something.
16 December 2014 | guest authors |
Next Page »