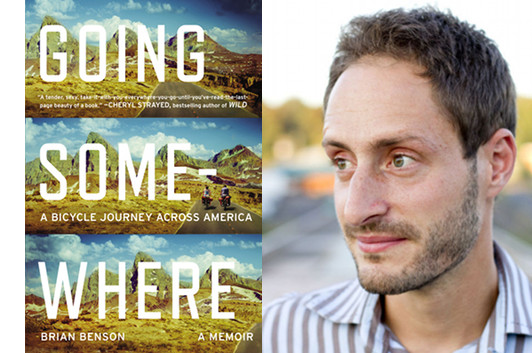 photo: Emilee Booher
Going Somewhere is a memoir of a bicycle trip Brian Benson took from his home in Wisconsin to his new girfriend's home in Portland, Oregon, and it's the kind of story that, even as it explains just what a huge pain in the ass a trip like that could be, might well get you thinking it'd be cool to undertake a similar journey, preferably with someone you love. Benson's certainly still up for long bike journeys—in fact, he just spent a month riding around Wisconsin, MInnesota and Illinois, stopping along bookstores and libraries along the way. What possessed him to undertake such a physically exerting method of travel from one public appearance to the next? He explains in this guest essay…
Last winter, I went to Powell's to see a favorite author discuss her new book. For most of the event, I was enraptured. I loved listening to how she read her own work, and appreciated hearing her talk, with grace and humor, about her teaching, her process, her doubts. But then, toward the end of the Q&A, someone asked her how it felt, really, to be on book tour. And this favorite author of mine sighed, and shifted her weight, and proceeded to tell us that her publisher made her take these tours, which, really, she found to be quite antiquated. Soon enough, she was talking about flight delays, traffic, jet lag.

As I listened, I started to feel queasy. I mean, it wasn't like I was surprised to learn that travel could be taxing. I just couldn't believe she was saying so, out loud, to her audience. Since I (like probably everyone who attends author readings) had long dreamt of publishing a book, I tended to expect those who'd done so to spend their behind-the-podium time projecting weapons-grade gratitude. Suffice it to say, I certainly did not expect them to complain about the very thing I so deeply desired.

Over the coming weeks, I stewed on this quite a bit. But the more I thought about it, the more I had to admit that I kind of saw her point. Taking a conventional book tour did seem pretty challenging—and in a very familiar way.
Years earlier, I'd embarked on a Latin American backpacking odyssey. It was a trip I'd swooned over for years, and for which I'd prepared by reading guidebook after guidebook. I'd pored over maps, highlighted hotspots, gotten super excited about Mexican beaches and Mayan ruins, Colombian salsa clubs and Patagonian glacier lakes. But then I set off, and within like two weeks, I realized I hated backpacking. Turned out I got no joy from sitting on a bus, waiting to arrive at this pretty waterfall or that funky beach town, only to find that said spot was exactly what I'd been expecting. I felt like I was just rereading a guidebook—reliving a story I hadn't even written in the first place—and soon enough, I was pouting about it: about this thing I'd long idealized, this thing so many others deeply desired.

Anyway, this winter, as I reflected on all of the above, I was in the beginning stages of planning my own tour, for Going Somewhere, my debut book about a cross-country bike trip and a search for personal direction. Even though I couldn't imagine feeling anything but delirious joy while out on tour, I kept reminding myself I'd felt that way about backpacking, too—before I started. And the more I thought about those words spoken by that favorite author, and of my own backpacking pitfalls, the more I came to realize that if I booked a tour which simply involved moving from event to event—sitting in passenger seats, waiting for what I'd been told to expect—I, too, might lose perspective: I might manage to forget how incredibly lucky I was to be able to take a freaking book tour.

And that, really, is why I chose to ride my bike from reading to reading. Not because it's a clever marketing scheme (though I guess it kind of is). Not because it's cheap (though, again, it sure is). No, I decided bike my book tour because I'm at my best while riding; because I figured it'd give me that perfect balance between structure and surprise; because I wanted to both satisfy and undermine my own expectations; because I hoped to show up to every event feeling breathless, grounded, grateful.

And I have.

Over the past month, I've ridden over 900 miles. I've slept on the shore of Lake Superior and ridden all manner of empty, backwoods bike trails. I've reconnected with old friends and had long, searching conversations with people I will in all likelihood never see again. I've gotten sunburnt and bug-bitten, have choked on semi exhaust and the reek of countless roadkill raccoons. I've been chased by big, harmless dogs and tiny, violent birds. I've been near-tears grateful for a shady patch of grass, a town park water pump, a gas station electrical outlet. I've seen bear cubs and bald eagles and blue heron and knock-kneed fawns. I've explored unfamiliar parts of Minnesota and Wisconsin, have found new ways into Madison and Chicago and other places I thought I understood so well. I've slept in the home of a couple I met on a street corner, inhaled brats and beer and pizza and ice cream served by people I'd known for less than an hour. I've spent long days in the saddle, reminiscing over the miles behind me and anticipating those that lie ahead, all the while rehearsing the words I hope to say to the people who care enough about stories—about my story—to come to a bookstore and sit in a chair and listen.

My days out on the road have been so exhausting, fulfilling, and full. By the time I roll into a new city, for a new reading, I feel so very far from where I started, even if it's only been forty-eight hours since the last event. Sure, I might be bleary-eyed, and my outfit might be wrinkled, but since I've arrived of my own accord, and have been challenged and surprised over and again, I never ever find my readings boring, repetitive, complaint-worthy. To the contrary, I arrive at each event feeling particularly connected to where I am, and pleasantly altered by the miles that have brought me there.

In a couple of days, I'll be loading my bike on a westbound Amtrak and heading back to Portland. I'm already looking forward to sitting in my seat and staring out the window and reflecting on this tour, a tour as full and varied and valuable as my first bike trip, the one on which Going Somewhere is based. And I can already tell you that, while I don't plan to write another book about a bike tour, I'm pretty sure this won't be my last book tour by bike.
6 August 2014 | guest authors |