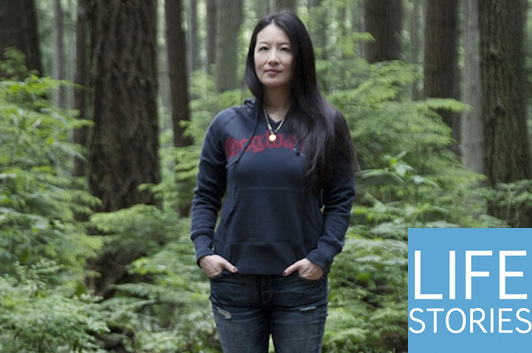 photo: Angela Fama/The Grid
In this episode of Life Stories, the podcast where I interview memoir writers about their lives and the art of writing memoir, Elaine Lui talks about Listen to the Squawking Chicken, her story of growing up as a second-generation Chinese-Canadian with a… well, to call her a "domineering" mother is a understatement. After all, Lui is 40 now, and much of her daily routine is still set by her mother's demands. Some people are going to read this memoir, or hear Lui discuss her life, and look at it as emotionally suffocating, but Lui has a nuanced perspective on the situation—seeing the positive benefits of her mother's insistence on familial piety even as she addresses the frustrations of, say, having adolescent friends be pushed out of her life because they might be bad influences:
"I don't want to say that my mother's method was flawed, but I will say that she is flawed. She's a complicated, often times hypocritical person. But she taught me to be honest and raw. I couldn't write a book about her teachings without being as honest and raw as possible, and to do that, I had to point out where she failed—not where people had failed her, but where she herself had failed… She has failed at trust, and friendship, which is a cornerstone of trust, and she's failed at understanding and empathy.

She has her reasons; she was hardened to life by her parents and all the people who've disappointed her along the way, but… those excuses only carry so far, and we make our own good choices. And that's what she taught me—to make good choices. In certain areas, she didn't make good choices, and in order for me to accurately tell the story, I really had to not be blind and point out the areas where I learned from her by not being like her."
Listen to Life Stories #77: Elaine Lui (MP3 file); or download this file by right-clicking (Mac users, option-click). Or subscribe to Life Stories in iTunes, where you can catch up with earlier episodes and be alerted whenever a new one is released. (And if you are an iTunes subscriber, please consider rating and reviewing the podcast!)
24 July 2014 | life stories |

photo via Kelly Cogswell
In this episode of Life Stories, the podcast where I interview memoir writers about their lives and the art of writing memoir, I'm joined by Kelly Cogswell, one of the earliest members of the first chapter of the Lesbian Avengers, founded in New York City in 1992. In Eating Fire, she talks about how this activist group sought not only to instigate improved conditions for lesbian women, but to transform the way they viewed themselves—one of the reasons she decided to become involved, she says, was to bring herself to become more comfortable with identifying as a lesbian:
"It was hard to come out. I didn't have any trouble really accepting that I liked girls, but understanding what society thinks of you once you kind of accept it yourself, and want to publicly be yourself? That's a different ball game. It's hard."
In our conversation, Cogswell and I discuss the issues and campaigns that brought the Lesbian Avengers together, as well as the internal conflicts that derailed the New York chapter's momentum even as the organization itself was attracting members around the world—and how what was partially intended as a handbook for organizing direct action campaigns using the Avengers' work as a historical example took on an increasingly personal component. We also talk about what's changed for lesbians and the rest of the LGBT community in the two decades since the Avengers assembled, and why things like Russia's homophobic repressions and Alec Baldwin's insults matter.
Listen to Life Stories #76: Kelly Cogswell (MP3 file); or download this file by right-clicking (Mac users, option-click). Or subscribe to Life Stories in iTunes, where you can catch up with earlier episodes and be alerted whenever a new one is released. (And if you are an iTunes subscriber, please consider rating and reviewing the podcast!)
21 July 2014 | life stories |
« Previous Page
—
Next Page »