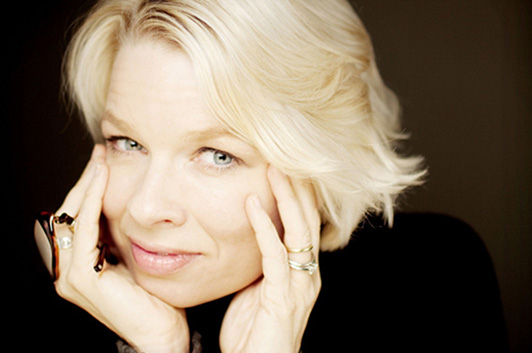 photo via Other Press
"I have four previous books published here [in the United States] and I'm proud of them… but I don't think anybody read them," Linn Ullmann says as we chat in a conference room at the midtown Manhattan offices of Other Press, which has become her new American publisher starting with the novel The Cold Song. As an independent house with a small frontlist (at least in comparison to the large companies that have published Ullmann in the past), Other may be able to focus a greater portion of its attention on promoting The Cold Song to the media and to booksellers and raising Ullmann's profile among American literary readers. But one of the other advantages of working with a new publisher, she observes, is that she was given extra time to work with Barbara J. Haveland, the translator who took her Norwegian prose and rendered it into English.
Though she was born in Oslo, Ullmann came to NYU for college and graduate school (leaving just short of a Ph.D.), and her English is perfect—most of her reading, in fact, is in English. But, she confides, "I can't translate my own words into English… I can think in Norwegian, I can think in English, but I can't make that bridge." So she worked closely with Haveland on "getting the voice just right," making sure, for example, that the dialogue didn't come off as "too translate-y." Norwegian can be such a compressed language that often "I would have ten choices, twenty choices, as to how it would go" in English; the difficulty lies in pinning down exactly the right nuance. "You need [characters] to say slightly different things in English" than they do in Norwegian, she says, describing the end result as "actually a rewrite" of the original.
"I wanted to write a love story," but one in which the love is broken, Ullmann says of the novel's storyline, centering on a family coming apart in the seams both before and after the disappearance of their live-in nanny one summer. "I didn't want to write a falling in love story, which has its own aesthetics, and I didn't want to write an end of love story." Instead, she focuses on little betrayals with expanding consequences, seemingly insignificant moments that become more ominous over time. "How do you get to that place where you can't turn back or start over, where you've broken something for good?" she asks rhetorically. And what do you do when you want to make things right, but it's beyond your abilities?
26 May 2014 | interviews |

photo: Joyce Ravid
In this episode of Life Stories, I chat with Katherine Bouton, who draws heavily upon her personal experience of hearing loss in Shouting Won't Help, a consideration of the hearing loss problems that, at varying levels of severity, affect fifty million Americans. Since the book's first publication in 2013, Bouton has become a vocal advocate on the subject of hearing loss, a development she explained had much to do with how her life changed while she was working on it:
"I evolved emotionally throughout the whole course of writing this book. I started to write the proposal in 2010… I worked all that year through on the proposal, which became… Initially, it was full of anger and self-pity and fury at everybody who didn't understand what I was going through, what my hearing loss was like. As I came to the point where I was ready to distribute the proposal, my agent said, 'This is really great, I think you have a selling proposal here, but you gotta find a happy ending for this.' So I thought really hard about this. What kind of happy ending is there to hearing loss?

But, actually, there is. I realized I had become much, much closer to my friends. I held everybody at bay for a long time because I couldn't hear them, and I didn't want to talk about it. Once I started to talk about it, my friendships just became much more intimate… My relationships with my family—my husband, my two now-grown children—had been very frayed by the fact that I couldn't hear them and I was angry all the time. So as I put the book together, and over the next year and a half as I was writing it, I was also learning to hear better [with a cochlear implant]… So I was relearning to hear at the same time that I was learning to deal with my hearing loss, and I learned a lot about how many mistakes I had made and how bad it is for your own psyche and your physical and social and emotional well-being to deny hearing loss."
Listen to Life Stories #71: Katherine Bouton (MP3 file); or download this file by right-clicking (Mac users, option-click). Or subscribe to Life Stories in iTunes, where you can catch up with earlier episodes and be alerted whenever a new one is released. (And if you are an iTunes subscriber, please consider rating and reviewing the podcast!)
26 May 2014 | life stories |
« Previous Page
—
Next Page »