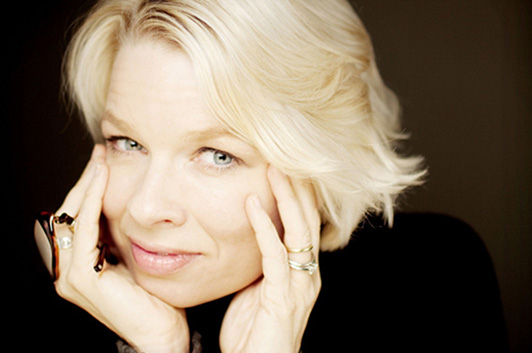 photo via Other Press
"I have four previous books published here [in the United States] and I'm proud of them… but I don't think anybody read them," Linn Ullmann says as we chat in a conference room at the midtown Manhattan offices of Other Press, which has become her new American publisher starting with the novel The Cold Song. As an independent house with a small frontlist (at least in comparison to the large companies that have published Ullmann in the past), Other may be able to focus a greater portion of its attention on promoting The Cold Song to the media and to booksellers and raising Ullmann's profile among American literary readers. But one of the other advantages of working with a new publisher, she observes, is that she was given extra time to work with Barbara J. Haveland, the translator who took her Norwegian prose and rendered it into English.
Though she was born in Oslo, Ullmann came to NYU for college and graduate school (leaving just short of a Ph.D.), and her English is perfect—most of her reading, in fact, is in English. But, she confides, "I can't translate my own words into English… I can think in Norwegian, I can think in English, but I can't make that bridge." So she worked closely with Haveland on "getting the voice just right," making sure, for example, that the dialogue didn't come off as "too translate-y." Norwegian can be such a compressed language that often "I would have ten choices, twenty choices, as to how it would go" in English; the difficulty lies in pinning down exactly the right nuance. "You need [characters] to say slightly different things in English" than they do in Norwegian, she says, describing the end result as "actually a rewrite" of the original.
"I wanted to write a love story," but one in which the love is broken, Ullmann says of the novel's storyline, centering on a family coming apart in the seams both before and after the disappearance of their live-in nanny one summer. "I didn't want to write a falling in love story, which has its own aesthetics, and I didn't want to write an end of love story." Instead, she focuses on little betrayals with expanding consequences, seemingly insignificant moments that become more ominous over time. "How do you get to that place where you can't turn back or start over, where you've broken something for good?" she asks rhetorically. And what do you do when you want to make things right, but it's beyond your abilities?
One of the novel's central characters is a novelist with a debilitating case of writer's block, and the temptation arises to ask Ullmann whether there's any self-projection going on there. She concedes there was a point, when she began writing The Cold Song, that her father died and "everything was just sort of stuck." She downplays, however, the connection between her situation and her character's, pointing out that she used her "mini writer's block" to a specific literary advantage. "Part of the way out of my writer's block," she explains, "was giving to Jon, making it bigger and more destructive." That's not to say there's no moments of personal revelation in the story. "[Jon's] dog is very autobiographical," she laughs, describing how her own dog sits and watches her write, then stretching her arms out in a pantomime of the dog straining at his leash during their daily walks.
The last time I met Ullmann, I'd asked her to name a Norwegian author English-language readers should know more about, and she named Dag Solstad. This time, she allowed as how American literary readers had probably heard of Karl Ove Knausgaard by now, so she circled back to Solstad: "probably the best contemporary writer in Norwegian, [with] a voice you can't escape." Though it remains the case that only one of Solstad's novels has been brought out in English by an American publisher (Graywolf's Shyness and Dignity), British editions of two other works are available as ebooks—and with the weight of Ullmann's recommendation behind them, they sound well worth investigation.
26 May 2014 | interviews |