A few years ago, I got the idea that I should read "The Chimes," Charles Dickens's other famous Christmas story. I found a free digital edition on Project Gutenberg, downloaded it to my iPad, and started reading one afternoon. I hadn't made it very far in when I was distracted by a phone call, and then I remembered a bunch of other reading I had to do for work—the upshot being that I didn't came back to "The Chimes" until the following December. Didn't finish it that year, either, although I made it further than the previous effort. Last year, I almost reached the end of the first quarter.
My adult holiday traditions, such as they are, just haven't involved reading—and the reasons for that are rooted in the one exception that I can remember. At the end of my first semester in college, I was called home the night before final exams when my father's truck slid off an icy patch of road and into a tree. He died the next day, and that holiday season became a long cycle of grief and frustration.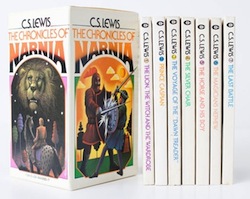 I was still sharing a bedroom with my brother (when I was home, anyway); at some point, I hit upon his boxed set of C.S. Lewis's The Chronicles of Narnia. I'd never read the series—as a teenager, I'd been more into science fiction than fantasy—but I needed a distraction, so I opened The Lion, the Witch, and the Wardrobe and began reading. In retrospect, a story about young children torn from their parents who find refuge in a magical kingdom seems a bit on the nose. At the time, though, Aslan was just what I needed—and even though I read all seven books before it was time to go back to school, I confess Aslan rising off the table is my only firm memory from any of it.
Because the greater distraction during that dark month turned out to be Christmas movies. Amazingly, I had managed to reach the age of 18 without ever seeing the original Miracle on 34th Street, and I was so starved for any sort of joy that I found myself laughing gleefully throughout. I had seen It's a Wonderful Life a few times, but that year its not-so-subtle dark undercurrents resonated more strongly with me. And, for nearly four hours, I could lose myself in the spectacle of The Greatest Story Ever Told.
(Then there was Kelly's Heroes, a World War II heist picture starring Clint Eastwood, Telly Savalas, and Donald Sutherland that's just so weird I became instantly engrossed. It's still one of my all-time favorites.)
It's the films that have become part of my holiday canon. As you might imagine, this time of the year can still be difficult, and the Christmas movies are like a comforting blanket, or a magnet pulling me back to the more festive aspects of the season. Apart from A Christmas Story, though, the secular films have fallen by the wayside, and it's the Jesus pictures I make a point of tracking down each December. I still love The Greatest Story Ever Told, but it's not always easy to find on TV, and in the meantime, I've discovered Nicholas Ray's King of Kings, in which the people around Jesus—including Robert Ryan as John the Baptist, Rip Torn as Judas, and Ron Randell as a Roman centurion in the service of Herod and Pilate—prove to be even more fascinating.
So that's on my calendar for Christmas Day. (And this year, TCM's also showing The Big Fisherman, with Howard Keel as Peter! I've never seen it before; can't wait.) And who knows? Maybe between now and then, I'll have another go at "The Chimes."
in response to "Do You Get In Any Reading Over the Holidays?"
6 December 2013 | better bookends |