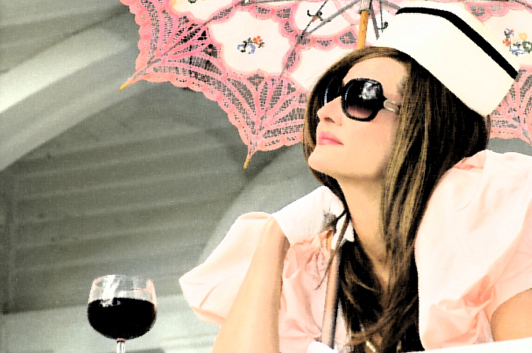 photo: Randy Whittington
I've known Susan Reinhardt for a few years now, since we met at one of Kathy Patrick's Pulpwood Queens Girlfriend Weekend literary festivals out in Jefferson, Texas. She recently sent me a copy of her new novel, Chimes from a Cracked Southern Belle, and told me a bit about how, after facing a round of "we'd love to but…" rejections from New York publishers, she found a publishing company in her hometown of Asheville, North Carolina, willing to simply say "we'd love to."
Telling that story below, she compares Chimes to the novels of Billie Letts, and as I was reading it, I was also reminded of another really wonderful contemporary southern writer, Michael Lee West. I'm really excited to see Susan taking charge of her literary destiny like this; she's got a fun, sassy voice that could never have been stilled for very long.
I always knew I wanted to write a novel, but life and kids and the day job as a columnist and reporter just seemed to get in the way. One day I told myself, if I write a page a day, I'll have a novel in a year. Let's just say that novel was so-so and is in a box somewhere in my basement, probably festering with dead bug carcasses.

Over the next few years, I took this craft more seriously and studied the best writers, enrolled in fiction classes and read many books on how to write the Great American novel. I had a decent draft of Chimes from a Cracked Southern Belle, then under a different title, and submitted it to New York's top agents. After a bunch of rejections, three wanted to represent me, and I went with the one I felt best matched.

He tried to sell the novel. We got rejections that glowed like a supermoon. Even though I felt discouraged, a common angst among writers, I didn't throw the dream in the dustbin. I told my agent I could write a collection of funny essays, and sent him about a dozen. Boom! He sold my non-fiction book to Kensington and landed a book deal for Not Tonight Honey Wait Til I'm a Size 6, which became a bestseller. I did two more books for Kensington, and then tried my hand once again at revamping the novel and re-submitting the work.

By then, I had a new agent, another stellar person believing in my book and even saying, "This could possibly go to auction." Is that not the magic sentence every writer longs to hear?
Unfortunately, more supermoon rejections trickled into my mailbox. Everyone loved it, yet no one would actually step forward and offer a book deal.

The timing, for one, was awful. It was 2008, the midst of the recession, and publishers were super picky, fearful of their choices and the potential to lose money.

The question kept coming up in my mind: Should I just publish Chimes from a Cracked Southern Belle myself, believing in the book's strengths and hilarious characters, the stuff of a Billie Letts-type novel, scenes so vivid you could imagine them on screen? Or at least, I could.

I found a small publisher in my hometown of Asheville called Grateful Steps. The waiting list for authors was about six years, but they believed in Chimes and took me sooner. For that I'm so thankful and humbled.

We'd meet once a month and edited for two hours per session. At this rate, it took three long years to finally get Chimes to press, and there were terrible scares along the road to publication. At one point, the publisher was about to go broke, become evicted from their delightful downtown space, and lose everything. But Micki Cabaniss Eutsler, the founder of Grateful Steps, didn't give up. She sold all her jewelry and re-financed her home. Staff members were let go. Bills went unpaid. Even Publisher's Weekly featured a story on Micki, in which she said, "We have struggled to get where we are, but we're an energetic, excited group who love what we're doing."

With other books currently on the way to press and an electronics division making a push into e-publishing, she's hopeful for the future: "Our financial advisor recently said that the companies that can make it through a recession, or a depression, thrive. We intend to thrive."

Watching her struggle to pay the bills just to keep the roof over their heads and the power turned on was terrifying.

Somehow, this woman is managing to make it. And in late June, the book I'd worked on for nearly ten years was published and has gotten wonderful reviews from both readers and bestselling authors such as Sara Gruen and Elaine Neil Orr.

When writers ask me how to become published, the only thing I can truly say is "patience and perseverance." Ten years. That's what it took. And falling from the big time in New York, to embrace a chance I was given at a smaller level.

In the end, though distribution is much more limited with smaller presses, it seems to be working. Through some great word-of-mouth, fabulous reviews and a bit of an advertising budget, Chimes from a Cracked Southern Belle is becoming the "sleeper" of the season.

Just remember: Never give up. Even if New York closes a door, you've got to be determined enough to open one up yourself.
19 August 2013 | guest authors |