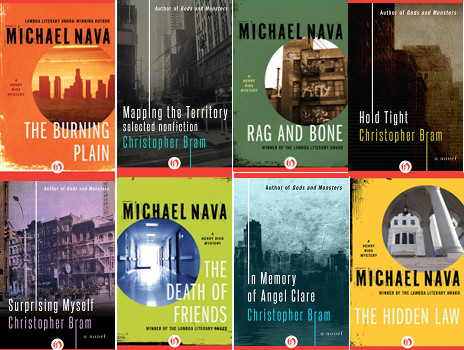 The folks at Open Road approached me recently and told me about how they were re-releasing the work of two great writers, Michael Nava and Christopher Bram, in ebook editions, and that the pair happened to be friends who might likely come up with an excellent exchange for an Author2Author feature. Well, I was familiar with some of Bram's work as both a novelist and literary historian—in 2012, I reviewed Eminent Outlaws, his survey of 20th-century gay American literature—so while the two of them were formulating their questions and answers, I got hold of Nava's first novel, The Little Death, and Bram's debut, Surprising Myself, and started to bring myself up to speed. Of course, I couldn't read everything that quickly… but I'm certainly looking forward to getting there over time.
Michael Nava: So, Chris, our first novels were both published in 1986 and here we are, like characters out of that Elton John song, "Talking Old Soldiers." You know the one I mean? "I remember oh it's years ago I'd say / I'd stand at that bar with my friends who've passed away / And drink three times the beer that I can drink today." Or maybe like the movie queen in Sondheim's Follies, belting out, "I'm still here!"
Christopher Bram: You're right. It's amazing we're both still writing two and a half decades later. Maybe because we have so much to say? Neither of us has run out of things we need to talk about.

You write mysteries, but your Henry Rios novels are about so much more than solved crimes. Henry is a defense attorney and each novel he narrates functions as a mystery, with all the virtues of the genre. They are tightly constructed, cleanly written, full of smart details and expert dialogue. They are completely involving. But taken together, the seven novels form something much bigger, a large-scale moral portrait of one man's life over fifteen years. We see Henry with his family, his boyfriends, his professional colleagues. We witness him dealing with AIDS, corrupt politicians, alcohol, and grief. He is that rarest of literary accomplishments: a plausible good man. I believe he is one of the great characters in recent American literature.

When you wrote your first Henry Rios novel, The Little Death, did you think it was only a one-shot work or were you already thinking of someone you'd live with for a long time? Did you plan Henry's growth or just let it happen? Were you surprised at where he went?
24 June 2013 | author2author |

photo: Chris Sanders Photography
In this episode of Life Stories, the podcast series where I interview memoir writers about their lives and the art of writing memoir, Andrew McCarthy talks about The Longest Way Home, which recently came out in paperback. In addition to his acting (and directing) career, McCarthy has in recent years carved out a place for himself as a travel writer for magazines and newspapers and, between the time he and his longtime partner decided to get married and the actual ceremony, he had several assignments lined up that took him away from the Manhattan apartment they share… essentially, he writes about how he went up the Amazon, to the peaks of Kilimanjaro and the streets of Baltimore, to confront himself and his fears about commitment.
But it wasn't exactly a therapeutic journey, as I found out during our conversation:
17 June 2013 | life stories |
« Previous Page
—
Next Page »