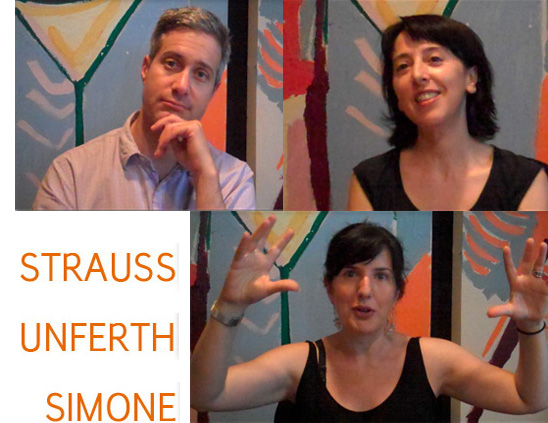 At the beginning of June, I mentioned that I had adjusted the Beatrice project, shifting my focus from creating an app to producing a series of enhanced ebooks to distribute through Apple's iBookstore. The first issue is ready now, and—as promised in the Kickstarter campaign—it's a free download, now and forever. As I say in the iBookstore description, it's "a front-row seat to conversations with National Book Critics Circle Award winner Darin Strauss (Half A Life), Deb Olin Unferth (Revolution), and Alina Simone (You Must Go and Win)," as we discuss the art of memoir writing along with a few other aspects of the writer's life. Each Q&A-formatted interview is accompanied by a short video extract, with something in the vicinity of ten minutes of footage overall.
(That video footage bumps up the size of the ebook file, so you'll need to download it onto the iPad using a WiFi connection, or download it through your desktop's iTunes if you've got a high-speed Internet connection that way. But it's not really that big a deal; using the house WiFi system, I got a copy in under two minutes.)
Yes, the Beatrice issues are only available for the iPad right now, because creating an ebook with embedded video was really, really easy using Apple's iBooks Author software, and relatively inexpensive (iBooks Author was free, although I wound up needing some additional software to make the videos compatible.) While I was at BookExpo America, though, I met a representative from Amazon's Kindle Direct Publishing program, who had very kind things to say about the demo version of Beatrice I showed him—I'll be keeping in touch with him, and when it's feasible to do a similar ebook for the Kindle Fire, I am totally on that. And I haven't forgotten about the Nook Tablet, either…
(I've also been mulling over the idea of creating a "lo-res" compilation at the end of the year—just the Q&A features without the videos—which could be available on all the relevant platforms.)
For now, if you are an iPad owner, I invite you to get the first issue—and if you like what you read, could you take a moment to review it at the iBookstore? Also, I've created a Beatrice mailing list, which will keep you up-to-date on new issues as they're released. The second issue (featuring Jodi Picoult, Alice Albinia, and Nick Dybek) is in production, and I'm looking to put it up at the iBookstore as soon as possible. That issue, and most of the ones that follow, will be sold for $2.99—but #1 will always be free. That's part of my thank you to everyone whose support on Kickstarter made this possible and helped make 2012 huge.
27 June 2012 | uncategorized |