photo: Hannah Assouline
Short, shameful confession: In mid-June, I took my Flip camera to the HarperCollins offices and recorded nearly a half-hour of conversation with Jess Walter about his new novel, Beautiful Ruins. It was a really good interview, which is why I'm embarrassed to say that earlier this week, I accidentally deleted it from the Flip's hard drive before I had transferred it to my computer. (It's even more frustrating than it sounds, because I was trying to get out of a delete menu that had inadvertently opened, so I could make the transfer.) I tried taking it to a data recovery specialist, but they were unable to pull the file back from the abyss…
But a lot of the things we touched upon in that interview are connected to the reasons that you really ought to read Beautiful Ruins, starting with the fact that it's a wonderful story, unlike anything Walter has ever done before. In fact, we started out by talking a little bit about how he'd gotten his first book deal for a nonfiction book about the Ruby Ridge standoff, which he had covered for the Spokane newspaper. He could've built up a portfolio of true crime books after that, but instead (after co-authoring Christopher Darden's memoir) he segued into writing crime fiction, winning an Edgar for his third novel, Citizen Vince. The novel after that, The Zero, had its noirish elements, but was quickly noticed for its literary qualities, earning a nomination for the National Book Award.
And the novels since then, The Finanical Lives of the Poets and now Beautiful Ruins… well, one way of looking at would be to say that he's moved even further away from his roots, but he talked to me about the continuity he saw in them, that he had always been focused on the story rather than on the genre. And we talked about how he was in the fortunate position of having publishers who supported a creative path that might not necessarily be easily marketable… except, of course, that "he's really good, and can totally surprise you" is actually marketable, to the right readers.
29 June 2012 | read this |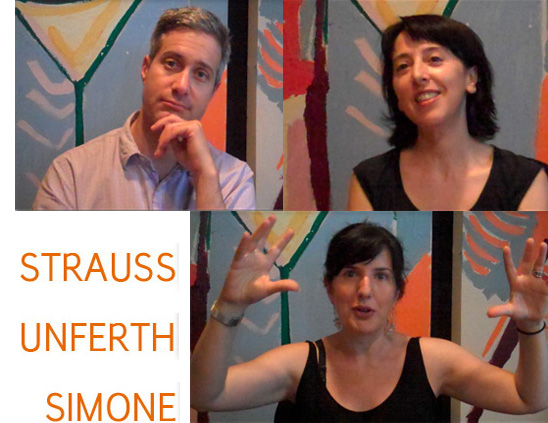 At the beginning of June, I mentioned that I had adjusted the Beatrice project, shifting my focus from creating an app to producing a series of enhanced ebooks to distribute through Apple's iBookstore. The first issue is ready now, and—as promised in the Kickstarter campaign—it's a free download, now and forever. As I say in the iBookstore description, it's "a front-row seat to conversations with National Book Critics Circle Award winner Darin Strauss (Half A Life), Deb Olin Unferth (Revolution), and Alina Simone (You Must Go and Win)," as we discuss the art of memoir writing along with a few other aspects of the writer's life. Each Q&A-formatted interview is accompanied by a short video extract, with something in the vicinity of ten minutes of footage overall.
(That video footage bumps up the size of the ebook file, so you'll need to download it onto the iPad using a WiFi connection, or download it through your desktop's iTunes if you've got a high-speed Internet connection that way. But it's not really that big a deal; using the house WiFi system, I got a copy in under two minutes.)
27 June 2012 | uncategorized |
Next Page »