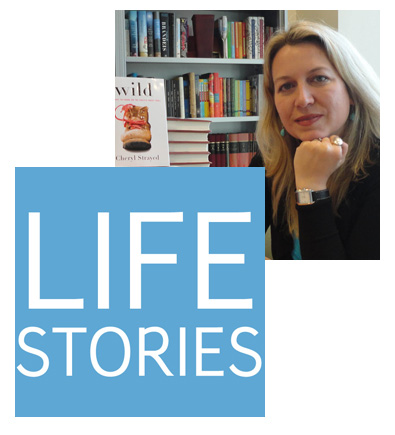 In this episode of Life Stories, my podcast series of interviews with memoir writers, I talk with Cheryl Strayed, the author of Wild: From Lost to Found on the Pacific Crest Trail. We talked about the personal circumstances that led her, in the mid-1990s, to make a solo hike from the Mojave Desert to the Oregon-Washington state line, and what she learned about herself when she decided a decade later to write about that experience. We also talked about Strayed's recently revealed status as the author of the "Dear Sugar" advice column at the literary website The Rumpus, and whether anonymity was liberating, in terms of being able to take creative risks with her writing voice:
"I think at first it was, because I did have some doubts; I thought, 'Well, who am I to give anyone advice?' And I thought that if I completely bombed at it that nobody would ever have to know that it was me. But once I started doing well with it, I did feel like the anonymity was getting in the way. A lot of readers who wanted me to stay anonymous would say, 'I fear that once you're no longer anonymous, you won't feel as free to write as intimately as you do. And, of course, I knew the sort of stuff I was writing as Cheryl Strayed was very open and intimate, and I would say, 'No, no, trust me.' …

There were some things I couldn't quite write about because it would just give it away so much to anyone who'd read my work. And so many people who had read my work, by the end, were guessing. I would say hundreds of people by then had written to me to say 'You must be Dear Sugar.' So it was really high time to come out, because it was one of those things everyone who knew kept a secret but inevitably… somebody was going to make a tweet and say, 'I know it's Cheryl Strayed.' So I came out right when I felt like it would have all come out anyway, and it hasn't changed my relationship to the column whatsoever. I feel like I still will write it the same way, with the same freedoms and constraints that I always have."
Listen to Life Stories #5: Cheryl Strayed (MP3 file); or download the file by right-clicking (Mac users, option-click).
(And to learn a bit more about Wild, see my write-up for USA's Character Approved blog…)
7 April 2012 | life stories |