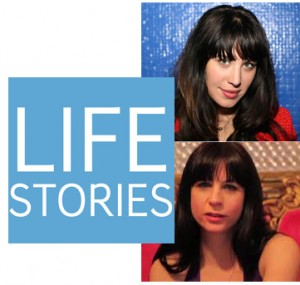 This episode of Life Stories, my podcast series of interviews with memoir writers about their lives and the art of memoir, was recorded in front of a live audience at Manhattan's Wix Lounge. (There's also some video footage which was recorded by Arcade Sunshine that I'm aiming to show y'all later on.) It features my friend Rachel Shukert, the author of Everything Is Going to Be Great, and Rev Jen, the author of Elf Girl.
You'll notice a bit of echo here and there; I got most of it out during the sound editing process, though, and I'm hoping that what remains isn't too distracting for listeners. This turned out to be a great conversation—the two authors have done events together before, so they were very comfortable with each other, and it shows once Rev Jen steps in about halfway into the show.
One of Rachel's comments about the memoir as a genre struck me as underline-worthy, given some of the recent conversations I've been having online (and occasionally writing about here) about the visibility of women writers in terms of what gets reviewed by mainstream literary critics:
"I've always said that for a woman, just positing that she is inherently interesting is already a radical act on some level, because women really do still have this sort of harder row to hoe when it comes to proving what they have to say is worthwhile. And to just say, this experience is interesting because I lived it and I have something to say about it, to me is very feminist… I think that for my generation of women deciding that their experience is something other people can learn from the same way men have always done, is very important."
Listen to Life Stories #3: Rachel Shukert & Rev Jen (MP3 file); or download the file by right-clicking (Mac users, option-click).
14 March 2012 | life stories |