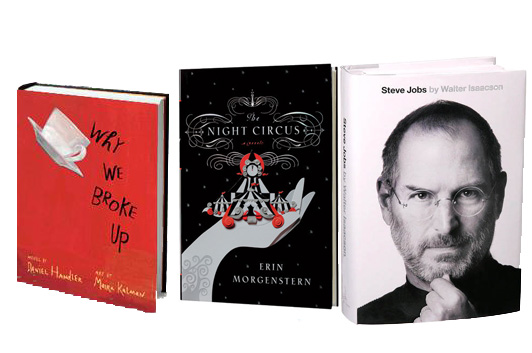 This year, I'm fortunate enough to have two steady book reviewing gigs—I'm about halfway through my second year of working with Shelf Awareness, where I started out reviewing science fiction and fantasy but have steadily branched out into other genres and even the occasional "literary" novel, and then this summer I began working on the "Writing" section of USA's Character Approved blog, which "celebrates the people, places and things that are… changing the face of American culture." This means that I got to write two "top ten" lists at the end of the year; my Character Approved list concentrated on American authors (and a few publishers, and one designer), but my Shelf Awareness picks could include writers from each of the three nations of Great Britain, plus Haruki Murakami.
(1Q84 is a novel I actually got to write about at one of my semi-regular venues, Tor.com, where I contributed a long essay about the unmistakable influence of Philip K. Dick. Unmistakable, that is, unless you were reviewing the novel for the New York Times, in which case you thought Murakami's fantastical vibe was more like Kurt Vonnegut or just plain incomprehensible.)
But these two lists don't have all my favorite books from 2011, because I don't review books written by my friends for either publication (although I've had conversations with editors about whether some online acquaintances are "friends" or not, and I've been lucky enough to get to know some writers better after I've written about them). But I can talk about those books here, so I can tell you to pre-order the trade paperback of Deb Olin Unferth's memoir, Revolution, that's coming out in early 2012. You could also get Anna David's Falling for Me, which was a trade paperback original. Two friends published novels about love and family and food recently: Diana Abu-Jaber's Birds of Paradise and N.M. Kelby's White Truffles in Winter
If you're a romance fan, you'll want to track down Sarah MacLean's Eleven Scandals to Start to Win a Girl's Heart and Eloisa James's The Duke is Mine. One of my former co-workers at Amazon, Stefanie Sloane, made her debut as a romance writer this year; start with The Devil in Disguise and if that catches your fancy, she's already got several books out! (This is a category where I'm blanking on a specific titles as I try to write this post, but of course I can't forget my Lady Jane's Salon colleagues—Hope Tarr, Maya Rodale, and Leanna Renee Hieber—all of whom have had new work or reissues of previous books released this year. The Lady Jane's guest lists will also steer you towards some fantastic reads.)
My favorite book of 2011, though, just might be John Scalzi's Fuzzy Nation, a "reboot" of H. Beam Piper's Little Fuzzy that plays to all of Scalzi's best strengths as a storyteller. It's a screwball comedy about contract law and trial procedure, it's a tearjerker about the discovery of sentient life on a corporate mining planet, it's a heartwarming story about a smart guy who learns how to stop being a jerk. The only thing that's keeping me from saying outright that it's my favorite book of the year is that Erin Morgenstern's The Night Circus is a stunningly gorgeous fantasy novel. The only book that came as close to producing the all-immersive captivation The Night Circus inspired was Neal Stephenson's Reamde, but as wonderful as that book is—including one of the most amazing sequences I've ever read in any novel—The Night Circus just feels more… seamless, if that's the word I'm looking for.
I know I must be leaving out a bunch of books, for which I apologize both to the authors I'm overlooking and to the readers who would enjoy those books as much as I did—but have a look around the archives, and stick around for 2012's posts, and I'm confident most of you won't be disappointed by what you find.
23 December 2011 | read this |