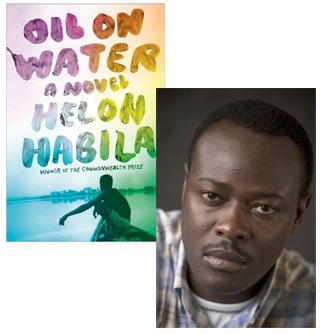 I'm gearing up for another author/blogger event at Greenlight Bookstore next Monday, May 16—this month, M.A. Orthofer of The Literary Saloon, the blog component of The Complete Review, will chat with Helon Habila about his new novel, Oil on Water. Habila is one of the most highly-regarded African writers of his generation; he won the Commonwealth Writers Prize for his debut novel, Waiting on an Angel. He currently divides his time between his native Nigeria and the United States—he's been a writing fellow at Iowa and Bard, and is currently teaching creative writing at George Mason University. And Michael is one of the smartest book bloggers I know; very few people are paying the kind of attention he pays to international literature, and fewer still are doing it as well as he does.
I'm about a third of the way into Oil on Water, which is about two Nigerian journalists (one young and idealist, the other older and more toughened by experience) who travel upriver in search of the kidnapped wife of a British oil executive, and I'm hooked not just by the story but by the voice of the young journalist, Rufus. And, yes, I suppose if the plot of a novel is "a journey up an African river in search of a missing person," the comparisons are fairly obvious—maybe that's something Michael can ask Habila about at the store.
Greenlight Bookstore is located at 686 Fulton Street in Brooklyn's Fort Greene nieghborhood, right next to the C train, one block away from the G train, and a five-minute walk from all the trains that stop at Atlantic and Pacific Avenues. The reading will begin shortly after 7:30 p.m., followed by a conversation and then a Q&A session with the audience. You don't need to RSVP to attend, but it's always helpful to have an idea of how many people might show up, so consider checking in on Facebook if you can. I hope to see you there!
9 May 2011 | events |