The eight stories in Alyson Hagy's Ghosts of Wyoming may all be set in the same state, but each one has its own way of navigating that existential landscape—some stories are set in the late 19th-century, and others could have taken place earlier today; some characters are desperate to escape, while others have reached the end of their road. In her guest essay for Beatrice, Hagy has zeroed in on a story from a collection that's even more intensely focused on exploring a single location.
It's a strange story, and it revels in its strangeness. It doesn't bother with scene or traditional dramatic structure. It makes no attempt to explain itself or to achieve the predictable "balance" between character development and style that I stupidly used to claim was the righteous goal of a short story.

It's as twisted as the "twisted little apples" that serve as its central metaphor, those flawed fruits left behind at harvest, the cast-offs that harbor "sweetness" amid their deformity if you know just where to bite.

I like flawed apples.

Winesburg, Ohio is a book I go back to again and again. It's an unruly creation. Some of its narratives are as thwarted and stunted as the characters they feature. The book has none of the certain authority of Flannery O'Connor's A Good Man is Hard to Find. It contains none of the dash and dazzle of Ernest Hemingway's In Our Time. Yet it's a book I can't shake, a town I can't forget, the product of an artistic faith and fearlessness I want to transfuse into my own faded veins.

Who the hell writes stories like "Paper Pills" anymore?
30 July 2010 | selling shorts |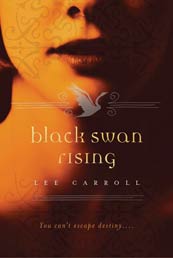 My new gig reviewing science fiction and fantasy for Shelf Awareness continues this month, with a look at Black Swan Rising, the first volume in a new urban fantasy series by "Lee Carroll" (the husband-and-wife team of Lee Slominsky and Carol Goodman). I was fairly impressed; despite some quibbles about the way the authors try to ground their universe in "our" world by implying a magical element to certain historical (and recent) events, I liked much of the framework they set up, it played out in an entertaining fashion, and we'll see where they take things in the sequel.
(To elaborate, without giving away any key plot elements: Stories which attempt to establish a "magical" cause to real-life historical events, whether they are of a "good" or "evil" nature, sometimes make me feel as if those events are being trivialized or diminished—but it's not just a fantasy problem, now that I think of it, because I also believe the ending to Jhumpa Lahiri's short story "Going Ashore" is a weak gimmick, too. So maybe it's really just about how real-life events are "hijacked" by fiction writers to boost up the drama… which, in the case of Black Swan Rising, wasn't even necessary.)
Meanwhile, over at Tor.com, I did an interview with my friend Leanna Renee Hieber, the author of The Strangely Beautiful Tale of Miss Percy Parker and The Darkly Luminous Fight for Persephone Parker, touching upon her love of the Victorian era, how it didn't take much to finesse paranormal elements into her chosen historical setting, and just how you write a sequel to a romance novel…
29 July 2010 | read this |
Next Page »