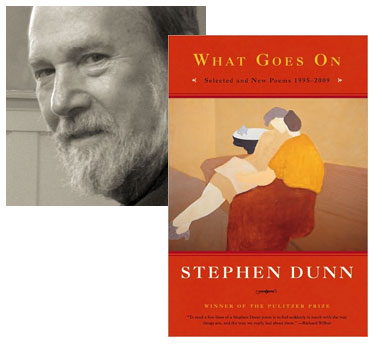 That man in the field staring at the sky
without the excuse of a dog
or rifle—there must be a reason
why I've put him there.
Only moments ago, he didn't exist.
He might be claiming this field
as his own, centering himself in it
until confident he belongs. Or
he could be dangerous, one of those
men who doesn't know
why he talks to God.
I thought of making him a flamingo
standing alone on one pink leg,
a symbol of discordancy
between object and environment.
But I've grown so weary of inventions
that startle but don't satisfy.
I think he must have come to grieve
a good friend's death, and just wants
to stand there, numbly, quite sure
the sky he's looking at is vacant.
But I see that he may be smiling—
his friend's death was years ago—
and he might be out there to savor
the solitary elation of having discovered
what had eluded him until now.
Two years ago, I featured "Madrugada" from Stephen Dunn's Everything Else in the World and mentioned that The New Yorker had published a new poem, "History," that was not in that collection. You'll find it in What Goes On: Selected and New Poems 1995-2009, along with "Talk to God" (the Poets Out Loud website), "And So" (How a Poem Happens, with commentary from Dunn on the creative process!), and "Zero Hour" (from the collection Different Hours, republished on Beliefnet).
It does not include "If a Clown" (also published in The New Yorker), which is a shame, because that's a great poem. And maybe it's a great illustration of a point Dunn made in an interview with Guernica back in 2004: "It seems to me that no matter how perverse or private you might think your attitudes are about anything, if you speak them well there'll always be a few others nodding," he said. "My best experiences with literature as a reader have been when something that I thought was freaky about myself, or something odd or private that I hadn't told anybody, got articulated or enacted in a poem or story or a novel. It simply brings us into the human fold. Literature at its best is communal in that way."
30 June 2010 | poetry |