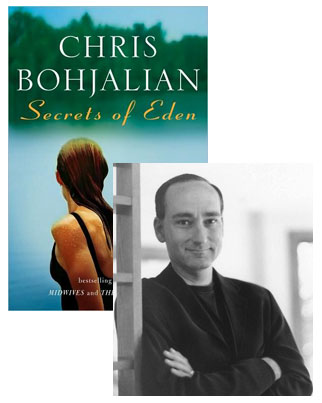 Chris Bohjalian is on the road again—kicking off the tour for his latest novel, Secrets of Eden, tomorrow night in his home state of Vermont, after which, as he explains below, he won't be back for over a month. A lot can happen in that amount of time… and in this essay, the bestselling author of Midwives talks about one of the most unusual vicissitudes he's endured during his nomadic phases.
Since Up in the Air first arrived in theaters in December, I have heard from readers around the country presuming that my life in some fashion resembles Ryan Bingham's—the obsessively frequent flyer created by Walter Kirn for his terrific novel of the same name and brought to life on the screen by George Clooney.

It's not that readers imagine for even a nanosecond that I am clicking shut my hotel room door with Vera Farmiga or that I have anywhere near the movie star flair (or leading man jaw) of Clooney.

It's the reality that Ryan Bingham is so comfortable on airplanes, in airports, and on the road. As a touring novelist, last year I traveled at least 125,000 miles on two separate book tours and visited no fewer than 47 cities—some twice. On February 1, I leave on a book tour for my new novel, Secrets of Eden, and I won't be home in Vermont until March 7.

But there the parallels between Bingham and me end. It's not simply that I'm happily married and Bingham is not. It's that Ryan Bingham's life on the road is freakishly glamorous and somehow he manages to find that one Airbus with first class linking Wichita and Omaha. Like most touring novelists, I tend to live on 50- and 70-seat regional jets with seats the same size as the ones found around a kindergarten table.
Readers tend to view book tours as spectacularly glamorous, unaware that the very term, book tour, was first coined in 1485 by Torquemada when he was trying to find a slower, more subtle form of torment than either the rack or the iron maiden. Make no mistake, I absolutely love touring: I wouldn't do it if I didn't love it. The fact is, it wasn't all that long that my books sold briskly, but only among people related to me by blood. I enjoy immensely meeting readers, even the one who told me that I would never write anything as memorable as "Lather. Rinse. Repeat." (Sadly, she's right.)

But the reality of a book tour is this: By day thirteen you will have been on seventeen regional jets and been reduced to wearing a strange man's underwear.

I wish I could say I'm making that up or it is a novelist's hyperbole. It's not. It really happened to me on the tour for the paperback of The Double Bind.

The problem with a book tour is that you rarely spend more than one night in a city. After all, you have to cover as much ground as possible as quickly as possible. And that means that unless you bring a suitcase the size of a steamer trunk, you only have enough clothing (translation: underwear) for the first half of the tour. At some point you have to reach a city where you will spend two nights, because the hotel needs one full day to do your laundry. In the case of The Double Bind tour, I had to reach Minneapolis—days eleven and twelve—before I had the requisite two nights: I arrived Friday afternoon and would check out Sunday morning.

Consequently, the first thing I did on Saturday was send out a Mini Cooper sized pile of laundry. I think there were items in there that were alive. When I returned to my hotel room that night after my appearances, there waiting for me was… somebody else's underwear. Actually, it was somebody else's lingerie. Women's panties, an even dozen, and they belonged to a very petite woman. And so I brought the lingerie back downstairs to the bellman and gave the front desk the name of the hotel in Orlando, Florida where I would be on Tuesday, in the event someone found my underwear when the laundry reopened on Monday.

Now, I've done this long enough to know rule number one of any book tour is this: Never give the hotel all of your underwear. I still had three pairs when I flew to my next city on Sunday.

Incidentally, I had a lovely seatmate on that flight. Sitting beside me was a senior citizen who was afraid of flying and insisted on telling me about the three people she had known who had died in separate plane crashes. I took comfort from the idea that if you had lived as long as she had, it was inevitable that you would know three people who had died this way.

Monday, between appearances, I bought underwear. Then I promptly forget it at the airport in Milwaukee because it was in a plastic shopping bag I was unaccustomed to carrying through security. By the start of week three, I had been wedged into so many regional jets and strip-searched at so many airports that it's a miracle I hadn't boarded a plane without wearing shoes.

Was I alarmed that I had left my new underwear behind at the airport? Was I embarrassed when I heard a request over the intercom system asking the man who had left his underwear behind to please return to Security? Little bit. Unfortunately, my plane was boarding and there wasn't time to go back.

But then on Tuesday, when I arrived in Orlando, there was a Federal Express package waiting for me at my hotel. I opened it with more excitement than anyone should who was only expecting to find his own underwear in it. Instead, however, I unwrapped… someone else's underwear. This time, however, they were men's boxers. And they were my size. And they were clean. There was an even dozen.

The result? Once more a book tour lived up to its reputation for excitement: George Clooney may have gotten Vera Farmiga—at least for a time. But I got to wear a strange man's underwear. It doesn't get more glamorous than that.
31 January 2010 | guest authors |