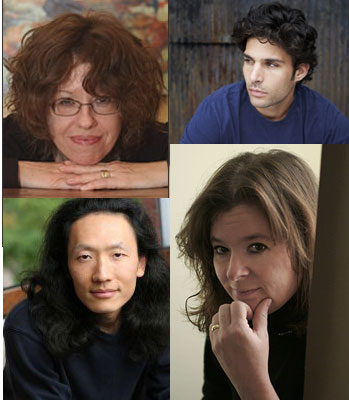 If you were at last week's "Beatrice at the Merc" season finale, you know how awesome the combination of debut novelists and the singer/songwriters of the Bushwick Book Club can be—but if you missed it, I've got good news: Next Wednesday, June 10, I'm going back to the Slipper Room (167 Orchard St.) with four writers—Judy Blundell, Matthew Aaron Goodman, Theresa Rebeck, and Sung J. Woo—and five musicians—Franz Nicolay, Susan Hwang, Dibson Hoffweiler, Tom Curtin, and Phoebe Kreutz—and we're going to put on another no cover/cash bar extravaganza. (Doors open 7 p.m.)
The theme of the evening is "literary novels with adolescent protagonists," and while the authors read from their own work, the Bushwick Book Club will be paying tribute to other classics of the genre; think The Catcher in the Rye or The Member of the Wedding. (Or maybe not: I don't actually know what books they've picked!) The Slipper Room is a great venue for this sort of event, and I hope you'll come check us out!
National Book Award winner Judy Blundell (What I Saw and How I Lied) has written books for middle grade, young adult, and adult readers under several pseudonyms. Under the pen name Jude Watson, she is the author of several New York Times bestselling and award winning series and media tie-in novels. Her novel, Premonitions, was an ALA Reluctant Readers Best Picks and was chosen by the New York Public Library as a 2004 Best Books for the Teen Age.
Matthew Aaron Goodman (Hold Love Strong) earned a BA from Brandeis University and an MFA from Emerson College. Working hand and hand with formerly incarcerated men and women, he helped to create The Leadership Alliance, a community empowerment project with The Doe Fund that unites recently freed people and volunteer partners. Matthew now lives with Nadia, his wife, in Brooklyn, New York. Currently, he leads a literacy program for exalt, a nonprofit organization that assists youth on the spectrum of criminal justice involvement.
Theresa Rebeck is a multi-dimensional talent whose written works include all mediums from television, to film, theater and books. As a Pulitzer Prize nominated author for co-writing the play Omnium Gatherum, she continues to shine as a widely produced and respected literary talent in the United States and abroad—her most recent play, Our House, just opened at Playwrites Horizons. Her debut novel, Three Girls and Their Brother, was received rave reviews from everyone from People to Entertainment Weekly and received a 2009 Alex Award as one of the year's "10 best books that appeal to teen audiences." Booklist also named it as one of the top ten first novels of the year.
Sung J. Woo's short stories and essays have appeared in The New York Times, McSweeney's, and KoreAm Journal. His debut novel, Everything Asian, has received praises from Publisher's Weekly, Kirkus Reviews, Booklist, and School Library Journal. A graduate of Cornell University with an MFA from New York University, he lives in Washington, New Jersey.
4 June 2009 | events |