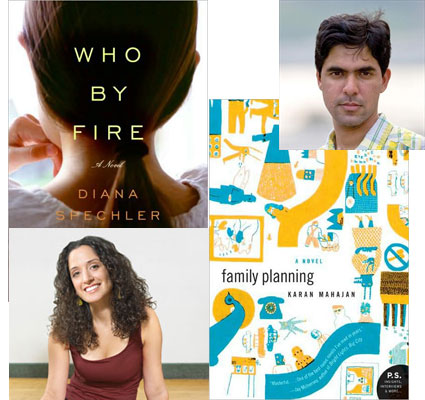 On Wednesday, February 11, Beatrice.com's reading series for debut novelists, hosted by the Mercantile Library, continues with a joint appearance by Karan Mahajan (Family Planning) and Diana Spechler (Who By Fire). The reading starts at 7 p.m. at the Merc's midtown headquarters (17 E 47th St); the authors will stick around to sign books during a wine reception.
Karan Mahajan was born in 1984 and grew up in New Delhi. A graduate of Stanford University, he now lives in Brooklyn, New York. He was recently interviewed by GalleyCat's Jason Boog.
Diana Spechler's fiction has appeared in Glimmer Train Stories, Moment, Lilith, and elsewhere. She received her MFA degree from the University of Montana and was a Steinbeck Fellow at San Jose State University. She lives in New York City, where she is at work on her second novel.
AND: You'll want to keep February 25 free for "mystery night" at the Merc, as we welcome Jedediah Berry and Paul Tremblay, with a special appearance by Alex Berenson.
6 February 2009 | events |