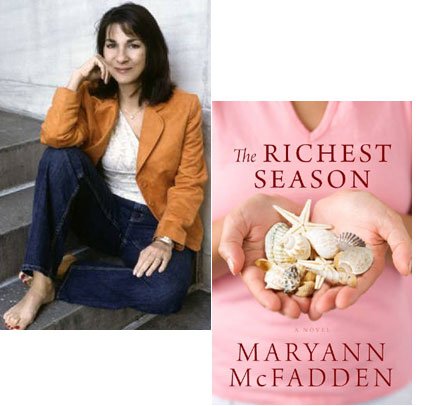 I first came across Maryann McFadden when she told me about her hyper-pink book cover in response to a GalleyCat item I'd written about a "literary" novelist with a disdain for women's fiction. McFadden's book has just been published… although, as she explains in this essay, this isn't the first time. (And, as you may know, I'm a sucker for self-published success stories…)
I felt like a fraud the night of my book launch for The Richest Season. I stood at the window, early as usual, waiting for people to show (hopefully!), while trying to quiet the butterflies swooping through my gut like little stunt pilots, as the evening sky lit up with a roar.

Despite a monsoon of biblical proportions, and a guarantee of walking in drenched as a sewer rat due to very little parking, people came. Lots of them. I actually filled the historic front parlors of Centenary College in my small New Jersey town, where twenty years earlier I'd been an adjunct writing instructor who dreamed of being a novelist.

I stood at the lectern and began telling the crowd of my long journey to this moment. Freelance writing and teaching a bit during my first ten years after college. Then leaving writing completely while I pursued a real estate career, and more money, to help support my growing family. Years later, when I had time to actually miss writing, deciding to go back to school for a master's degree, as my own children headed off to college themselves. And finally, how The Richest Season began as my thesis about a lonely corporate wife who longed for more in her life. And there I was, a grandmother, finally entering my own "richest season."

I was kissed, hugged, backslapped, and congratulated. And then I sold and signed 100 books!
Still, I walked away feeling a bit squeamish. They thought I was "the real deal." No one there knew my little secret: I had self-published The Richest Season. I'd also told no one about my other secret: The dream that I could somehow get my novel the attention it deserved and become the "real deal," an author whose book has been "chosen" by a "real" publisher.

For the next six months I was a woman on a mission. I told myself that if I could sell houses (I was an award-winning Realtor), I could sell my book. So I leaped into the bookselling trenches; I started with the independent booksellers, nervous as hell as I walked into each store with a review copy and a plea: Would you like to read my book? It's getting great feedback. I had no idea back then that they got requests like mine a dozen times a day. But I stood there and kept talking (I learned that selling real estate), asking how their store was doing, had they read a certain book that just came out, and if they might consider carrying my book.

Before a month was out, The Richest Season was a staff pick at Clinton Book Shop in New Jersey, where owner Harvey Finkel said to me "You're going to be big." After a six-year journey of always being in the wrong place at the wrong time—and shelving the book three times—that was hard to actually imagine. Then Tom Warner of Litchfield Books in Pawleys Island South Carolina, predicted it would be "a local winner" and invited me to do a book signing. I was up!

I orchestrated my own book tour and headed south, conveniently turning my summer vacation into a whirlwind of book signings, book clubs, and meetings with local reporters, who gave me nice write-ups. Who was my publisher? they'd ask. Small potatoes press, I'd joke cleverly.

With my spirits and courage stoked, I turned to the big guys, the chains. And got nowhere. Barely a glance as they told me they didn't stock self-published books. Nor would they read one. I plummeted back to earth.

But I kept on going, pursuing the independents, even attending one of their conventions and meeting more booksellers in a day than I could possibly drive to in a week. They were nice, we exchanged cards. But I learned that some independents wouldn't order my books because they were not returnable. So I became not just the writer and the publicist for my book, I became a distributor, as well. And my books were selling, but I was exhausted. Tom Warner cautioned me: You've got to stop selling books out of the trunk of your car and start writing again.

He was right. I was trying to do it all while still working. And I missed writing. So one night as I watched Grey's Anatomy, I grabbed my laptop and began querying agents again. I typed what I hoped would be the last query I'd ever agonize over for this book. I'd sold more than 2,000 copies, what most literary novels do in a lifetime. I outsold The Kite Runner in a few stores, no easy feat. I met with forty bookclubs, did twenty-five book store signings. I quoted my glowing bookseller's comments, and the stellar reviews I'd received in the papers. I mentioned my radio and TV appearances. I had an audience already waiting for the next book I'd started writing. Who could pass this up?

I received a phone call the next morning from Benee Knauer, the editorial director for the Victoria Sanders Agency, asking for an exclusive read. Of course I said yes. Later that day, I received more requests. This was a tough moment, but. I said no. I had a feeling.

On June 10, I'll be launching my first novel, The Richest Season. Again.

This time the launch is being orchestrated not be me, but by my favorite independent bookseller who became my champion, Clinton Book Shop in Clinton, New Jersey. Will I be nervous this time? Have butterflies? You betcha. But it won't matter.

The Richest Season is being published in hardcover by Hyperion, who bought the world English rights at auction. Five publishers bid in Germany, and a preempt took it in Italy. It's already been nominated as a BookSense pick, and also got picked by local radio personality Joan Hamburg.

So any butterflies I have this time will be the good ones. Because now I'm "the real deal."
8 June 2008 | guest authors |