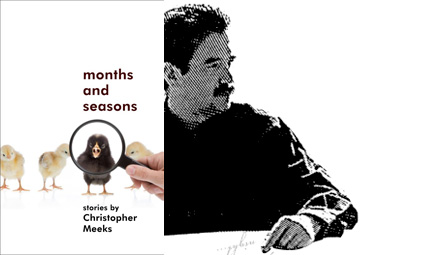 I started reading the short stories in Christopher Meeks's Months and Seasons on a recent plane ride, and was struck by his quiet sense of humor—he's not a guy who works for laughs, necessarily, but when his characters get to bickering with one another, little spikes emerge from their interactions. In this essay, he explains how he learned to let that part of his writing voice flourish thanks to the example set by one of our greatest contemporary short story authors.
Like many people of my generation, I wanted to write great stories, important stories—stories that made me rich. Then along came reality: I receive little or no money when my stories are published, but I get two copies of any literary journal I'm in. While that hasn't helped pay my son's college bills, I've nonetheless been awed that I've made it into the journals. Also, publication has helped me rediscover my sense of humor.

When I started, great stories, of course, had to be serious. Woody Allen has had this complex, too, which is why he made Interiors and Cassandra's Dream. He's wanted to be Begmanesque—as others have been desperately trying to mimic his funny movies and be Allenesque.

I wanted to be Literary with a capital L, but humor kept creeping into my stories. I'd write the first draft, not worrying about my voice, and then later I'd excise humor, such as a character's funny quip, thus maintaining what I thought was literary decorum. I might change a line of dialogue from, "You like her? She has guppy lips. Her hands are pound cakes" to "You like her? She's plain."
As you might guess, the air whooshed out of my literary tires. No one published me. Then two things happened. One was that I came across the now-late Santa Barbara Review, whose entry in The Writer's Market mentioned they were looking for literary fiction, particularly funny literary fiction. "We rarely see literary fiction with humor," wrote its editor. "We love smart pieces with wit." Thus I sent them a story, "Divining," that had been rejected forty times but it had humor. They published it. Thus started my journey through publishing.

The second important event: I read a story by Lorrie Moore in The Best American Short Stories of the 20th Century, edited by John Updike. The story was called "You're Ugly, Too," a funny rendering of a professor who, by the end, may know less than she thinks. The opening line set the tone: "You had to get out of them occasionally, those Illinois towns with the funny names: Paris, Oblong, Normal. Once, when the Dow Jones dipped two hundred points, a local paper boasted the banner headline: 'NORMAL MAN MARRIES OBLONG WOMAN.' They knew what was important. They did!"

And I saw what was important, too: humor could bring interest and give comic relief. Shakespeare had known this, but until Lorrie Moore, I felt American literary writers had forgotten that. One could be either funny—Dave Barry funny, Art Buchwald funny—or one could be serious as in Joyce Carol Oates serious or Norman Mailer serious.

The latter were considered literary, the former, entertaining. Couldn't one be both? Had I forgotten Flannery O'Connor? No, but she wasn't around and writing anymore. Lorrie Moore not only was writing, but she made it into The Best American Short Stories of the 20th Century.

That led to my reading many more of Moore's stories. A master of mixing humor and tragedy, she reinforced for me that humor could weave with and contrast drama well and bring balance. In fact, humor may be needed to get through the toughest of subjects—which brings me to the one story I particularly wanted to talk about for this article, Moore's "People Like That Are The Only People Here: Canonical Babbling in Peed Onk," which is in her book Birds of America.

This story is about a mother who, in changing her baby's diaper, finds blood in her baby's poop, an image that Moore describes as "like a tiny mouse heart packed in snow." When her pediatrician, his nurse, and head resident all look at the baby, they draw their mouths in, "bluish and tight—morning glories sensing noon."

As you see, her simile and metaphor instantly engage, seriousness edged with a lightness that gives one hope.

When she takes the baby into radiology for an MRI, the mother considers the machinery: "They are like dogs or metal detectors: they find everything, but don't know what they've found." As the radiologist puts it, "You don't know exactly what it is until it's in the bucket," meaning surgery.

In short, Moore's gaze falls on the absurdities of modern medicine and the way we live. We seem to expect doctors will fix anything wrong with us until one magical day when we're 90 or 105, angels with wings will escort us somewhere—heaven? a heavenly car wash?—accompanied by Beatles music or a burst of nitrous oxide.

In Moore's story, the doctors find a Wilms' tumor, saying "'tumor' as if it were the most normal thing in the world." The mother keeps thinking about the bucket.

I could go on and on with specific lines. There are many great ones. The story grows until you sense how the mother is having a crisis of faith, even if she has no religion. She's bartering with someone. When a person goes through a crisis—and this is an intense crisis—the reader comes to see true character. The humor lets us have relief amid the crisis and get us to think things we normally might avoid. Philosopher Martin Heidegger felt people should consider their own deaths to make it less fearful, and in stories like this, we Americans are kept from our shopping and our forgetting for a moment to contemplate.

This is what a good story can do. I love this story.

By the way, my favorite book to use for teaching short fiction is On Writing Short Stories, edited by Tom Bailey. It happens to have a number of other stories I adore, including "Everything That Rises Must Converge" by Flannery O'Connor, "Cathedral" by Raymond Carver, "Lust" by Susan Minot, and "Bullet in the Brain" by Tobias Wolff.

May you witness a few of these and find some humor along the way.
18 May 2008 | selling shorts |