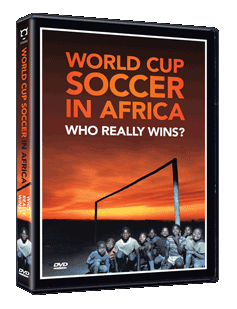 An hour or so after the World Cup ended—and congratulations to Spain; that was a fantastic goal—I popped a documentary that I'd received last month, World Cup Soccer in Africa: Who Really Wins?, into the DVD player and started watching. One of the themes that I'd been noticing in the Cup coverage was the idea that South Africa was "proving" that it was capable of hosting an international sporting event of this magnitude; American media were particularly falling over themselves in these last few days to enthuse about what a wonderful time they'd had and how beautifully everything had gone. This documentary casts the issue in a slightly different light: It doesn't question whether South Africa could handle the Cup, and it doesn't deny that doing so will bring lots of international prestige. What it does ask is: Is it worth the cost?
The film's most significant line of attack is on the $1.7 billion-dollar project to build multiple stadia across a nation still in need of more components of a basic civic infrastructure, like hospitals and schools—in one case, a local school was actually displaced by a new stadium. Several of the commentators and activists interviewed point out that these arenas, built to FIFA specifications as to what constitutes a world-class football venue, are grossly oversized for South Africa's regional sporting needs; the term "white elephant" is introduced reluctantly at first, but is used with greter regularity once the theme is introduced. From there, the big question is: What happens to South Africa after FIFA collects its television revenues and sponsorship fees and leaves the country? What, if any, long-term economic benefit will South Africa see from hosting the Cup? (The argument is not one-sided; the filmmakers do allow those who believe South African tourism will last beyond the tournament their say, and though Archbishop Desmond Tutu acknowledges that the situation is not perfect, he pitches this as a major step forward for the country.)
Here's the trailer…
11 July 2010 | watch this |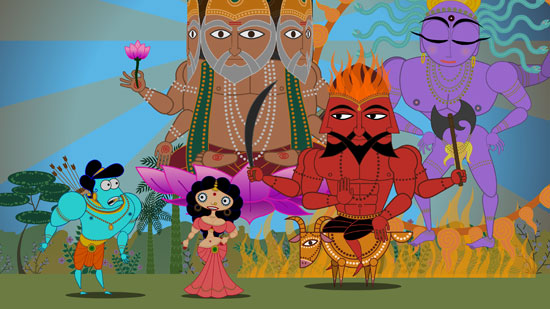 Way back in February, at the O'Reilly Tools for Change conference, I saw a great presentation by Nina Paley about her feature-length animated film Sita Sings the Blues and her decision to produce it under a Creative Commons Attribution-Share Alike License, which basically means that anybody can "copy, share, publish, archive, show, sell, broadcast, or remix" the film as they wish, as long as they don't try to pass it off as their own work. She still intended to make money from the film, of course, by selling DVDs and spin-off merchandise, and by booking the film into theaters. Which brings me to the main point: The IFC Center in the West Village has Sita Sings the Blues from Christmas Day to New Year's Eve, and Paley herself will be at the 8:25 p.m. screening most nights to take questions from the audience.
Paley uses something like a half dozen distinct visual styles to tell the mythic story of Sita's devotion to her husband, Rama, despite his rather dickish treatment of her, with autobiographical fragments from the break-up of her own marriage interspersed. Furthermore, instead of a straight narrative perspective, there's sideline commentary from three shadow puppets and stunning musical numbers that combine Indian typology, Merrie Melodies-style animation, and the songs of Annette Hanshaw. (Those songs were the main reason the film had trouble finding distribution, as the cost of licensing the recordings for wide theatrical release would be prohibitive.) The result is… well, look, a lot of people try to create a visual poetics of cinema, but Nina Paley succeeds.
25 December 2009 | watch this |
« Previous Page
—
Next Page »