Over the last decade, I've been a vocal defender of the National Book Awards; people regularly accuse the juries that select the books for the shortlists of obscurist elitism, and my feeling has been that literary prizes aren't about reinforcing conventional wisdom but about "acknowledging the power of reading." Yes, the books nominated for the National Book Award and similar prizes are touchstones, but it's not about, I've said, "that whole 'if you only read one book this year, this is the one that counts' thing."
"Instead, literary awards can tell us: Here are books to remind you how awesome reading can be, and that will make you want to read more books."
So I'm deeply conflicted about this year's longlist for nonfiction. On the one hand, I want to stay true to the principle that the selection committees, who've spent nearly a year pursuing as close to a comprehensive perspective on the field as they can, have found ten books that are representative of the best of what American literature has to offer at this moment in time—ten books that will be whittled down next month to five, and then to one final selection a month after that. If I'm not familiar with those books, or I'm not sure why they're on the list, I've long believed that's an opportunity for me to learn something.
On the other hand, it can be hard to maintain that optimism when we're presented with a nonfiction longlist populated by eight white men, an Indian-American man, and one woman. That's not a roster that readily persuades you it's reflecting a full and diverse spectrum of literary possibilities (and it doesn't help that, at the broadest levels, there's some duplication of subject matter among the ten titles). And I think diversity does matter here; as literary prizes remind us of the power of reading, they can also help us recognize that there isn't just one American literary tradition, or one American experience.
The nonfiction nominees actually have been fairly diverse in recent years, too, making the homogeneity of this list stick out even further.
This longlist looks and feels like exactly the imbalance in contemporary literary criticism that concerned writers and readers like the members of VIDA have rallied to confront, the imbalance that inspired me to start writing about a more diverse range of books here at Beacon. And though I'm reluctant to start playing the "your list of great books is wrong, because it doesn't have this book" game, I'll admit that this list doesn't feel particularly persuasive to me right now.
(That said, as I was watching the reaction to this longlist unfurl on social media, one title people kept mentioning over and over again was Leslie Jamison's The Empathy Exams, and though I haven't read it in its entirety, the title essay and "The Immortal Horizon" were both excellent, and the enthusiasm I've seen for Jamison's work today makes me more eager to read that book than most of the titles on the longlist.)
For now, I'll probably focus my attention on the other three National Book Award longlists—well, the fiction list, anyway, if I'm honest with myself about what I'm likely to accomplish—and wait until the nonfiction list gets cut in half, then see which of those books seems most compelling. Maybe it'll be a book so fantastic I'll be able to set my misgivings aside… In the meantime, if you have any recommendations for an amazing nonfiction title published this year, I'm all ears.
(NOTE: This post originally appeared on Beacon.)
18 September 2014 | uncategorized |
For more than a few years now, America's literary community has been talking about the the gender imbalances that take place in mainstream book reviewing. Each year, VIDA: Women in Literary Arts compiles the data to show that male writers are still getting reviewed disproportionately in comparison to women writers; each year, the mainstream media sniffs at the so-called bean-counting approach to literary criticism and attempts to turn its deficiencies into strengths by claiming they're focused on the books that "really will endure," as former New York Times Book Review editor Sam Tanenhaus put it.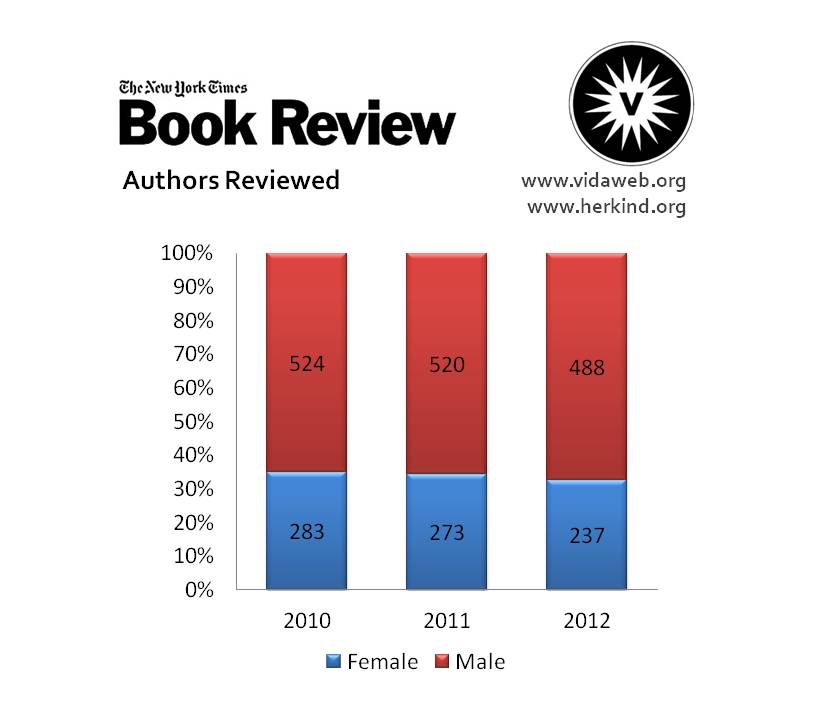 I've talked about this a lot over the years. I've even described how, as a reviewer, I've fallen into the same traps despite my best efforts when I'm writing about books here or for other outlets. And the gender gap is only part of the problem: Though it's gotten less media attention, some critics have pointed out that, if we look at the ethnic backgrounds of the writers getting reviewed by the mainstream press, it's an awfully white looking field. So, after all this time spent clamoring for change and not seeing it, I began asking myself: What do I want to do about this?
20 January 2014 | uncategorized |
« Previous Page
—
Next Page »