Peter S. Beagle was in his late twenties when his second novel, The Last Unicorn, was published in 1968. Fourteen years later, the fantasy story was adapted into an animated film—with an all-star cast including Mia Farrow and Christopher Lee—for which Beagle wrote the screenplay. It was, he recalled as he sat in the lobby of a Manhattan movie theater on a recent Saturday afternoon, the only input he had in its making. "People saw it and would congratulate me," he said, "but it really didn't have much to do with me."
That feeling was exacerbated by contractual problems where, despite being promised percentages of both the film's net profits and the gross on related merchandising, Beagle still wasn't seeing any income beyond his initial screenwriting fee well into the 21st century. His business manager and publisher, Connor Cochran of Conlan Press, assisted in the negotiations—eight and a half years later, though, their efforts to resolve the situation amicably still hadn't gotten anywhere. But then, as they began preparing to file a lawsuit in 2010, Scottish businessman Adam Crozier became the new CEO of ITV, the British media conglomerate that owned the company that had made the movie and Cochran saw an opportunity.
"Here was a fellow who had no reason to cover anyone's ass," he recalled; his efforts to reach out to Crozier eventually led to a meeting with the firm's head of legal, Andrew Garard. When they met later that year, "half of the first meeting was Peter and Andrew geeking out about their favorite authors." It didn't take long for them to strike a deal aimed at reconciling all the various rights—Beagle had the gaming rights to the novel, for example, but they were virtually useless when separated from ITV's rights to the likenesses of the film's versions of the characters—to everyone's profit.
13 October 2013 | uncategorized |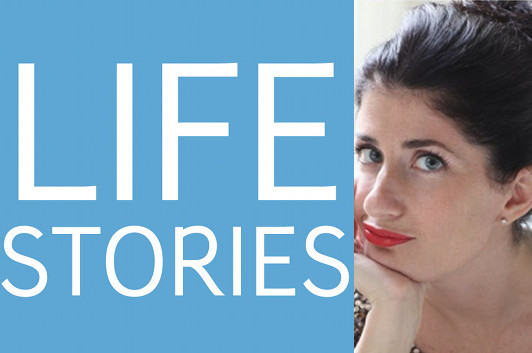 photo: JessicaDorfmanJones.com
In this episode of Life Stories, the podcast series where I talk to memoir writers about their lives and the art of writing memoir, Jessica Dorfman Jones opens up about Klonopin Lunch, a memoir about how, after "leading a life of should" for about three decades, she blew apart her "perfect-on-paper" marriage for an affair with the guy who showed up to teach her how to play guitar. We discussed her willingness to focus on the period during which that affair (and the attendant carousing and drug use) took place, without the pendulum swing back—in effect, casting herself as the villain of her own story.
And yet, as she explains, her recklessness and selfishness also brought about a "self-immolation" out of which she emerged realizing that instead of all the things she'd been doing to earn a living before, what she really wanted to do was write—and we talk about the book she's working on now, which stems out of women's reactions to the self-disclosures in this memoir.
Listen to Life Stories #40: Jessica Dorfman Jones (MP3 file); or download this file directly by right-clicking (Mac users, option-click). You can also subscribe to Life Stories in iTunes, where you can catch up with earlier episodes and be alerted whenever a new one is released.
16 September 2013 | life stories, uncategorized |
« Previous Page
—
Next Page »