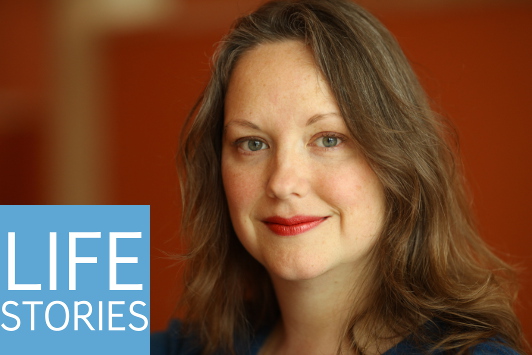 In the winter of 1992, Emily Winslow was a young theater major getting ready for her next semester when she was followed into her building by a stranger who then forced his way into her apartment and raped her. Over the years, she had kept in touch with the sex crimes unit of the Pittsburgh police, even after she moved to Cambridge, England. Then, in 2013, the DNA evidence finally produces a match. The suspect is arrested, and the path to justice begins. Jane Doe January is Winslow's account of the months that followed—including her frustration when many of those close to her, unsure of how to address the situation, kept an emotional distance that was, just then, the very last thing she needed.
In our conversation, we talk about that, and about why she maintains that what she did isn't "brave," and didn't bring her "closure." She also dispels an assumption I had made about the journals she was keeping throughout these events, and how it was only later that she decided to turn them into a memoir. No, she told me, this was the plan all along:
"People talk about writing about traumatic experiences as being therapeutic, because it helps you get it out of you. That is true, but for me, that is step one. For me, what's therapeutic about it is not just letting it out; it's letting it out and picking it up and using my skills and using my talent to make something that stands alone from me, apart from the crime, and is something beautiful. I wanted to write a beautiful book. I wanted to write a book that was interesting. So for me the therapeutic aspect wasn't just letting it out. It was, from the very start, crafting it. Because that's what I do—I use words. That's what I do."
Listen to Life Stories #84: Emily Winslow (MP3 file); or download this file by right-clicking (Mac users, option-click). Or subscribe to Life Stories in iTunes, where you can catch up with earlier episodes and be alerted whenever a new one is released. (And if you are an iTunes subscriber, please consider rating and reviewing the podcast!)
photo: Jonathan Player
13 July 2016 | life stories |
In her memoir, Beijing Bastard, Val Wang writes about growing up as a Chinese-American and then moving to Beijing in the late 1990s: "I think a lot of people think I was looking for my roots; that's a popular storyline for a Chinese-American. But it was really the opposite for me. I was really rebelling from my roots and looking for myself. That very American kind of journey abroad to find yourself is what I thought I was there for."
Beijing Bastard (the title comes from one of her favorite Chinese movies) is the story of how she delved into the culture, including how she abandoned the expensive housing that was designated for foreigners to find an apartment in a neighborhood so far on the outskirts that the roads eventually ran out of pavement. In our conversation, which was recorded back in 2014, she talks about how moving to China initially made her feel more American, as she began to notice "ways of thinking, ways of walking, ways of talking, ways of gesticulating" in her behavior that helped her understand she wasn't "coming back" to China; for her, even though she'd grown up hearing about China from her family, it was all new for her. We also discuss how, when she came back to the United States, how she pursued her career as a documentary filmmaker… and why it took twelve years for her to be able to write the story of her time in Beijing the way it needed to be told.
Listen to Life Stories #83: Val Wang (MP3 file); or download this file by right-clicking (Mac users, option-click). Or subscribe to Life Stories in iTunes, where you can catch up with earlier episodes and be alerted whenever a new one is released. (And if you are an iTunes subscriber, please consider rating and reviewing the podcast!)
photo: Kelly Creedon
12 July 2016 | life stories |
« Previous Page
—
Next Page »