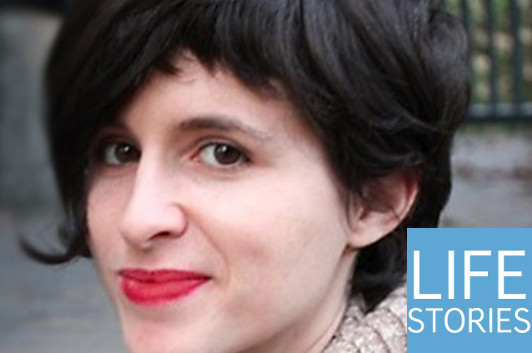 Lauren Marks was an actress in her late twenties when she went to Edinburgh in 2007 to direct a friend's play in the city's annual Fringe Festival. One night, they went out to a bar, and she was in the midst of a karaoke number when an aneurysm in her brain burst. When she regained consciousness, her ability to communicate with the people around her was massively impaired. A Stitch of Time is the story of her recovery from that aphasia—which was so severe at one point that she lacked a conscious interior voice.
There's a lot of personal story packed into Lauren's memoir, and into this conversation. We talk about her frustration at what felt like a parent's attempt to co-opt her "story," about her then-boyfriend's attempt to essentially treat her brain injury as an opportunity to "reboot" their relationship, and about how the injury forced her to fast-track a re-evaluation of her life that had already begun. As she explains, "It's not unusual for someone twenty-seven in New York to say, 'This is not enough for me. Do I take a dramatic turn?'"
"I promise you, I did not want to write a memoir. That was not something that I would have wanted—I didn't even like to read memoirs at the time. It is a weird choice to go from I'm struggling to conjugate a verb and to then think, yeah, I'll be a writer, great idea! But also, what else could I do?

"I couldn't do anything entirely independently anymore. I mean, lucky for me, my physical self is okay; I didn't lose my ability to walk, I can still dress myself, things like that. But I couldn't manage an independent life. The fact was decided, I was going to be at my parents' house; I'd be with my parents, in my childhood home, for a while: decision made. I was not an actor, I couldn't memorize any more, so: decision made. I couldn't go through a textbook so: decision made, no longer Ph.D. student.

"As these things were off the table, so to speak, then it was much easier to say, well, I'm a writer because I'm writing. I don't think that means I assumed this book would ever eventually come out to any kind of general audience. But writing is what made me able to write. The more I could write, the better I could write."
And, as her writing improved, Lauren began to learn more about the neuroscience behind her condition, and that education makes its way into the memoir as well. And we discuss how she drew inspiration from the life stories of Helen Keller and… Casanova?
Listen to Life Stories #99: Lauren Marks (MP3 file); or download this file by right-clicking (Mac users, option-click). Or subscribe to Life Stories in iTunes, where you can catch up with earlier episodes and be alerted whenever a new one is released. (If you're already an iTunes subscriber, please consider rating and reviewing the podcast!)
photo: Brooks Girsch
1 December 2017 | life stories |
When Alexandria Marzano-Lesnevich was in law school, she did a summer internship at a Louisiana law firm. She was firmly against the death penalty, and then they asked if she would be prepared to work on the case of convicted child murderer Ricky Langley. Attempting to familiarize herself with the case, she was overwhelmed by memories of being molested by her grandfather—and though her career as a lawyer was pretty much over before it had even begun, her future as a writer was just beginning.
In The Fact of a Body, Marzano-Lesnevich writes about her efforts not just to confront what had happened to her and her sister, and how her family had suppressed it, but also to understand Rickey Langley—not to sympathize with him, as we discuss in this interview, but to understand what drove him to commit his crimes… and how his attempts to seek help before then had gone unanswered.
During our conversation, she also described one of the long-term effects of her grandfather's molestation, how even as an adult her body would sometimes "freeze up" in a dissociative state—and how, since the writing of this memoir, that had stopped. It led us to discuss the clich&@33; about memoir writing, which is that it's supposed to be cathartic, a notion she vigorously challenged:
"When I was working on this book, I can't tell you how many people said to me, 'Oh, you're writing a memoir? That must be so therapeutic!' And I would always want to bite back at them: 'Not if you're doing it right!'/p>

Right? If you're doing it right, you're dredging up all this stuff, and you have to go into the complexity of it that maybe you didn't force yourself to think about in the past. And that is not really therapeutic; in fact, it's often deeply disturbing and unsettling—and there were times working on this book when I just could not be around other humans."
We also talked a lot about the true crime genre, from the reasons writers choose to write about certain crimes to the creative effort that goes into developing a narrative rooted in the bare facts of a case.
Listen to Life Stories #98: Alexandria Marzano-Lesnevich (MP3 file); or download this file by right-clicking (Mac users, option-click). Or subscribe to Life Stories in iTunes, where you can catch up with earlier episodes and be alerted whenever a new one is released. (If you're already an iTunes subscriber, please consider rating and reviewing the podcast!)
photo: Nina Subin
21 November 2017 | life stories |
« Previous Page
—
Next Page »